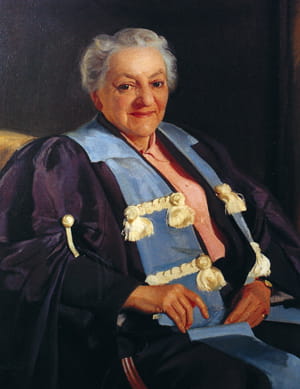 IN 2014, only around one in 10 consultant surgeons in the UK were women. However, a century earlier, when Gertrude Herzfeld qualified in medicine, there were none.
Herzfeld was born in late Victorian London, the daughter of Jewish Austrian emigrés, and enjoyed a comfortable middle class upbringing. She "longed to be a doctor" and studied at Edinburgh University in the years before the First World War. Throughout her studies there she excelled, and she graduated in the weeks before the outbreak of war in 1914. To be a newly qualified woman doctor at that time was challenging enough, as she had to navigate her way through a completely male-dominated profession. Having a German name was doubtless an added difficulty.
Nevertheless, she thrived and her career was a catalogue of firsts. She was the first woman house officer to Sir Harold Stiles at the Royal Hospital for Sick Children in Edinburgh. She was the first woman to be appointed honorary assistant surgeon at the same hospital, and in 1920 she became a fellow of the Royal College of Surgeons. She was the second woman to be admitted to the College but the first to "take her seat" or, in other words, to practise – and thus she became the first practising woman surgeon in Scotland.
She spent most of her career in her adopted home of Edinburgh, save for a spell during the First World War when she served as a surgeon at the RAMC Cambridge Hospital, Aldershot, and later as a surgical senior house officer at Bolton Infirmary. From 1920 until her retirement in 1955, she worked at the Bruntsfield, the Edinburgh Hospital for Women and Children. She was active in a variety of surgical fields, including gynaecology, plastics, orthopaedics and the management of burns and trauma, and she helped found the Edinburgh School of Chiropody and the Edinburgh Orthopaedic Clinic. However, she is widely regarded as the first woman paediatric surgeon.
One student described her as "a large woman in heart, mind, and build" and went on to recall how, "[n]one of her housemen could forget her great figure bending over a tiny neonate, opening and semiconstructing a blind cystic duct, easing a pyloric stenosis, or, later, apposing two raw edges of a minute cleft palate."
The first modern treatment for infants with inguinal hernia was developed by her first chief, Harold Stiles, and Herzfeld was one of the few surgeons who carried it out. The procedure was a simple ligation of the hernia sac and could be performed quickly. Indeed, on one occasion, Herzfeld is said to have performed six of these operations in just 54 minutes.
This surgery was performed in outpatients, mainly because of bed shortages at the time, but it had significant benefits for the patient. The child would not need to interrupt breastfeeding, and as a result these babies gained weight postoperatively rather than lost it. Outpatient surgery would become commonplace but Herzfeld and her colleagues were pioneering it half a century before it would become mainstream.
Throughout her career she was actively involved in medical education and was a lecturer in paediatric surgery at her alma mater. As a trainer, she advocated public praise and private criticism. One trainee said: "she never let us down in front of others, but quietly made it clear where we had erred — it was not a failure but part of learning". Those who knew her respected her surgical skill, but they also praised her compassion, her wisdom and her warmth.
Herzfeld was called a trailblazer throughout her life, lighting a path for women in surgery. She had graduated from a medical school that had only started to admit women 22 years before and would not admit them on equal terms with men until two years after she left. She fought for positions and recognition and broke down barriers one by one by her determination, industry and talent. From 1948-50, she became the National President of the Medical Women's Federation.
However, it has taken a long time for the path she forged to become well-trodden. Even today, more than three decades after her death, only around 30 per cent of surgical trainees are women. There is undoubtedly still much to do to promote gender equality in surgery, but without the early example of a woman such as Gertrude Herzfeld, we might not even be where we are today.
Dr Allan Gaw is a writer and educator in Glasgow
SOURCES
Women in Surgery. Royal College of Surgeons, England
Obituary, BMJ, 6 June 1981
Alumni in History. University of Edinburgh
Biographical Dictionary of Scottish Women. EUP 2006.
IMAGE COURTESY OF THE ROYAL COLLEGE OF SURGEONS EDINBURGH
This page was correct at the time of publication. Any guidance is intended as general guidance for members only. If you are a member and need specific advice relating to your own circumstances, please contact one of our advisers.
Read more from this issue of Insight
Insight (formerly Summons) is published quarterly and distributed to all MDDUS members throughout the UK. It provides a mix of articles on risk, medico-legal and regulatory matters as well as general features and profiles of interest to our members. Browse all current and back issues below.
In this issue