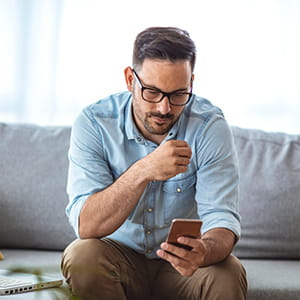 SOCIAL media is now a part of all our lives – whether we use it directly or are affected by how it acts to spread ideas and information.
Healthcare professionals use social media for a variety of reasons, from personal interactions with friends and family to professional purposes, such as networking with colleagues or keeping up to date with their organisation or wider networks. Whatever the reason, it is important to be aware that there are expectations on how doctors and dentists should behave online.
Recently, the General Medical Council (GMC) launched a new social media page on its Ethical hub, which was developed after taking account of a range of views from doctors and organisations across the healthcare system in order to "better understand the key issues and challenges faced by the profession when using social media".
The resource is based on GMC guidance on Doctors' use of social media and aims to provide practical advice for doctors facing challenging situations, including information on anonymity online, freedom of expression, maintaining patient confidentiality and online misinformation.
Identifying yourself by name
Members of the public seeking healthcare information online are often exposed to inaccurate and sometimes dangerous information, especially when certain information presented as 'fact' provokes an emotional response, for example controversy over Covid-19 vaccination.
The GMC guidance reiterates the importance of identifying yourself online by name if you are interacting and commenting on health or healthcare issues. This means stating who you are and not posting or commenting under an alias. Such good practice will add "value and credibility" to what you are saying, and the public are more likely to trust you as a doctor when comments about health or healthcare matters are attributed.
The GMC advises doctors that you do not have to identify yourself if discussing matters unrelated to your professional role, but you should "use your judgment about when your role as a doctor affects how the information you share is perceived".
Expressing opinions
Doctors are entitled to their personal views and may wish to comment on issues or express certain opinions online, but the GMC highlights the importance of considering how your views and opinions may impact wider public trust in the profession. Posting comments that could potentially cause offence or be deemed unprofessional in any way should be avoided.
Doctors are generally held in a position of trust so it is important to consider that comments you make as a doctor might be interpreted as representing the views of the profession – and you should therefore consider the impact on public perception. For more vulnerable patients, some opinions could even deter them from seeking advice, and so the guidance reiterates the importance of thinking twice before posting opinions on healthcare matters.
Maintaining private and professional boundaries
The GMC advises doctors against being connected with patients on social media platforms, as "it can cause social and professional boundaries to become unclear".
Allowing a patient the opportunity to engage online with you could impact the patient-doctor relationship if boundaries become blurred. Some patients may feel no qualms about messaging you for healthcare advice or in regard to matters unrelated to healthcare.
Doctors are therefore advised not to have patients as 'friends' or 'followers' on personal social media platforms, although working in remote areas with smaller communities may make this difficult to avoid. The GMC encourages doctors in such situations to read and follow the guidance on maintaining boundaries. Members can also contact MDDUS for specific advice.
The GMC does recognise the benefits of interacting with patients through online support groups, and the guidance is not intended to deter doctors from connecting with patients for this purpose.
Privacy settings
Doctors can help reduce the risk of blurring personal and professional boundaries online by maintaining and adjusting privacy settings. Some platforms allow you to hide your profile from the view of those you are not already connected with. However, this cannot be relied upon and you are still expected to maintain professionalism online even with privacy settings in place. GMC guidance reminds doctors that anyone is able to screenshot and share material out of context and "content designed to be seen by only a few individuals can become more widely available".
Take time to review your settings on social media platforms and regularly maintain passwords to ensure no risk of unauthorised access.
Protecting patient confidentiality online
Doctors may use social media to share information on the care of individual patients in order to seek advice and also for training and educational purposes. GMC guidance reminds doctors that it is essential to anonymise such information to protect patient confidentiality; however, that in itself may not be sufficient. It points out that individual pieces of anonymised information may not breach confidentiality but "when combined with other pieces of information, it could be enough to reveal a patient's identity". Falling foul of this is not only contrary to GMC guidance, but could also be a breach of the Data Protection Act 2018.
Care must be taken to completely anonymise patient information in cases without explicit consent to disclose that information online.
Resources on how to anonymise data, including images and videos, include:
Using instant messaging apps
The use of instant messaging apps in the workplace has increased during the pandemic, as it is a quick and efficient way to stay connected with colleagues. The GMC recognises this but advises that instant messaging should only be used if practical alternatives are unavailable.
Healthcare professionals using instant messaging to communicate about patient care should "safeguard confidentiality, keep patient records accurate and updated, and consider the information you share".
Doctors should follow GMC guidance in Confidentiality: good practice in handling patient information.
Online misinformation
The updated GMC advice highlights the importance of ensuring any information you share – online or offline – is accurate and reminds doctors to not be tempted to comment on areas outside their scope of practice.
Action points
Consider how you represent yourself on social media channels and ensure compliance with GMC ethical guidance and advice.
Review your privacy settings.
Review your use of messaging apps – is it aligned with any organisational guidance? Should you be adopting any safety measures to reduce risk?
Consider attending an MDDUS course: Professionalism: fulfilling your duties as a doctor.
Access MDDUS on-demand webinar available free to members: Doctors and social media.
Kay Louise Grant, risk adviser, MDDUS
This page was correct at the time of publication. Any guidance is intended as general guidance for members only. If you are a member and need specific advice relating to your own circumstances, please contact one of our advisers.
Read more from this issue of Insight Secondary
Insight - Secondary is published quarterly and distributed to MDDUS members throughout the UK who work in secondary care. It provides a mix of articles on risk, medico-legal and regulatory matters as well as general features and profiles of interest to our members.
In this issue