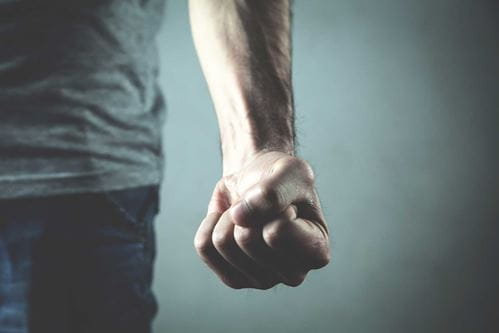 AN A&E doctor in Glasgow is attacked twice in one shift by drunken patients after a temporary easing of lockdown restrictions. An emergency care nurse at University Hospital Southampton is injured having been struck in the back with a chair by an angry patient. Devon and Cornwall Police investigate an assault on a patient and two members of staff at a hospital in Derriford. A hospital trust in Surrey reports over 600 physical assaults on staff in 2020/2021.
Such stories are appearing regularly in newspapers across the UK, with healthcare professionals reporting a steady increase in abuse and aggression directed towards clinicians and hospital staff as the pandemic lingers on. A BMA survey of more than 2,400 doctors conducted in July of 2021 found that in the previous month 30 per cent of hospital doctors had experienced verbal abuse, with 13 per cent being threatened and two per cent reporting physical assaults.
Frustration is boiling over for a variety of reasons, including patients being unable to visit relatives, requirements to wear face masks while inside the hospital, telephones being unanswered, and inevitable delays and cancellations to appointments and surgical procedures. Relatives are also expressing frustrations over a lack of timely information and updates concerning the well-being of family members.
Conflict situations by their very nature can quickly escalate, not only face-to-face and on the telephone but also with patients venting their anger against healthcare professionals and hospitals on social media, or by making formal complaints. All of this can have a serious effect on staff, who may feel vulnerable, unsupported and unable to cope with the stress of being exposed to hostile patient encounters.
Employers must treat the potential of such encounters as a health and safety at work matter, with a legal obligation to take reasonable steps to mitigate and minimise the associated risks. The focus should first be on actions that can prevent conflict situations arising in the first instance, or to reduce their frequency. Here are some approaches to consider.
Review and update policies
Review your organisation's unacceptable patient behaviour or zero tolerance policy. If you have management responsibility, consider signs or posters that could be put up in public facing areas, or notices posted on websites and other social media platforms, reminding patients there is an unacceptable behaviour policy that prohibits aggression, threats and violence towards staff and other patients. These should provide examples of behaviours that will not be accepted, along with the potential consequences.
Staff training
Consider guidance and training on how to prevent conflicts escalating. Typically this focuses on the effective use of interpersonal skills such as defusing and calming strategies, or team tactics to de-escalate and control a conflict situation. Specific training is likely to be required in this respect, as dealing with hostility does not come naturally to most people. This could include conflict management training, preferably using scenario-based learning directed at managing difficult patient encounters. MDDUS can assist members in this respect (see below).
Understand why conflict arises
Having a team discussion about potential sources of patient frustration and how to minimise the flash points that may act as triggers for patients will help everyone's understanding of the problem. Consider how to keep patients and their immediate relatives involved and engaged in their care and treatment during the pandemic. Staff can be reminded that aggressive behaviours should be distinguished from anger or annoyance, which are legitimate emotions that often arise in patients from frustration and anxiety. Unfortunately, some individuals are unable to express these feelings constructively and resort to aggression, which should not be tolerated.
Clear and consistent communication
Developing an agreed verbal script for staff to follow (both over the phone and at reception desks) can provide reassurance and also consistency of approach in difficult patient encounters. This may also assist in reducing complaints that some patients are being given preferential treatment over others.
Developing and encouraging the use of clear communication channels with your patients can help to prevent challenging situations arising and calm a difficult face-to-face situation. This should certainly include providing an explanation of the causes behind a frustrating situation and an apology for any inconvenience caused, where appropriate.
Even where a patient's behaviour is inappropriate, it can help to take the time to listen carefully to their concerns and offer appropriate solutions where possible. Simply cutting a patient off without an explanation or appropriate apology may only lead to a situation escalating out of control.
The pandemic factor
More specifically, in the context of Covid-19, your team can try to place the patient's frustration in the broader context of the immense challenges of the pandemic. This approach can help develop empathy, which in turn can reduce tension when providing factual explanations behind perceived "bad news".
Provide detailed information for patients about your current visiting arrangements, contact methods and other related pandemic measures on websites, recorded telephone messages or social media platforms.
Empowering staff
In the most extreme situations, your colleagues should be empowered to make it clear that aggressive behaviour or violence will not be tolerated, in line with your unacceptable behaviour policy. This should be calmly communicated while attempting to manage the situation, for example by acknowledging that a complaint or expression of dissatisfaction has been made and will be acted upon in accordance with the organisation's complaints policy.
Exit strategy
Discuss with all team members the importance of having a viable exit safety strategy to rely on if unexpectedly faced with an aggressive or violent patient. This has to be something that is plausible and comes quickly to mind for the individual, acting as a trigger for them to leave the situation if necessary. In this context it is also important to ensure that consulting rooms and other patient interaction areas offer staff an uninterrupted pathway to the exit. Make sure there is no furniture or other obstacles blocking the way to the door and safe exit. Risk assess the layout of your consulting rooms in advance with this in mind.
Panic alarm protocol
If your clinical area is equipped with a panic alarm system, check that everyone is familiar with where panic buttons are located and what happens if pressed. There should be a written protocol for when to use a panic alarm and what to do when one is activated, and everyone should be familiar with this. Consider running a drill to assess how everyone responds, similar to a fire alarm test.
Staff support
Post-incident support. This should encompass guidance on actions to take after an incident has occurred to support staff and prevent or reduce the potential for recurrence. Attention should be focused on the effect of single or cumulative instances of conflict on individual staff, including psychological harm. It is important to allocate protected time for all staff to debrief and de-stress following serious incidents.
Independent advice. Do you provide access to an independent employment assistance programme to support your team? Individuals often find approaching managers or colleagues difficult as they worry about appearing weak or unable to cope so independent support may be helpful.
Remember that developing a strategy to prevent and reduce patient conflict will help reduce frustrations for both your patients and staff, ultimately reducing the risk of complaints, claims or regulatory action.
Training resources
MDDUS has developed a range of learning resources and events for members on managing patient conflict.
Alan Frame is a risk adviser at MDDUS
This page was correct at the time of publication. Any guidance is intended as general guidance for members only. If you are a member and need specific advice relating to your own circumstances, please contact one of our advisers.
Read more from this issue of Insight Secondary
Insight - Secondary is published quarterly and distributed to MDDUS members throughout the UK who work in secondary care. It provides a mix of articles on risk, medico-legal and regulatory matters as well as general features and profiles of interest to our members.
In this issue