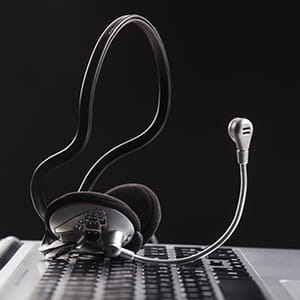 THE number of telephone interactions with patients has increased rapidly over the past couple of years. But how many healthcare providers have properly risk-assessed this mode of care delivery in the context of their existing call recording systems and data protection responsibilities?
It has become common practice for organisations to record telephone calls to support service delivery, to monitor quality control or to support staff training. But does your organisation adequately inform patients of this – including when a clinician initiates an outgoing call? And do you correctly store and protect this patient data? Both of these are key elements to ensure compliance with data protection legislation and regulations.
Making patients aware
Organisations have a responsibility to make reasonable efforts to ensure callers are aware that their calls are being recorded. We have all become familiar with the in-bound announcement that "all calls are recorded for training purposes".
Privacy notices, including reference to telephone recording arrangements, should be readily available for patients to access at routine touchpoints - most commonly web pages or leaflets, social media channels, or posters in the waiting room.
Notices should contain details expressed in clear and straightforward language including:
the purpose(s) for which recordings are made
scope of recording in place (inbound, outbound, both)
by whom call recordings will be accessed (e.g. named roles or persons)
how recordings are stored (for a specified time period based on the purpose stated)
how recordings are protected from unauthorised access or use (usually encrypted).
The General Medical Council (GMC) states in its guidance on Making and using visual and audio recordings of patients: "Telephone calls from patients to healthcare organisations may be recorded for legitimate reasons, for example, for medico-legal purposes, staff training, and audit, provided you take all reasonable steps to inform callers that their call may be recorded."
Notifying during outbound calls
But what happens in relation to notifying patients that outbound calls are being recorded – and in particular telephone consultations when the information contained in the recording involves confidential medical information that is likely to be routinely sensitive?
The GMC guidance states: "Given the sensitive nature of calls to medical advice lines or similar services, you should pay particular attention to ensuring that callers are aware that their call may be recorded."
Many organisations appear to be recording all incoming and outgoing calls but there may be no clear, audited process in which patients being contacted by a clinician are told that the call is being recorded and are offered an opportunity to object.
What happens if a patient objects?
We know from assisting in complaints responses that many patients are surprised to learn that an organisation has been able to listen to their telephone consultation as part of investigation into a complaint.
If the patient does not wish their consultation to be recorded in this way, they must be afforded the opportunity to discontinue the call and an alternative contact method provided without delay.
In its guidance, the GMC adds that doctors should "ensure that patients are under no pressure to give their consent for the recording to be made". And "You must not make, or participate in making, recordings against a patient's wishes, or where a recording may cause the patient harm".
Do recordings of telephone consultations form part of the patient's clinical record?
Some patient systems allow a call to be attached as an audio file to the patient record. If deemed appropriate in specific circumstances, this should be discussed with the patient in advance and consent obtained.
If call recordings are routinely linked to a patient record at the end of a call, this should be made clear in advance of the consultation taking place. Where this is the case, the recording will form an integral part of the clinical notes and should therefore be stored as a permanent record.
In any case, a recording should not replace consultation notes made by the clinician at the time, as the recording could be overlooked by the next clinician or may not be transferable as part of the whole patient record. GMC guidance further states:
"Recordings made as part of the patient's care form part of the medical record, and should be treated in the same way as written material in terms of security and decisions about disclosures."
Demonstrating compliance
There are a range of ways in which organisations can comply with their legal and regulatory obligations to inform patients that calls are being recorded:
For outbound calls, including telephone consultations, where no automated announcement exists, the caller can inform the patient that their call is being recorded along with the reasons for this.
Patients can be informed of recording arrangements at the point of a telephone appointment offer by admin staff.
Where a patient has provided a mobile number and consented to receiving communication by text, the organisation could consider offering a confirmation text which includes a message that the call will be recorded.
There should be a standard procedure for obtaining consent for call recording so that robust evidence is created, e.g. a shortcut to enable the clinician to record that the action has been completed within the patient consultation note, or regular clinical audit of calls as part of quality/governance processes.
If a patient objects to call recording, it may be that they are asked to attend in person or re-contacted via an extension that is not recorded.
It is important to note that the patient may ask for a copy of any recordings which relate to them, and that often these requests arise in the event of a complaint or other medico-legal action.
Action points
Ensure your organisation's privacy policy accurately reflects what happens in practice.
Ensure that you understand the functionality and limitations of your telephone recording system and that the storage/retention of recordings complies with the relevant storage limitations in data protection
legislation, which should be related to the purpose of the recording.
Identify channels by which patients are informed about call recording and check this applies robustly to both inbound and outbound calls if relevant.
Ensure that alternative means of undertaking a consultation are available without delay if a patient objects to their call being recorded.
Be able to provide evidence of a standard procedure for obtaining consent for outbound call recording.
Liz Price, head of training, MDDUS
This page was correct at the time of publication. Any guidance is intended as general guidance for members only. If you are a member and need specific advice relating to your own circumstances, please contact one of our advisers.
Read more from this issue of Insight Secondary
Insight - Secondary is published quarterly and distributed to MDDUS members throughout the UK who work in secondary care. It provides a mix of articles on risk, medico-legal and regulatory matters as well as general features and profiles of interest to our members.
In this issue