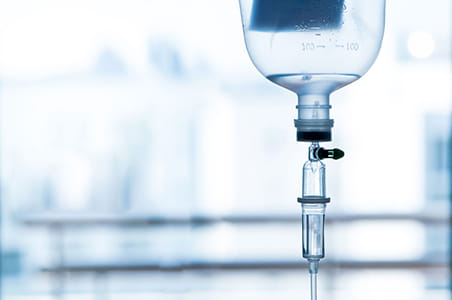 These case summaries are based on MDDUS files and are published here to highlight common pitfalls and encourage proactive risk management and best practice. Details have been changed to maintain confidentiality.
BACKGROUND
A letter is received by a hospital complaints team from Mr A in regard to in-patient care provided to his mother.
Mrs A is undergoing treatment for breast cancer and was referred to hospital with a urinary tract infection. On being admitted to the ward the patient was administered an injection from a nurse who said it was to prevent DVT by "thinning her blood". Mr A questioned this, as his understanding was that chemotherapy could reduce the platelet count but the nurse insisted this was necessary as Mrs A was bedbound.
Three days later Mrs A suffered a stroke on returning to her bed from the toilet.
In his letter of complaint Mr A questions why a blood-thinning drug was prescribed to a patient clearly at risk of stroke. Not only was Mrs A undergoing chemotherapy she was clearly mobile, walking unaided around the ward and suffering her stroke having gotten up for the toilet.
He points out that his mother now has left-sided paralysis, impaired speech and memory loss – as well as having missed out on five weeks of chemotherapy.
The complaints team contacts Dr U who was senior registrar on the ward the day Mrs A suffered her stroke. They advise that they have Mrs A's consent to respond to her son's complaint. Dr U is asked to provide an account of his care of the patient as part of the written response to Mr A's complaint.
ANALYSIS/OUTCOME
Dr U contacts MDDUS and asks an adviser to review his response. In the document Dr U states that he has gone over the case notes and discussed the matter with other colleagues involved in Mrs A's care as part of a formal review.
The case notes confirm that Mrs A was admitted with a urinary tract infection and the on-call consultant noted a slightly reduced platelet count (110). She was commenced on IV antibiotics and it was decided that, as she had cancer, was bed bound and slightly dehydrated, a preventative course of enoxaparin be administered.
Over the next three days Mrs A was reviewed a number of times by two consultants and another junior doctor. Each time it was noted that blood tests showed her platelet count dropping incrementally but she continued to be administered the enoxaparin.
Dr U first saw Mrs A on her fourth day in hospital when doing a ward round. He noted that the patient looked well and was mobile and her vital signs were within normal ranges. Her IV had been removed and she was taking oral antibiotics. Her platelet count was 48.
In his written response, Dr U states he cannot recall having reviewed her medication chart and noted the enoxaparin prescription. He states that had he done so he would certainly have discontinued the prescription, given her low platelet count and good mobility.
Dr U further states his regret that any omission on his part might have led to Mrs A later suffering a stroke.
The MDDUS adviser reviews the statement and offers suggestions on clarity and further detail. She also offers to review the full amalgamated response from the hospital complaints team with regard to Dr U's involvement in the case.
The hospital forwards the full response to Mr A which details events leading to his mother's stroke and the involvement of clinical staff. It states that the hospital has reflected on what went wrong and taken steps to address failings. It also offers an acknowledgement and apology for those failings. This includes a statement of regret from Dr U that he did not properly review Mrs A's medication chart and discontinue the enoxaparin prescription.
The letter further states that the incident will be subject to a significant adverse event review (SAER) and discussed at the departmental meeting – this to address various relevant issues such as ensuring continuity of care and safe handovers.
One significant recommendation is the need to highlight to ward staff that prophylactic enoxaparin should only be administered if there has been a documented review of prescribing within the last 48 hours by a clinician.
Mr A replies that he and his family are satisfied with the response and the complaint file is closed.
KEY POINTS
Ensure adequate clinical reviews. Remember the Swiss cheese model of risk management – never assume potential risks will have been addressed in previous reviews.
Do not rush handovers. Take time discussing relevant details, ideally in a quiet, less hectic setting.
Encourage ward staff to attend to patient/carer concerns and escalate as necessary.
This page was correct at the time of publication. Any guidance is intended as general guidance for members only. If you are a member and need specific advice relating to your own circumstances, please contact one of our advisers.
Read more from this issue of Insight Secondary
Insight - Secondary is published quarterly and distributed to MDDUS members throughout the UK who work in secondary care. It provides a mix of articles on risk, medico-legal and regulatory matters as well as general features and profiles of interest to our members.
In this issue