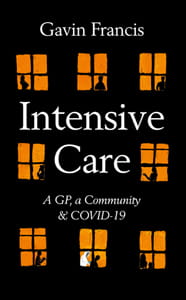 'CARE' is something we do for others, but it's also an emotional attitude of attentive compassion, of kindness, and delivering it can be a privilege as much as it can also be a burden and a responsibility.
These words from GP Gavin Francis' perhaps best capture the message of his new book, Intensive Care. Francis writes on behalf of the medical profession, eloquently telling of "the evolution of a pandemic seen from inside that profession, carrying on its work quietly, unobtrusively".
Healthcare professionals know all too well the immense challenges posed by Covid-19 during the long months of 2020, and what they did to support and care for their patients and communities. Francis shares a personal account of caring for his community. This is important. It provides a reminder of why the quietly, unobtrusively caring profession was cheered so loudly early in the pandemic.
Intensive Care is skilfully written and provides a concise, stirring account of nine months when everything changed. Francis' narrative of his everyday encounters with, and care of, patients is complemented by asides on medical history (including pandemics and public health, with fascinating tales about life in days gone by in Edinburgh, where Francis lives and works), the science of viruses and vaccines, along with the details of what we very quickly learnt about Covid and how it makes us ill, and how the profession rose to tackle one of the greatest challenges faced by the NHS.
Francis explores the burdens and responsibilities borne by healthcare professionals during the pandemic in the face of what some doctors considered to be inconsistent and unclear official advice, limited access to PPE, new ways of working (balancing the need for greater remote working with the need to maintain the fundamental aspect of the doctor-patient interaction – the clinical encounter) and those suddenly even-more-difficult conversations about end-of-life care and 'rationing' healthcare. Francis writes: "I had the sense that society was only just becoming aware of the gruelling questions that, within medicine, we're accustomed to asking".
Perhaps one of the greatest challenges, along with 'long Covid', facing the NHS in the years ahead will be the mental health repercussions from the pandemic and lockdown. Francis ends his account of 2020 with an acknowledgement that "the work of medicine is without end" and that, as before, intensive care and kindness will help us overcome all.
This page was correct at the time of publication. Any guidance is intended as general guidance for members only. If you are a member and need specific advice relating to your own circumstances, please contact one of our advisers.
Read more from this issue of Insight Secondary
Insight - Secondary is published quarterly and distributed to MDDUS members throughout the UK who work in secondary care. It provides a mix of articles on risk, medico-legal and regulatory matters as well as general features and profiles of interest to our members.
In this issue