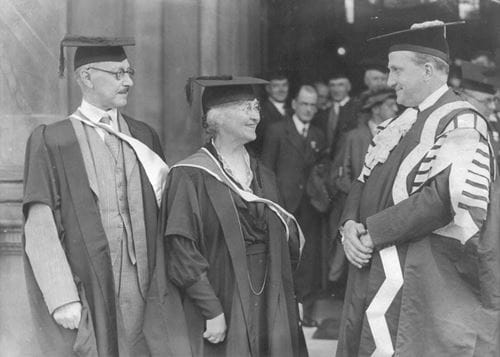 LEFT standing on the pavement, 21-year-old Lilian Murray was willing to endure the indignity to achieve her dream. It was there on Great Portland Street, outside the National Dental Hospital in London, that the Dean of the dental school had chosen to interview her because he would not even allow women inside the building, never mind entry on to his courses. Not surprisingly, he rejected her application outright.
Born in London into a large family, Lilian had first expressed her desire to become a dentist while at the Camden School for Girls. Her headmistress there had told her that she "was destined to be a teacher of the deaf and dumb." Perhaps because of her outrage at having her future decided for her in this way, or because of her aversion to teaching, she stood her ground. The headmistress was equally adamant and informed her: "Then I will prevent you from doing anything else," and revoked her scholarship forthwith, forcing her out of the school.
She left, but through a family connection she found a three-year apprenticeship in dentistry which took her part of the way towards her goal, but she knew that she needed to study at dental school. While that rejection on the street might have thwarted others, she redoubled her efforts and decided to apply to the Edinburgh Dental Hospital and School, which she had been told had a more enlightened attitude when it came to the admission of women students.
To her delight she was accepted in 1892, but not everyone was as happy. One distinguished medical academic there, Sir Henry Littlejohn, told her: "I am afraid, Madam, you are taking the bread out of some poor fellow's mouth." Such a chauvinistic argument was commonplace at the time, but she had no truck with it, and when she commenced her studies, she was the only female student on the course.
On her first day, she met one of her teachers, the dentist Robert Lindsay, whom she would later marry.
Academically, she excelled and graduated with honours in 1895, winning medals for dental surgery and pathology and materia medica and therapeutics along the way. The president of the British Dental Association (BDA) welcomed her as "the first lady member" on 2 November 1895. It would be another 17 years before the first graduate of an English dental school would join her.
She began her busy dental practice in London, not far from the house in which she grew up in Holloway and worked there for the decade it took her to repay her student loans. In 1905, she married Lindsay, and they moved to Edinburgh where they set up practice together for the next 14 years. In 1919, her husband was appointed secretary to the BDA and the couple retired from clinical practice and moved to London to live in a flat above the shop at the association's headquarters on Russell Square.
She took the role of the association's honorary librarian and effectively built the country's first dental library from scratch. Over the next 30 years, her efforts would make it one of the foremost libraries of its kind in the world. At this time, she also developed her interest in dental history and began amassing objects and materials that would form the foundation of the dental museum. She would go on to write a book and over 50 articles on the subject, the most celebrated of which was her own translation of the classic text by Pierre Fauchard, Le Chirurgien Dentiste (The Dental Surgeon). Such was her devotion to historical research and the library she had built, that she refused to leave London even during the height of the Blitz, saying she could not work away from the books.
Her husband died in 1930, but she continued her work with the BDA, becoming subeditor of the British Dental Journal in 1931. After first becoming the president of the British Society for the Study of Orthodontics in 1938, she was elected the first female president of the BDA in 1946. It would be another 47 years before they elected their second.
In her seventies, she received many honours including an honorary doctorate from her alma mater, a fellowship from the Royal College of Surgeons and a CBE. She spent her final years in Suffolk where she died aged 88.
Lilian Lindsay could have given up when she was left alone on that pavement on Great Portland Street in 1892, with her dreams of becoming a dentist shattered. Instead, she forged a pioneering role in what was at the time a male profession, and she paved the way for significant changes. A century after her birth, around a quarter of all new dentists in the UK were women and today more than half of all dental students are female.
Sources
English Heritage, Blue Plaques, Lilian Lindsay.
University of Edinburgh, Alumni in History.
Cohen E, Cohen RA. British Dental Journal 1991, 171, 325.
Haines, CMC. International Women in Science: a Biographical Dictionary to 1950, 2001, ABC-CLIO, Santa Barbara.
Teli S. Soundbite, 19 June 2014.
PHOTO: Lilian Lindsay receiving an honorary doctorate from Edinburgh University 1946. Courtesy of the BDA Museum.
Allan Gaw is a writer and educator based in Scotland
This page was correct at the time of publication. Any guidance is intended as general guidance for members only. If you are a member and need specific advice relating to your own circumstances, please contact one of our advisers.
Read more from this issue of Insight Dental
Insight - Dental is published quarterly and distributed to MDDUS members working in dental practice throughout the UK. It provides a mix of articles on risk, dento-legal and regulatory matters as well as general features and profiles of interest to dentists.
In this issue