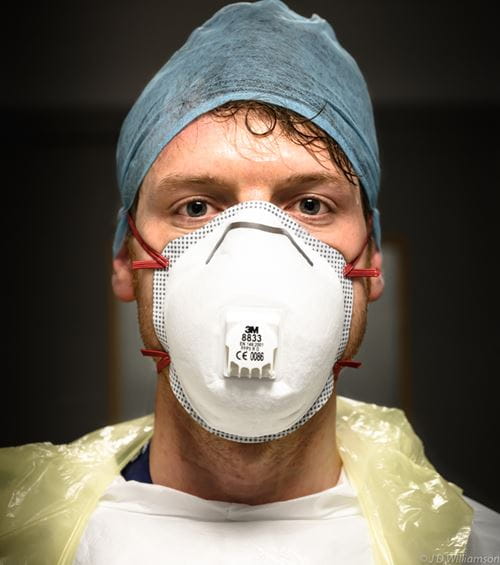 FOR most photographers, gaining exclusive access to a busy hospital during a pandemic would be virtually impossible – unless your name is Dr Jon Williamson.
After a lot of careful consultation with his hospital's management teams, the trainee anaesthetist was able to capture what he and his frontline colleagues witnessed during the most "stressful" and "disruptive" year of their medical careers.
While working in London's Whittington Hospital in 2020 at the height of the Covid pandemic, Dr Williamson took never-before-seen images on camera depicting mask-wearing ICU colleagues and intubated patients amidst a dizzying array of ventilators, heart rate monitors and other devices.
These poignant pictures and photo essays formed the basis of his On the Inside: Covid 19 photography project and were picked up by media outlets from Sky TV and Channel 4 News to the British Journal of Photography's Portrait of Humanity publication. It gave 30-year-old Jon national recognition as a photographer and earned him sponsorship from Nikon UK.
Insider view
As the second wave took hold, Jon stepped up his photography work, launching an Instagram page to offer the public a glimpse "inside" the pandemic. The anaesthetic registrar was able to combine his twin passions of medicine and photography while also creating an important historical record of this life-changing global event.
The images he has captured give people 'on the outside' a chance to see, first hand, real scenes inside the hospital.
When asked to put into words what it has been like for acute services, he says: "It has been incredibly stressful for everyone, having something out of your control that completely takes over your life and what you are doing.
"That's one of the hardest things."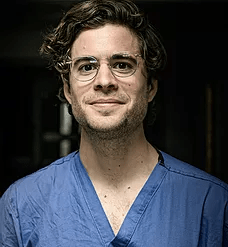 As the first wave came, and then the second, Jon says his life "became Covid".
"My shift pattern changed, I was spending a lot of time in intensive care, and it was hard to balance your life outside of that," he says.
"The blessing of our job was that we are not isolated, we see our colleagues and we carry on, but we also see this world that no one else is getting to see and experience.
"Because as a population we've all been so isolated, everyone has completely different experiences of the pandemic and are reliant upon the remaining external influences they have in their lives to understand what other people are going through or what the issues are out there."
Change of focus
Through photography, Jon had an outlet and a way to communicate what was happening. It allowed him to immerse himself in something he is passionate about, something he had enjoyed for 15 years prior, although it was a dramatic change to his usual style of photography.
The outdoor sports enthusiast who loves to climb mountains, kite-surf and ski, has a diploma in expedition medicine. He's more used to taking his camera out on the high-altitude peaks of Nepal or capturing dramatic landscapes on his far-flung trips abroad.
But when Covid travel bans put his adventurous trips and outdoor photography on hold, the anaesthetist never imagined where it would lead.
He says: "Over the last few years my photography was all about the outdoors during expeditions, but when the pandemic came along my focus changed."
Despite having a background in photography for medical education, Jon's work broadened even further to photography in healthcare. "I never expected I would become well-known for photographic work within a hospital setting," he says. "It's a blessing and a curse really. Not only have I learnt a lot about photography, I have reflected on healthcare in a different way.
"Before Covid, my main goal was simply to have a hobby outside of medicine, but now it has become something that is tied into my work."
Emotional impact
Being forced to look so closely at the day-to-day struggles of healthcare staff and patients had a profound impact on Jon.
"It's got a bit of an emotional burden when you are documenting something quite stressful," Jon says. "Coming home from the pandemic, and then looking at images of the pandemic, it forces a lot of reflection that you might not be doing otherwise.
"At times it made the work more emotional to produce."
His On The Inside: Covid 19 project, part of which is currently on display in Whittington Hospital and online on the Photo London website, includes fly-on-the-wall-style images taken inside the wards and theatres. But this is just a tiny fraction of what he has caught on camera.
He says: "I have got hundreds of images in my folders that are semi-refined – but in total, I have taken thousands. Some images just jump out, others are less aesthetically pleasing but can show what the pandemic is like."
Following the success of his On the Inside project, Jon's next photography venture sits at the other end of the medical spectrum. Working with the theme "childbirth", he says the aim is to "educate and artistically contrast my experience of Covid".
Path to medicine
Jon, who graduated from University of Bristol in 2015, was inspired to choose his specialty during a placement in his penultimate year. He loved the problem-solving, team work and scientific aspects of anaesthetics.
From Bristol, Jon moved to London for his foundation training before making an even bigger move to Australia where he worked in an A&E department. His passion for travel also took him to Nepal, New Zealand and South Asia.
After achieving his diploma, he did two years of core anaesthetic training in North Central London, before beginning his registrar training in the same region.
Besides qualifying as an anaesthetic consultant in the future, Jon is very much looking forward to getting back outdoors, doing what he loves best. As with many others, the pandemic has reinforced his desire to maintain the things he enjoys outside of medicine.
He says: "I am excited to get back to the day-to-day things: like doing some nice bike rides, kite surfing and going walking in the mountains – I am going to the Outer Hebrides this summer.
"I don't want to only do clinical work, I want to do other things that I find stimulating and interesting. I think you can create a synergy doing so."
"Trying to enjoy the simple things in life is something I am learning. I have still not got the balance right, but hopefully I'm getting closer!"
Dr Williamson's On the Inside project was only possible thanks to the relevant permissions from patients and staff and consent from the NHS.
Follow Jon's work on his Instagram account, drjdwilliamson, @drjdwilliamson and on his website at www.jdwilliamson.co.uk
Kristin Ballantyne is a freelance writer based in Glasgow
Photos: © Jon Williamson
IMAGE TOP: Dr Finn shows the strain of a tough ICU shift
IMAGE SECOND: Dr Jon Williamson
This page was correct at the time of publication. Any guidance is intended as general guidance for members only. If you are a member and need specific advice relating to your own circumstances, please contact one of our advisers.
Read more from this issue of Insight Dental
Insight - Dental is published quarterly and distributed to MDDUS members working in dental practice throughout the UK. It provides a mix of articles on risk, dento-legal and regulatory matters as well as general features and profiles of interest to dentists.
In this issue