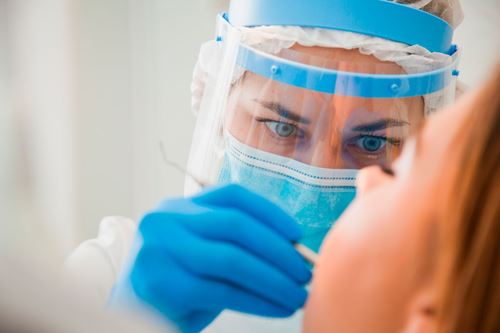 THE Covid-19 pandemic caused major disruption to dental services, with many practitioners still working through lengthy patient waiting lists. Among the many clinical areas affected are referrals for suspected cancers.
Figures show that in April 2020 there was a 60 per cent fall in the expected levels of referrals of people with possible head and neck cancers compared to April 2019.
As so many of these cancers – particularly those of the mouth – are first detected by NHS primary oral healthcare providers, this trend is likely to have continued for the remainder of 2020 and into 2021, as practices struggle to deal with a backlog of patients.
For clinicians deciding which patients to treat first, key considerations are likely to centre around identifying those who may have symptoms or signs of plaque-induced caries, gingivitis/periodontitis and tooth loss requiring rehabilitation. There is also a need to try to identify those who are at risk of oral cancer, or who may already have possible symptoms and signs (particularly oral and oro-pharyngeal squamous cell carcinoma (OSCC)) or pre-cancer (oral epithelial dysplasia).
Below are some key points to consider.
1. What to consider when reviewing the practice database
Oral cancer can arise in anyone, but potentially useful strategies when looking in practice databases are to identify those with known disease or signs that may increase the risk of OSCC.
These include:
previous cancer of the head and neck
previous or present known oral epithelial dysplasia
oral lichen planus
oral submucous fibrosis
a solitary white patch (often termed "leukoplakia")
a solitary red patch (often termed "erythroplakia")
any other solitary abnormality that was left unknown.
NB: While social habits, gender and social determinants may point towards a risk of oral cancer – they are not reliable predictors.
OSCC may be considered a consequence of lifestyle, but it can arise in anyone. In the past, mouth cancer was usually caused by high tobacco, betel nut and/or alcohol use but cancer of the posterior tongue or floor of mouth is now increasingly linked to oncogenic (cancer-causing) types of Human Papilloma Virus (HPV 16, 18, others). OSCC may also be initiated by oral lichen planus, oral submucous fibrosis, scleroderma and a number of rare genetic disorders.
Oral cancer is more common in males than females but the latter still get cancer. Similarly while mouth cancer has traditionally been more likely in persons aged over 60 years, the average age of diagnosis is falling and individuals who are otherwise well and have no relevant lifestyle factors have been known to develop OSCC for no apparent reason.
2. What to ask about in a remote consultation
The principal guide is whether there has been an abnormality that has lasted more than three weeks.
For example:
a non-painful lump of the lip or mouth or in the neck
a painful or painless solitary ulcer that the patient does not think is due to any trauma (e.g. sharp tooth or prosthesis)
altered sensation or movement in one part of the lip or mouth that did not follow any traumatic event.
NB: Photographs taken by patients, where feasible, may help the remote assessment of a reported abnormality and inform the decision whether to monitor or arrange an urgent face-to-face appointment, with a view to performing a clinical examination.
3. What to look for in a clinical examination
A solitary area of abnormality of the lip, oral mucosae or gingivae that has no obvious cause.
For example:
a solitary ulcer without any obvious local causes (e.g. sharp tooth or prosthesis)
a solitary non-painful lump
a solitary area of white, red or mixed white patch
mobile teeth without a background of notable periodontitis
poorly healing extraction socket
an area that appears "odd" and not one that you would normally expect.
NB: The Oral Cancer Toolkit from the British Dental Association and Cancer Research UK offers useful advice and visual examples regarding how to recognise oral cancer and refer.
4. What to do when there is a suspicion of mouth cancer
Inform the patient and answer their questions.
For example:
tell the patient that there is something that is unusual or suspicious and/or may be cancer – but you are unsure and wish to seek the views of a specialist
obtain their agreement that they are willing to be referred to an appropriate specialist centre
answer the patient's questions – but always temper this with an honest statement about your understanding of the disease.
Arrange an urgent referral.
Patients with symptoms or signs suggestive of cancer should be urgently referred to a specialist service (ideally within 24 hours of the above discussion) with the target of them being seen by a specialist within two weeks of receipt of the referral ("two week wait"). The referral does not require to come from the patient's general practitioner.
The referral should ideally be on an appropriate form, as this streamlines the administration of the referral in the specialist centre. Each NHS Trust and/or region may have their own specific forms that can easily be downloaded. The referral must contain clear details of why the referral should be considered urgent and accurate contact details of the patient and if there are any special circumstances (e.g. visual or hearing impairment or the need for an interpreter).
The referral should ideally be sent electronically through secure routes (e.g. nhs.net) and the referring clinician should seek confirmation that the referral has been received.
5. Ensure you are protected
At all times keep accurate and contemporaneous patient records. This establishes a "footprint" of your actions that ensures that other clinicians who attend the patient can be aware of your thoughts and actions.
Ensure that your continued professional development (CPD) portfolio maintains an understanding of aspects of oral cancer relevant to your field of clinical practice.
6. Inform your medical colleagues about the key aspects of oral cancer
Many people at risk of mouth cancer may not have a dentist and thus their first port of call for any clinical concern is likely to be their general medical practitioner, who themselves are under great professional pressures. Give them the basic facts about mouth cancer and advise them to either seek your help and/or emphasise the importance of urgent referral where it is clearly evident that the patient has cancer.
7. Promote a lifestyle that lessens the risk of oral cancer
The key messages should centre upon:
limit use of alcohol and avoid tobacco products and betel/areca nut
maintain a healthy, balanced diet
awareness of the oral cancer risks associated with certain sexual activity
have an effective means of maintaining oral health
attend oral healthcare providers regularly
seek advice when concerned about the mouth.
Stephen Porter, Institute Director and Professor of Oral Medicine, UCL Eastman Dental Institute London, London
Professor Stefano Fedele, Professor of Oral Medicine, UCL Eastman Dental Institute and UCLH/UCL NIHR Biomedical Research Centre, London
Paul Coulthard, Professor of Oral Surgery, QMUL Dental Institute, London and President of the British Association of Oral Surgery
Richard Shaw, Professor of Head & Neck Surgery, University of Liverpool, Liverpool
Pepe Shirlaw, Past President, British and Irish Society for Oral Medicine
This page was correct at the time of publication. Any guidance is intended as general guidance for members only. If you are a member and need specific advice relating to your own circumstances, please contact one of our advisers.
Read more from this issue of Insight Dental
Insight - Dental is published quarterly and distributed to MDDUS members working in dental practice throughout the UK. It provides a mix of articles on risk, dento-legal and regulatory matters as well as general features and profiles of interest to dentists.
In this issue