THE term 'composite bonding' is most often used by those patients who have explored the internet looking for solutions to change their smile, or by dentists on Instagram advertising their services. The technique of bonding resin-based composite (RBC) to dental hard tissue may also be employed in the treatment of non-carious tooth surface loss (NCTSL).
The bonding of RBC to dental enamel was first demonstrated by Michael Buonocore in 1955. Dental materials and clinical techniques have since evolved greatly, with the result being that bonding to enamel and dentine, which is a very different substrate by dint of its higher moisture content, is effective in contemporary dentistry.
The treatment offers a number of advantages. It is conservative of dental hard tissue, particularly when additive techniques are employed as no tooth tissue needs to be removed (Fig. 1). RBCs are tooth coloured and therefore possess good aesthetic properties, and they are relatively easy to maintain compared to their ceramic counterparts. Although frequently a minimally invasive technique, there are some pitfalls which clinicians should be aware of when providing this treatment to patients.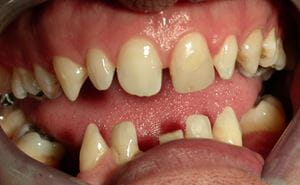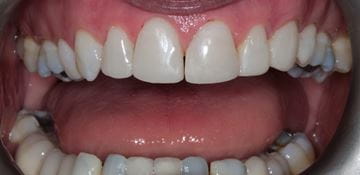 Fig. 1 Pre- and post-operative clinical photographs showing the conservative management of a patient with hypodontia using an additive composite bonding technique and resin-retained bridges after bleaching.
Taking a comprehensive history
As with the management of any dental patient, the taking of a comprehensive history is an essential first step. In the case of NCTSL, questions should include:
What is the aetiology?
How long has it being going on?
Is it still ongoing?
Control of any aetiological factors is essential prior to embarking on the treatment of these patients. This may be done in conjunction with another healthcare professional, such as the patient's GP, for example in the management of gastro-oesophageal reflux disease (GORD).
Cases involving patients requesting "cosmetic dentistry" require a very careful history. The increasing influence of social media promoting aesthetic idealism may account for the rising demand of cosmetic treatment, especially among vulnerable younger patients. It is important to explore whether there are any psychological issues underpinning the request and, if so, very careful management of the patient is required. At the very least, a long work-up would be prudent prior to commencing treatment, but an onward referral to a psychologist or psychiatrist via the GP may be warranted. It is wise to be very wary of a patient with unrealistic expectations, with the lesson being: never treat a stranger.
Investigations
Investigations will often be required after history-taking to inform the diagnostic and treatment planning stages. In many cases when composite bonding is being envisaged, pre-operative clinical photographs, study casts and perhaps a facebow registration may be indicated in order to allow the dental technician to do a diagnostic wax-up (see Fig. 2). This will help the clinician plan and ultimately execute the case more predictably. These diagnostic aids may also serve as useful medico-legal evidence to support the diagnoses and treatment plan should a claim be subsequently raised by the patient.
Treatment planning and valid consent
Careful and holistic treatment planning is prudent. It is fundamental that all primary disease (such as dental caries and periodontal diseases) is stabilised, with any aetiological factors having been identified and controlled.
It goes without saying that obtaining valid consent is an essential step in the management of all patients. The diagnostic wax-up can be shown and explained to the patient, so involving them in their care. This provides clarity to the patient as to what is being envisaged, as well as certainty and reassurance for the treating clinician that the patient has understood the extent of the treatment.
If a change in the occlusion is being proposed, for example increasing the occlusal vertical dimension (OVD) by means of relative axial movement (otherwise known as the Dahl concept), then the ramifications of this approach must be carefully explained to the patient. Such advice should include an expectation of approximate timescales for the change in occlusion to resolve.
Patients should also be informed that the restorations may chip, stain, wear or debond with time and will need to be maintained on an ongoing basis, which will incur additional charges. To support this, it is wise to furnish the patient with a written information sheet. An excellent example was published in a Dental Update paper written by Prof Trevor Burke1.
It should also be remembered that written consent is necessary when clinical photographs are taken. The use of pre-written consent forms can expedite the process and indemnity providers may be able to assist in the production of such.
Pre-operative advice
It is important to adopt fastidious clinical technique to gain optimal treatment results. Products for the envisaged procedure should be selected carefully and the accompanying directions for use (DFU) read prior to treatment.2,3
Material systems should always be utilised; in other words products which have been designed to be used together will yield more predictable results than combining materials made by different manufacturers. This is because products from different ranges may not be chemically compatible, leading to premature failure or inferior clinical performance.3 Furthermore, it is wise only to use high-quality products made by reputable manufacturers, with a track record of research and development and quality assurance.4,5
Another benefit of prescribing a diagnostic wax-up is that matrices may be constructed from it which will hugely facilitate and simplify the clinical procedure (Fig. 2).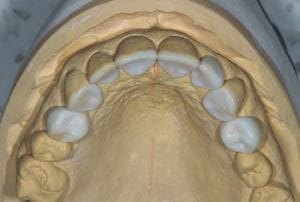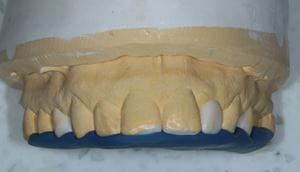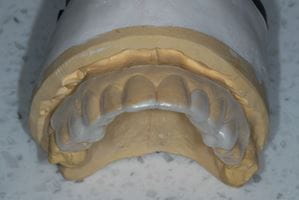 Fig. 2 A diagnostic wax up (a), a putty matrix (b) and/or vacuum formed splint (c) may be constructed and used clinically to facilitate the execution of the composite bonding procedure and provide some predictability over the outcome.
Treatment – clinical advice
If the teeth have been bleached as part of the treatment plan, it is wise to delay the addition of the RBC for approximately a month after cessation to allow the residual oxygen species from the bleaching process to be lost from the tooth tissue. Failure to follow this protocol has been shown to decrease bond strengths by some 25 per cent.
Rubber dam placement is a very useful tool when working with moisture sensitive materials. It also facilitates the clinical procedure by improving access and vision, and provides a controlled environment in which to work. Patient acceptance is also very high, so increasing compliance. Matrices made on the pre-operative cast may have to be adjusted as the rubber dam may prevent their full seating which would negate the benefits of employing this technique.
A minimum thickness of 2mm of RBC is required, otherwise chipping or debonding may occur, especially if the restorations are being left "high" to "Dahl in". The forces on these restorations should be carefully controlled to avoid their premature failure. This can be minimised by good planning and the use of a diagnostic wax-up as described earlier.
The patient should be asked to return a week or fortnight post-operatively to review the restorations. At this appointment, the occlusion should be examined and, if necessary, any adjustments made prior to the restorations being polished to a high luster.
Lastly but importantly, an appropriate maintenance phase should be instigated to permit the restorations to be examined and maintained at regular intervals, together with the reinforcement of a tailored preventive regime.
Key message
Although very frequently a minimally invasive technique, composite bonding can present pitfalls from a medico-legal and clinical perspective. The prudent clinician would be advised to thoroughly plan, consent and execute the care they provide to the highest standard to minimise the risk of receiving any complaints from disgruntled patients.
Steve Bonsor is a GDP in Aberdeen and also a senior clinical lecturer and online tutor at the University of Edinburgh, and a senior clinical lecturer at the Institute of Dentistry, University of Aberdeen
References
Burke FJT. Information for patients undergoing treatment for toothwear with resin composite restorations placed at an increased occlusal vertical dimension. Dent Update. 2014;41(1):28-38

Bonsor SJ, Pearson GJ. A clinical guide to applied dental materials. 1st ed. Edinburgh: Churchill Livingstone Elsevier; 2013

Bonsor SJ, Ten top tips to overcome common mistakes concerning the use of dental materials. Dent Update. 2021;48(8):707

Burke FJT. Own label materials: scientific evidence. Dent Update. 2017;44(4):273

Burke FJT. The evidence base for 'own label' resin-based dental restoratives. Dent Update. 2013;40(1):5-6
This page was correct at the time of publication. Any guidance is intended as general guidance for members only. If you are a member and need specific advice relating to your own circumstances, please contact one of our advisers.
Read more from this issue of Insight Dental
Insight - Dental is published quarterly and distributed to MDDUS members working in dental practice throughout the UK. It provides a mix of articles on risk, dento-legal and regulatory matters as well as general features and profiles of interest to dentists.
In this issue