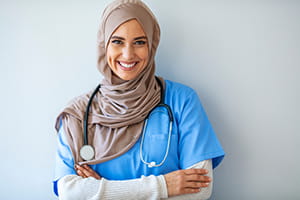 MANY organisations will have seen a recent return of staff to the workplace – and after a such a long period of general home working it seems timely to discuss what is and isn't appropriate work attire.
The dress and appearance of general practice staff should reflect a professional image that promotes trust in patients, visitors, clients and colleagues: this is a reasonable expectation. At the same time, practices must make sure that any dress policies reflect the diversity of culture, religion and beliefs among staff and are in line with equality policies. A sensitive and sensible approach is necessary in such matters.
Health and safety is another consideration. Employees must dress in a manner that complies with health and safety requirements, including infection prevention and control. For example, it is essential that scrubs are not worn outside the practice.
Practice policies on dress should form part of your employee handbook and be read and understood by all practice staff, especially new employees.
They should apply to everyone, including agency staff and contractors, and make clear that staff are responsible for ensuring high standards of personal presentation at all times.
Below is an example of a uniform policy you may wish to review and adopt.
Please contact MDDUS employment law advisers on advice@mddus.com for specific advice on practice dress codes.
Janice Sibbald is an employment law adviser at MDDUS
---
Practice dress code
General wear
If at any time uniforms become worn or damaged or need replacing, the employee should bring this to the attention of their line manager. All items of uniform remain the property of the practice and should be returned upon termination of employment.
Badges
Identity lanyards and professional badges should be worn at all times so that employees can be identified from a security point of view. If you see a visitor in a restricted area of the workplace who does not have a lanyard then you should feel able to challenge them on this.
Headwear
Turbans and kippots, veils (Christian or nikab) and headscarves (hijabs and jilbabs) are supported on religious grounds. The latter should be shoulder length and scarves must not drape freely.
Tattoos
Tattoos are more commonplace these days and can be accommodated where appropriate. Ideally, they should be discreetly concealed where possible and covered completely if they are deemed to be offensive.
Jewellery and piercings
Employees should ensure that jewellery does not pose a risk to themselves or others, and piercings should be discreet. The practice can ask for piercings to be removed for the duration of the employee's shift or covered with a plaster.
Hygiene
Uniforms should be stain-free and laundered and ironed appropriately. Please ensure that uniforms are free from smells associated with cigarettes and vapes or strong cooking smells. It is the employee's responsibility to launder their uniform regularly and a clean uniform should be worn every day.
Footwear
Footwear must be navy or black and low heeled, closed toe and heel. Slip on, lace up and Velcro styles are all acceptable. Trainers may be worn but must be navy or black with no branding visible.
Compliance
Spot checks of dress code and uniform may be taken during the year. Non-compliance with this policy will be managed through an informal discussion in the first instance; however, the practice's disciplinary procedures can apply for repeated breach of this code.
If you require any further clarification or wish to discuss any aspect of the policy, please do not hesitate to ask for a meeting.
---
This page was correct at the time of publication. Any guidance is intended as general guidance for members only. If you are a member and need specific advice relating to your own circumstances, please contact one of our advisers.
Read more from this issue of Insight Dental
Insight - Dental is published quarterly and distributed to MDDUS members working in dental practice throughout the UK. It provides a mix of articles on risk, dento-legal and regulatory matters as well as general features and profiles of interest to dentists.
In this issue