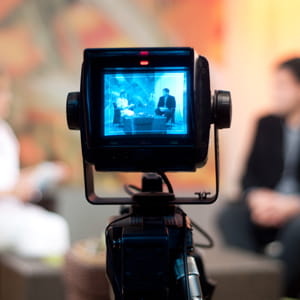 FEW would argue that electronic media – be it broadcast or online, via websites or apps – is not now an integral part of everyday life: some would say essential. It offers a seemingly unlimited source of engaging material on a vast range of subjects. Growth in this area has been enormous over the last few decades, reaching into every aspect of our lives, both personal and professional.
Popular medical websites and TV programmes have always proved gripping to the public and there doesn't appear to be any decline in appetite.
MDDUS regularly receives calls from members seeking advice about engaging with media producers and these types of calls are on the rise.
Common scenarios which raise questions from members include:
Requests to participate in online channels with real-time comments on popular TV programmes. Producers often are just looking for a personal view but in the context of being a medical/dental professional.
Contributing to online blogs or publications which are not directly related to professional practice but in which professional qualifications are stated (which are no doubt seen as a good selling point).
Patients with complex histories who agree to be 'followed' for a documentary. They want the doctors involved in their care (both primary and secondary care) to speak to the producers about participating in the programme, including being filmed whilst consulting and later interviewed about the patient's condition.
Requests from friends to add some clinical content to their blog or social media post about a particular medical condition.
A TV company asking a medical practice if they would be agreeable to participating in a 'fly-on-the-wall' documentary.
Medical professionals are not forbidden from taking part in any of these activities but it is essential to remember that anything you do is judged against professional standards. For medical professionals, the relevant standards set out in Good Medical Practice must be applied.
Remember that the General Medical Council (GMC) places great emphasis on maintaining public confidence in the profession and takes seriously any doctor's activities which could bring the profession into disrepute.
In this regard the GMC, in its guidance Maintaining a professional boundary between you and your patient, advises: "You must consider the potential risks involved in using social media and the impact that inappropriate use could have on your patients' trust in you and society's trust in the medical profession.
"Social media can blur the boundaries between a doctor's personal and professional lives and may change the nature of the relationship between a doctor and a patient. You must follow our guidance on the use of social media."
Public media includes social networking sites, blogs and other social media. In particular, doctors must take care not to make personal, inaccurate or derogatory comments about patients or colleagues.
Where patients are directly involved, their informed, documented consent is essential. If anonymised data is used or filming occurs in a medical setting, remember that inadvertent breaches of confidentiality can and do occur.
We all remember the high-profile blunder when Jeremy Hunt was photographed standing in front of a board of named patients while visiting a maternity unit. MDDUS shares this responsibility when creating our own drama series, Bleak Practice, which is filmed in an actual medical practice and hospital premises.
Also remember to check with your employers or contracting body to ensure that you comply with their requirements. The GMC provides specific guidance on Making and using visual and audio recordings of patients, which covers areas such as checking the agreement of your contracting or employing body, informed consent in line with the Ofcom Broadcasting Code and special considerations for vulnerable patients.
ACTION POINTS
Think carefully before agreeing to take part in programmes or publications on broadcast/social media.
Check the details of any proposal carefully and ensure that the activity complies with guidance from your regulator.
Ensure you also check with your employer before agreeing to participate.
Never discuss confidential details of a patient's case without their express consent.
Seek advice from MDDUS if in doubt, particularly with regard to indemnity.
Dr Gail Gilmartin is a medical and risk adviser at MDDUS
This page was correct at the time of publication. Any guidance is intended as general guidance for members only. If you are a member and need specific advice relating to your own circumstances, please contact one of our advisers.
Read more from this issue of FYi
FYi is published twice a year and distributed to MDDUS members in Foundation Year 1 and Foundation Year 2 training programmes and final year medical students throughout the UK. It provides a mix of articles on risk, medico-legal and regulatory matters as well as general features and profiles of interest to trainee doctors. Browse all current and back issues below.
In this issue