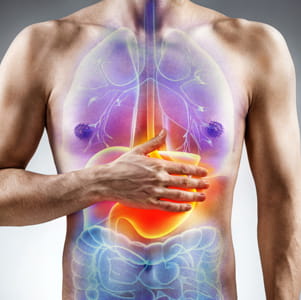 GASTROENTEROLOGISTS investigate, diagnose, treat and prevent all gastrointestinal and hepatological diseases. The role is varied and offers clinicians the opportunity to look after acutely ill and chronically unwell patients, as well as carrying out technical and often demanding procedures. One of the fastest-growing UK medical specialties, it has seen considerable scientific and technological developments in recent years, meaning specialists are always acquiring new skills and extending their knowledge.
Entry and training
Upon successful completion of the two-year foundation training programme, specialty training in gastroenterology generally lasts seven years. This begins with either two years core medical training (CMT) or three years in acute care common stem (ACCS). At this stage, trainees are expected to gain full membership of the Royal College of Physicians (MRCP UK) before progressing to specialty training (beginning at ST3). Most gastroenterologists also train in general internal medicine, which takes a minimum of five years (ST3-ST7). Sub-specialty training in hepatology can be taken in ST5. Trainees are expected to have six months each of core liver and nutrition training.
The job
Gastroenterology is known for its diversity. While some specialists deal with a single organ, gastroenterologists manage patients with disorders of the liver, intestines, stomach, oesophagus, pancreas and gallbladder. That said, there is opportunity to become highly specialised in fields including hepatology, inflammatory bowel disease, inherited cancer syndromes and tropical diseases.
All gastroenterology specialists are competent at upper gastrointestinal (GI) endoscopy and most will be trained in lower GI endoscopy. Some will have had additional training in hepatobiliary endoscopy or small bowel endoscopy. Most will participate in acute gastroenterology admissions and manage a broad range of GI disease, either in outpatients or following admissions.
They treat a wide range of conditions including: GI bleeding; GI cancer; anaemia; inflammatory bowel disease, e.g. Crohn's; gastroenteritis; hepatitis; short bowel syndrome; jaundice; and management of the wide range of causes of hepatitis. This broad range makes multidisciplinary team working a key feature of the specialty. In addition to liaison with nurse specialists, gastroenterologists will work closely with surgeons, diagnostic and interventional radiologists, pathologists and oncologists.
Sources
Q&A Dr Helen Fidler, consultant gastroenterologist, Lewisham and Greenwich NHS Trust
What first attracted you to gastroenterology?
As a trainee, it seemed to me that the cleverest and most engaging physicians I met were gastroenterologists or chest physicians. I planned to train in chest medicine but a freeze was placed on training numbers – so I switched half way through my MD research from sarcoidosis to Crohn's disease. And I haven't regretted it for one day.
What do you enjoy most about the job?
Gastroenterology is a marvellous specialty. There is huge flexibility in the discipline. I love practical skills – violin, gardening, knitting – so endoscopy is a joy for me. Being paid to play computer games whilst chatting with an amazing group of endoscopy staff and interesting patients is a privilege.
What do you find most challenging?
I really hate multi-tasking. I like life to be predictable and to feel in control. So overbooked clinics and interruptions during endoscopy lists would be in my Room 101. Add to that, patients having difficulty getting back to clinic due to waiting times or our endoscopy and IBD nurses not being valued. I rarely find patients challenging, except the ones who take only one glass of Moviprep and think that one episode of diarrhoea will be enough for their colonoscopy prep.
Has anything surprised you about the specialty?
It has been remarkably straightforward to fit this specialty around family life, and to vary my job plan with my caring commitments over the years. This is partly due to the sessional nature of endoscopy and outpatient work. I'm still surprised by Twitter posts showing an entire male 'top table' at gastroenterology conferences.
What do you consider the most important attributes of a good gastroenterologist?
Well, all the things that make a good consultant plus some others. So patience, professionalism, diligence, kindness and fabulous communication skills are a start. Plus manual dexterity and, for women, the ability to hold your own amongst a majority of male colleagues, and not apologise for working less than full time. The Supporting Women in Gastroenterology group (SWiG) of the British Society of Gastroenterology (BSG) is really helpful here.
What are the most common misconceptions about the job and the specialty?
My children call me a 'bum doctor' and ask how I can spend all day looking at bottoms. I try to explain but it hasn't worked so far. Describe a typical working week I'm now 56, and I think it's important at this stage of a consultant's career to reassess your career goals. I've taken on medical politics in the last five years to try to improve things for our future colleagues, and now work with the BMA as deputy chair for the UK Consultants Committee, and on the BMA Council and Board of Directors. I still do clinical gastroenterology every week but each one varies – which is hugely enjoyable. And working with SWiG and setting up our first ever conference at the Royal College of Physicians was marvellous.
What are the tools you couldn't live without?
My phone, for responding to urgent clinical and medico-political crises. It drives my family mad – the children are always telling me to put it down which is true role reversal. I also love Microsoft One drive for enabling me to carry work with me, and our family labradoodle for de-stressing without gin.
Any advice for FY1s on securing a training post?
First decide exactly what you want and then go for it. Talk yourself up, everyone else does, and get the best possible CV you can by aiming to publish a case report or abstract in each job you do. Remember you will meet your colleagues again repeatedly throughout your career so don't fall out with anyone.
Tell us more about your work with SWiG
Only 30 per cent of gastroenterology consultants are female, and we are under-represented on BSG Council. This needs to change, and is changing, as diversity is essential to our specialty's future. SWiG aims to make the specialty attractive to women and those with caring commitments and improve flexible working practices. The BSG is a very friendly society, and small enough to be able to make real differences fairly quickly. Our website features blogs and advice on topics from working less than full time to maintaining an academic career. Our SWiG day at the RCP was very well attended and, with so many talented women training and working in the specialty, the future looks bright.
This page was correct at the time of publication. Any guidance is intended as general guidance for members only. If you are a member and need specific advice relating to your own circumstances, please contact one of our advisers.
Read more from this issue of FYi
FYi is published twice a year and distributed to MDDUS members in Foundation Year 1 and Foundation Year 2 training programmes and final year medical students throughout the UK. It provides a mix of articles on risk, medico-legal and regulatory matters as well as general features and profiles of interest to trainee doctors. Browse all current and back issues below.
In this issue