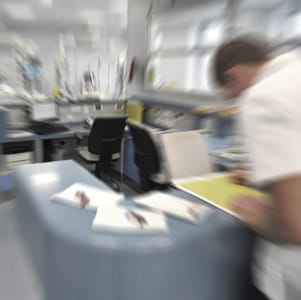 THE chaos of a year of maxillofacial surgery training (maxfac) is not to be underestimated. The constant ringing of the on-call phone. The endless hours. The never-ending flow of patients. However, for those who survive this test of endurance, returning to the world of dentistry can be even more disorientating and foreign.
As many dentists before me, I decided to take on the challenge of maxfac as a dental core trainee (DCT). During the course of the year I was involved in the treatment of neck stabbings, facial trauma and systemically unwell patients. In short: anything but teeth.
I quickly became immersed in the world of HbA1cs, haemoglobin levels and inflammatory markers, but the fear of not knowing what new challenge would come through the door was particularly daunting. Knowing that help was only a phone call away provided some reassurance.
While the four-hour A&E rule may to the average person sound plentiful, it's surprising how restricting it becomes when you receive multiple referrals in quick succession. Seeing in the New Year on-call was particularly exhausting, as non-stop alcohol-infused social events produced a surge in patients. Maxfac teaches you to see the bigger picture in life, prioritising the medical management of septic patients. Most importantly, it reminds dentists that teeth aren't everything.
So how does one readjust from this high-pressure, fast-paced environment to picking up a handpiece again? The answer is… with great difficulty.
Switching from maxfac trainee to my next role as a restorative trainee wasn't easy. But I learned that, while rehabilitating tooth wear cases may not offer the same immediate gratification of stabilising an exsanguinating patient, you still have a valuable part to play in that patient's care.
For the first few days, the contrast with maxfac was stark. No more waiting for the ringing of the on-call phone. No unexpected attendances of systemically unwell patients. In their place was a structured diary with clearly outlined treatment plans. The urgent bleeping of emergency resuscitation room monitors was replaced by the gentle bleeping of the apex locator.
My first month of restorative dentistry was the steepest learning curve as I tried to get a grasp on Ackerly's classifications and implant components while fumbling my way around a denar facebow. I realised I had (not for the first time) shifted from being unconsciously competent to unconsciously incompetent in a matter of days. As Broadwell's theory of learning goes, in the beginning you lack the skill but don't realise it (unconsciously incompetent). Next, you develop competence that requires conscious effort, but eventually it becomes second nature (unconsciously competent). It was with this comforting thought that I pushed on, appreciating that learning new skills and revisiting old skills would take time and effort.
Now several months down the line, I can ably demonstrate to junior colleagues how to obtain a facebow registration. What was once a complex contraption is now a useful adjunct to replicating jaw movements. Although it has been a steep learning curve it's been enriching to appreciate the individual complexities within restorative dentistry, from apexectomies to obturators.
For those transitioning to different fields in the hospital sector, the change can be significant. I've noted these four useful steps to progressing:
1. Accepting you have deskilled in some areas. You realise that in the process of acquiring new skills you have become deskilled in some basics areas of dentistry. Simply accessing a tooth again may feel odd as you think over the complex anatomy of dental pulps. But don't forget that your confidence will return with time and experience. We can't be expected to know the intricacies of every specialty.
2. Seeking advice and guidance. Asking for help from senior colleagues is crucial, especially in the first few months. Simply revisiting the basic principles of dentistry will jog a rusty memory. You may realise you are missing some specifics, but the main concepts should still be imprinted in your memory. Accept that saying "I'm not sure" isn't a failure, but a learning opportunity to be explored.
3. Creating opportunities. "You reap what you sow" is a common saying but very true. As with any change of job, the environment is different and it's often difficult to determine what your role is in that team when multiple levels of hierarchy are present. However, being well prepared and arriving on time gives the best chance to find your place and offer assistance. Be proactive and ask for cases that are of interest to you – the best learning opportunities can appear when you're outside your comfort zone.
4. Learning from mistakes. Oscar Wilde famously said: "Experience is simply the name we gave our mistakes". None of us wish to make mistakes or errors knowingly; but this can hold us back from pushing ourselves to progress. Mistakes will happen but it is how you grow and develop from them that determine success in the long run.
Kuljit Kaur is a dentist based in Newcastle
This page was correct at the time of publication. Any guidance is intended as general guidance for members only. If you are a member and need specific advice relating to your own circumstances, please contact one of our advisers.
Read more from this issue of Insight Primary
SoundBite is published twice a year and distributed to MDDUS members in their final year of dental school and to those undertaking one or two years of postgraduate training throughout the UK. It provides a mix of articles on risk, dento-legal and regulatory matters as well as general features and profiles of interest to trainee dentists.
In this issue