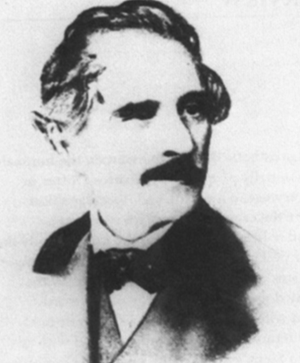 THEY are a small select group. Those individuals whose surnames have been transformed over the years into nouns and even verbs have certainly achieved immortality of a sort. But sometimes when we use eponyms we do not even recognise that they were once names. The French physician and inventor Joseph-Ignace Guillotin is a member of the group, as is the American industrialist William H Hoover. And so also is a largely forgotten English dentist, Charles Thomas Stent.
Stent was born in Brighton and practised dentistry in Victorian London. His principal contribution to his field came in 1856 when he successfully modified the material used to make dental impressions. Earlier in the nineteenth century the main impression materials had been beeswax and plaster of Paris. Because these were far from perfect, the English dentist Edwin Truman had introduced the use of gutta percha in 1847.
This natural material derived from rubber trees was an improvement over its predecessors but was still found wanting. It had a tendency to distort after removal from the patient's mouth and would shrink on cooling. To stabilise the gutta percha and improve its plasticity, Stent decided to add stearine derived from animal fat. He also added talc as an inert filler and red colouring. When the new, improved material was introduced it was an instant success and indeed Stent was lauded by his profession.
Both Stent's sons followed him into the dental profession and together they founded a company, CR and A Stent that would manufacture the increasingly successful Stent's Compound for the next four decades. In 1901, when the second of his sons died, the dental supply company Claudius Ash and Sons of London purchased the rights and continued its manufacture under the Stent name.
But how did the name of a dental impression material find its way into the wider world of surgical devices? The story is convoluted and not without controversy. Stent's compound was certainly widely known in dental circles throughout the latter half of the nineteenth century, but the story really begins with its use by a Dutch plastic surgeon in the First World War. That surgeon, J F Esser, was trying to find novel ways of repairing serious facial wounds in soldiers from the trenches. He described in 1917 how he used "the mould of denticle mass (Stent's) in fixation of skin grafts in oral surgical repair of war wounds."
Later in the same article, he referred to the material he used as "stent's mould". This pioneering work was cited in a 1920 book on the Plastic Surgery of the Face, in which the author noted: "The dental composition for this purpose is that put forward by Stent and a mould composed of it is known as a 'Stent'." Thus, Charles Stent's surname became a noun for the first time.
Throughout the subsequent decades of the twentieth century, surgeons trained in the UK and US would have been well aware of such material being used in oral and plastic surgery. As there is often significant crossover from one sub-speciality to another, the concept of the "Stent" would find its way into diverse fields. In the reconstruction of the common bile duct, polyethylene tubes would be used to maintain the structure's patency, and in 1954 this was referred to as "a stent for the anastomosis". In urology, where there is also an obvious need to hold tubes open, the word stent was first used in 1972.
However, today the most common use of the word stent is in cardiology. The first use of the word "stent" in that field was not until 1966, where it was used in the context of heart valve surgery. While its author was fully aware of the use of the word by plastic and oral surgeons, he later claimed that he thought it was "an all-purpose term for any kind of nonbiological support used to give shape or form to biological tissue." The notion of an endoarterial tube graft as we know it today is attributed to researchers in the 1960s and the first coronary stent was implanted in Toulouse in 1986.
Today, the word stent has entered common usage and as one cardiac surgeon noted: "The greatest accolade that can be given to any inventor is to have the initial capital letter dropped from his name, for that is recognition that the word is now in the general language." Charles Stent, the Victorian London dentist, has certainly achieved immortality, but his part in the development of the modern stent has often been overlooked.
Dr Allan Gaw is a writer and educator in Glasgow
SOURCES
Ring ME. Journal of the History of Dentistry 2001:49; 77-80.
Sterioff S. Mayo Clinic Proceedings 1997: 72; 377-9.
Roguin A. Circulation: Cardiovascular Interventions 2011: 4; 206-9.
This page was correct at the time of publication. Any guidance is intended as general guidance for members only. If you are a member and need specific advice relating to your own circumstances, please contact one of our advisers.
Read more from this issue of Insight
Insight (formerly Summons) is published quarterly and distributed to all MDDUS members throughout the UK. It provides a mix of articles on risk, medico-legal and regulatory matters as well as general features and profiles of interest to our members. Browse all current and back issues below.
In this issue