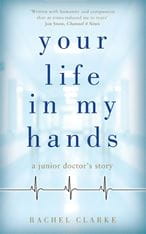 A junior doctor's story
By Rachel Clarke
Metro Publishing: £8.99 paperback, 2017
Review by Dr Greg Dollman, MDDUS medical adviser
RACHEL Clarke, an experienced journalist before retraining as a doctor, knows her way around words. In her memoir, Your life in my hands, she recognises she met her match in Jeremy Hunt. "On 16 July 2015, the Health Secretary went to war. For a former PR man turned politician, Jeremy Hunt's weapon of choice would always be words – deployed, on this occasion, with explosive aplomb."
This is a story of the NHS at a time of perhaps the greatest unease it has known, as told by a junior doctor. Clarke joined the campaign against the government over the junior doctors' contract, and tells of the struggle to save not only the patients she trained to heal but also the system that she loves.
Clarke was born into a family of doctors. She recalls the ceremony of accompanying her GP father to the cottage hospital each Christmas Day where she would visit each patient in turn. Although choosing arts over science as a teenager, her pull to medicine was too strong and at age 29 she entered medical school. She writes poignantly how her grandfather died in an NHS institution where the care fell below the standard expected, and she concludes her story with a stark warning: "Another Mid Staffs is not looming: it is already here. Yet the government is choosing to turn a blind eye".
Clarke tells her own version of the "weekend effect" that Hunt preached, recalling the highs and the lows of countless night shifts and weekends spent racing between fluorescentbright wards and dimly-lit side rooms where patients of all ages were rallying or dying. While Clarke celebrates the marvels of medicine and shares the joy and pride she felt in caring for patients and being part of a system that provides care to those who need it without charge, she does not shy away from the reality of being part of the "backbone of the NHS".
This is the story of the first full walk out of junior doctors in the history of the NHS, reported from the picket line by a junior doctor. It tells of the very real dangers to the NHS, its staff and its patients. Clarke believes that the system is "falling apart", but she, like the other 1.4 million employees, battles on, committed to the success of the NHS.
This page was correct at the time of publication. Any guidance is intended as general guidance for members only. If you are a member and need specific advice relating to your own circumstances, please contact one of our advisers.
Read more from this issue of Insight
Insight (formerly Summons) is published quarterly and distributed to all MDDUS members throughout the UK. It provides a mix of articles on risk, medico-legal and regulatory matters as well as general features and profiles of interest to our members. Browse all current and back issues below.
In this issue