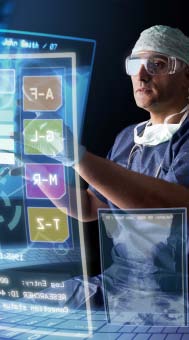 THE prognosis has been delivered and it is not good news for some old familiar friends. Fax machines and pagers across NHS England have been given only two more years to live, while pen and paper and outdated GP IT systems are on life support.
These are just some of the recent decisions made by Health and Social Care Secretary Matt Hancock, whose report, The future of healthcare: our vision for digital, data and technology in health and care, sets out ambitious plans for a "fully digitised" NHS.
It envisions a future that is all but paperless, where patient data is cloud-based, GPs provide virtual consultations, and clinicians connect to high-speed internet. Pagers have been replaced by secure WhatsApp-style messaging and calling systems, and patients are kept informed via email rather than hardcopy letters. Genomics, artificial intelligence (AI) and smartphone apps also have a starring role.
Mr Hancock's recent string of policy announcements have elicited a chorus of passionate responses on Twitter, often from those working within the NHS. While many welcome the investment, a common rallying cry is: "we need the basics fixed first".
This is illustrated by the health secretary's recent tweet announcing the introduction of high-speed fibre optic internet to NHS hospitals and GP practices in England and Wales. While this move was broadly welcomed, many responses raised a number of similar basic issues. These were summed up by one comment complaining that "our computers take 10 mins to boot up, the Wi-Fi doesn't work [in some areas of the hospital], and we have unusable medical records software." Others raised concerns over understaffing, bed shortages, mobile phone signal "dead spots" and delays in getting basic IT support/repairs.
Now the RCGP has joined the debate by launching its "tech manifesto" which sets out how it believes technology can best work for GPs and patients. The two-page infographic, echoing many concerns raised on Twitter and elsewhere, calls on the government to deal with the most pressing matters first before pushing ahead with more ambitious plans.
RCGP chair Professor Helen Stokes- Lampard said a "robust and joined-up IT system across the NHS" must be a priority.
She said: "GPs want the latest, cuttingedge tech at our disposal but we need the basics to work first. That means everything from making sure that our computers don't crash while issuing a prescription, to making sure our systems talk to those in all hospitals so that we can improve the care and experience that our patients receive throughout the NHS.
"We want the NHS to be a world leader in technology, and we are ready for a new wave of exciting opportunities which have the potential to revolutionise patient care, but a lot of work is needed before that can happen".
In a speech at the Spectator Health Summit in March, Mr Hancock acknowledged that realising his future vision will not be easy. He cited concerns from "naysayers" of understaffing and imperfect technology but called for NHS staff to embrace a "spirit of continuous improvement" and to "keep going, always aiming higher".
A large portion of his hopes are pinned on the success of the newly created NHSX, billed as a "specialist bridge between the worlds of healthcare and technology". He has tasked NHSX with creating a "culture of innovation and experimentation within the NHS" to help encourage the spread of "proven, safe, tested existing technology" across the system.
Former government director for cyber security Matthew Gould has been announced as the new NHSX CEO ahead of its planned launch in July 2019. Speaking at his appointment in April, Mr Gould said the organisation's single goal was to improve care by ensuring staff and patients have the technology they need.
He said: "I will know I have succeeded if in two years we have reduced the crazy amount of time that clinicians spend inputting and accessing patient information; if we have given patients the tools so they can access information and services directly from their phones; and if we have started to build a system in which patient information can be securely accessed from wherever it is needed, ensuring safer and better care as patients move around the system, and saving patients from having to tell every doctor and nurse their story over and over again."
For Matt Hancock to achieve his dream of making the NHS a world leader in tech innovation, there are considerable obstacles to overcome and the shadow of historical multi-million pound NHS IT failures loom large. But the health secretary – the first to have his own smartphone app – is nothing if not optimistic.
He hopes staff and patients will share his vision and follow his rallying cry: "Let's look forward now with confidence and optimism – as we have done before. Let's embrace the innovations… And let's shape a better future for all."
Joanne Curran is associate editor of MDDUS Insight magazine
This page was correct at the time of publication. Any guidance is intended as general guidance for members only. If you are a member and need specific advice relating to your own circumstances, please contact one of our advisers.
Read more from this issue of Insight
Insight (formerly Summons) is published quarterly and distributed to all MDDUS members throughout the UK. It provides a mix of articles on risk, medico-legal and regulatory matters as well as general features and profiles of interest to our members. Browse all current and back issues below.
In this issue