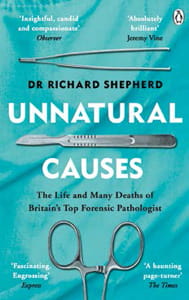 By Dr Richard Shepherd
Penguin, £8.99, 2019
Review by Greg Dollman, medical adviser, MDDUS
IN Unnatural causes, billed as the "best true life crime book of the year", Dr Richard Shepherd writes that he became a forensic pathologist to be "a seeker of the truth". This theme is evident throughout this fascinating book chronicling his years as a leading forensic pathologist. Within his memoir, Shepherd seeks to understand and manage "the awful collision between the silent, unfeeling dead and the immensity of feeling they generate in the living".
Shepherd describes how he would piece together the evidence, whatever the cause of the injury (be it premeditated, malicious or accidental), in order to understand how the person came about their death: he performed over 23,000 post mortems. The reader gets a glimpse into this world of comprehending how life became death, and how Shepherd would explain this to "those left behind". In his line of work it was impossible to separate life and death.
It is understandable then that Shepherd writes about seeking the truth with clinical detachment and a need to "suspend some aspects of [my] own humanity". He describes events or accidents as people, who may pass by quickly or become an important part of his life. And he shares also his own personal stories of death and grief.
Unnatural causes provides an insight into the role of a forensic pathologist, and explains how practice has changed over the years as a result of medical advancement (including infection control), societal change (a rise in knife crime) and out of necessity (increasing body habitus in the modern age). Shepherd includes certain old wive's tales (optography – "the eyes retained the final image they see"), the 'big' stories that will always be talking points (the Hungerford massacre, Princess Diana, 7/7), as well as his own personal interests (unexplained deaths in infants and the use of restraint by the police). And he conveys all these in easy-to-read and creative language (he describes a stroke as "a blob of redcurrant jelly in the brain").
Shepherd explains that even when he was certain, and it was his job to be certain, he was bound to accept that "there are always other possibilities." While death is final, closure does not always follow for the living and part of Shepherd's work was to help them reach this.
This page was correct at the time of publication. Any guidance is intended as general guidance for members only. If you are a member and need specific advice relating to your own circumstances, please contact one of our advisers.
Read more from this issue of Insight
Insight (formerly Summons) is published quarterly and distributed to all MDDUS members throughout the UK. It provides a mix of articles on risk, medico-legal and regulatory matters as well as general features and profiles of interest to our members. Browse all current and back issues below.
In this issue