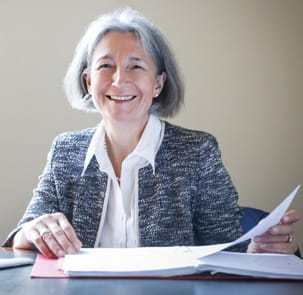 DAME Clare Marx was appointed chair of the General Medical Council in January of this year – the first woman to hold that position since the GMC was established 160 years ago.
She is the immediate past president of the Royal College of Surgeons of England and was also the first woman in the history of the College to hold that role. She worked as an orthopaedic surgeon at Ipswich Hospital NHS Trust for over 20 years before becoming associate medical director for appraisal and revalidation in 2013.
Dame Clare also chaired the Trauma and Orthopaedic Specialist Advisory Committee for the Royal College of Surgeons when the new trauma and orthopaedic surgery curriculum was written and is a past president of the British Orthopaedic Association.
What are your first impressions as GMC chair five months in – both the strengths and challenges and how the public and profession regard the organisation?
I've been really struck by the organisation's commitment to change and delivering more proactive, preventative support as part of its regulatory function. I strongly believe that the best way to protect patients is to have well-trained doctors in supportive work environments.
Historically, the GMC comes right at the end of the story; a patient has come to harm and a doctor risks losing their career. We'd much prefer this cycle never started. Our mission now is to help prevent harm, by identifying concerns early, acting to remove risks and pushing for improvements where needed.
The GMC has teams working hard to improve the support they provide the profession in all four UK countries. A lot of our 'on-the-ground' work is not widely known, but I've found it eye-opening to see just how positive this sort of local contact can be. I would really encourage doctors to attend our locally-delivered sessions and let us know what else we could be doing.
Do you think the GMC has a duty of care to the doctors it investigates?
We know and see how distressing investigations can be and the stress they can cause. The current legislation that governs our processes means that we are obliged to investigate every complaint that comes to us. We are doing our utmost to work as flexibly as we can within these constraints to resolve complaints as quickly and with as little stress as possible for all concerned.
Mental health and wellbeing has been central to our recent programme of reforms, with the express intention to bring sensitivity and proportionality to our processes. Acknowledging the need for better support, we launched the Doctor Support Service, to provide confidential, emotional help to doctors during investigations, and we have seen the positive support that this service has been able to offer.
In cases where learning is evident and there is a low risk of repeated harm we are working to reduce the number of unnecessary investigations. Overall, we have significantly reduced the number of full enquiries, by working to better understand issues at an early stage. Since 2014, as a result of our provisional enquiries programme, more than 950 unnecessary full investigations have been averted. A successful two-year pilot to consider 'single clinical incident' cases has further reduced investigations, enabling 202 of 309 cases to be closed.
Understanding the big picture of why referrals are made in the first place is essential. We're looking forward to seeing the results of independent research, which aims to uncover why certain groups of doctors are overrepresented. We hope this might result in more consistent processes across the board.
What key risks does Brexit pose for healthcare regulation in the UK?
European doctors have always made a significant contribution to our health services and we recently received some much-needed assurance about how they can continue to do so in the years to come. Our teams have worked closely with the Department of Health and Social Care to identify potential blocks and to suggest solutions which would ensure we could register European doctors in a fast and efficient way.
Last month, legal changes were secured to ensure relevant European qualifications would be recognised in the event of a 'no-deal' outcome – a welcome development amid the uncertainty. Whatever terms are agreed, it is essential that doctors from the EEA are not deterred from practising here.
How is the GMC balancing patient safety against a growing workforce crisis demanding increased recruitment of overseas healthcare professionals?
Safety will always be our top priority, and whatever measures we take to close the gaps cannot jeopardise the high standard of care patients expect and deserve in the UK. We welcome good, hardworking doctors from all over the world and we're confident in the checks we have in place to make sure they have the skills and knowledge required to work here. We're currently in the process of opening a new assessment centre – doubling our capacity – to test up to 11,000 doctors a year. But there must be a renewed focus on retaining the excellent doctors already working in the NHS, who must be the bedrock for building and growing a sustainable workforce. There must also be greater flexibility for doctors in training.
Do you think the NHS has a serious problem with bullying and sexual harassment among medical staff?
Recent reports are deeply troubling, and our frontline teams are hearing this particularly from doctors who work in high-risk, complex environments. The last thing they should have to suffer is the fear and worry these behaviours incite. Undermining can affect workers' mental health and these kinds of distractions potentially pose a real threat to patient safety. A GMC survey of more than 1,000 doctors found that 40 per cent felt that colleagues had undermined respect and prevented effective collaboration.
The vast majority of doctors act with great kindness, respect and dignity. We want to empower them to challenge poor behaviour in others. We've just launched a new pilot training programme to give doctors the skills they need to stamp out bad behaviours. The evidence-based pilot will initially be delivered to at least 14 sites, led by our Regional Liaison Service. We've also joined other health leaders in forming the Anti-Bullying Alliance, to share ideas and raise awareness.
Does your appointment as the first woman Chair of the GMC feel like a shift in attitude within the profession?
Attitudes have changed in recent decades, and I'm heartened to be among a growing number of female leaders in medicine. Women have brought fresh perspective, skill and talent to evoke positive cultural change. However, we know many have not taken on more senior positions because they have not been encouraged, empowered and supported. I want women to know they can do these roles and help shape a better future for the medical profession. If we want to make sure women are having meaningful careers we must enable people to interface in every part of the system and make it 'normal' to see women in leadership roles.
You've been around the four nations of the UK. What is your sense of there still being a single UK NHS? Does the GMC need to operate differently in each nation?
While visiting the four countries I saw that all face similar issues but there are also unique challenges. It's important we have a strong and effective presence in each to ensure local needs are understood. Having an on-the-ground team means we can shape our approach to align with local systems and work with administrations more directly – offering solutions as a four-country regulator.
Our employer liaison advisors are vital to this understanding but also provide a consistent approach as they work with responsible officers, medical directors and medical managers to assist the management of concerns at a local level. We're currently expanding our local offices and services, including ID checks and our free Welcome to UK Practice workshops for doctors new to the UK, in each of the four countries.
Has revalidation had a demonstrable effect on the quality of UK healthcare? What will the process look like in 10 years' time?
Revalidation does help to foster a culture of reflection and we're working to make sure it's a positive and meaningful experience for everyone. Doctors tell us they enjoy hearing from patients, so we want to make the feedback process easier by broadening the range of sources that can be used.
Revalidation is still in its early years, but the framework has been set and now doctors are in a governed system. It has increased appraisal rates, meaning more doctors are considering their practice, what's worked well and where things can be improved. We are working with partners to track the impact of revalidation against a range of measures through post-appraisal surveys and feedback from responsible officers.
In the years to come, revalidation will be a regular, routine part of every doctor's working life, and I hope will be part of noticeable improvements in the quality of care.
Interview by Jim Killgore, managing editor of Insight
This page was correct at the time of publication. Any guidance is intended as general guidance for members only. If you are a member and need specific advice relating to your own circumstances, please contact one of our advisers.
Read more from this issue of Insight
Insight (formerly Summons) is published quarterly and distributed to all MDDUS members throughout the UK. It provides a mix of articles on risk, medico-legal and regulatory matters as well as general features and profiles of interest to our members. Browse all current and back issues below.
In this issue