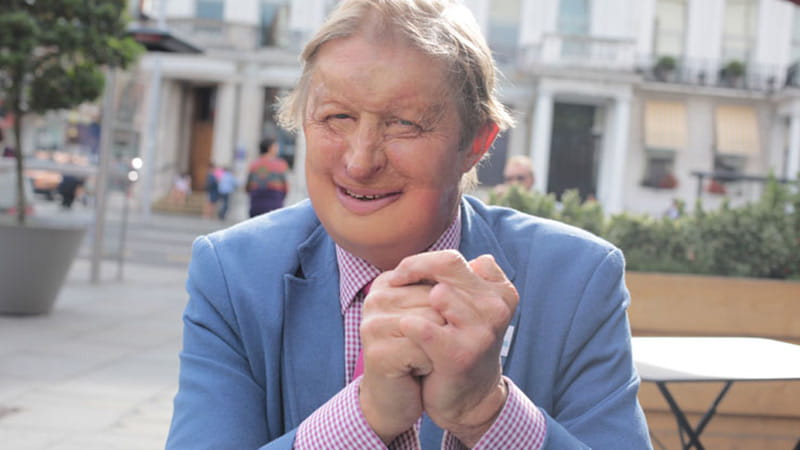 TO WALK down the street, oblivious to those around you, except perhaps for the occasional glance from a passer-by, is an everyday occurrence for most people. For Linzie, who grew up in Lancashire in the 1970s and now lives in Fife, such anonymity would be nothing short of a luxury. Born with a bilateral cleft lip and palate, hydrocephalus, three missing fingers and a missing toe on her left foot, she has always attracted more than a little interest from passers-by – and frequently it has been negative.
From a young age, she says: "I would dread going out. It was like, 'Am I going to actually get to where I'm going and back without being bullied?' It was constant. I'd come in and, you know, I'd be really upset. My mum would be the one who I would scream at. At school I was bullied very much because of looking different. Thankfully I was born before all the mobile phones and that kind of bullying started. But it got quite bad."
Linzie had operations all through childhood and into her 20s, helping to change her appearance and stabilise her medical situation, but for a long time she remained extremely nervous about interacting with people she didn't know well. "I used to be so shy. I couldn't speak to anybody without getting really embarrassed."
Society obsessed with appearance
James Partridge (pictured above), the founder and CEO of the charity Changing Faces, understands Linzie's predicament better than most. In 1970, at the age of 18, he was involved in a car fire that left him with 40 per cent burns on his body and face. His recovery was prolonged and he remained profoundly disfigured. With much understatement, he describes first facing the difficult business of going out into the world: "I suddenly thought, I actually have to walk down the street. I have to try and rejoin this society, which is rather appearance-focused – and I'm not looking at my best, as it were."
It was the realisation that the rehabilitation he required went far beyond the surgery and the dressings that ultimately led him, in 1990, to write a book, Changing Faces, about his experiences. It was well received and before he knew it he was setting up a charity of the same name, to pass on his unique insights and fight for the rights of people with disfigurement.
"It was a very small, tiny thing, with two goals. One was to support individuals and their families to regain or build confidence and to have the health system helping them to do that. The second was to transform public attitudes from being rather uninformed and, dare we say it, stigmatising to being positive and inclusive."
Twenty-four years later, Changing Faces is a £1.8 million charity employing around 30 people and supporting the estimated 540,000 people in the UK with a disfiguring condition to their face, hands or body – be it from birth, accident, cancer surgery, skin and eye conditions, facial paralysis or medical accidents.
More than physical needs
One of the fundamental reasons for setting up Changing Faces, says James, was to address the gap he perceived in the available therapy for people with disfigurement: the need for a psychosocial aspect to what was already very good physical care.
"It's clear that around 30 per cent of people cope quite well and quickly, but actually 60-70 per cent really don't, and some never do. Time isn't necessarily a great healer. People have come to see us 20 years later saying, 'Actually my life has been pretty horrible. I've felt isolated, I've been distressed and I've been on antidepressants.' That, in my view, is a failure of the medical system."
As part of its support for individuals, the charity has developed a care package called FACES. It is a psychosocial toolbox for people with disfigurement, which helps them to find out about their condition and its treatment, to develop a positive outlook for the future, to deal with the complex associated feelings and to learn strategies for coping with negative reactions when out and about in the wider world.
"So if you're walking down the street and somebody's staring at you, that's par for the course I'm afraid. But there are ways of dealing with it. You might, on some days, want to step back or wave, or in certain circumstances you might want to say something. Having strategies for dealing with other people's reactions is absolutely fundamental and shouldn't be left to the person to dream up on their own."
But you need more than a package, says James, you also need someone to deliver it. This is where the Changing Faces Practitioners (CFPs) come into their own. Trained by the charity, these specialists in disfigurement almost always come from the caring professions – they might be nurses, counsellors, assistant psychologists or social workers. People with disfigurements can gain access to CFPs directly through Changing Faces, but the charity is increasingly succeeding in its bid to have them embedded in the health system.
Having strategies for dealing with other people's reactions is absolutely fundamental...
"So, for example, we have three CFPs working with kids and families embedded in children's hospitals in Scotland, one in Sheffield Children's Hospital, one in Great Ormond St and one in Salisbury in the head and neck cancer team."
It's all part of the goal to have both the physical and psychosocial needs of people with disfigurement addressed as part of the patient care pathway, particularly in specialities such as plastic surgery, burns, dermatology, maxillofacial surgery and neurology.
Educating clinicians
The growing number of CFPs are one route to achieving that goal, but there are others too – among them a call to clinicians to think about the psychosocial element when first assessing patients. As James explains: "Consider the GP who sees somebody coming in with a Bell's palsy – it might take three months to go away but it might not. Is it okay just to say: 'Here are some steroids, it'll be fine, come back and see me in three months if it doesn't go away'? We think not – we think that the initial diagnosis needs to take account of psychosocial concerns."
Changing Faces is also active in research, through its 18-year partnership with University of the West of England in the Centre for Appearance Research, which is developing a considerable evidence base for the psychosocial consequences of disfigurement. At a policy level, too, the charity is trying to influence, with some success, NICE guidelines, clinical reference groups and medical curricula. "For example, we're trying to get to plastic surgeons when they're being trained, so they can't become a consultant unless they've done a module on psychosocial issues. And the plastic surgeons are very open to this – they're definitely in the lead."
In addition to their work in healthcare, Changing Faces advocates for people with disfigurements in schools, by raising awareness among and offering guidance to teachers, teaching assistants and anyone working in education. They are also pushing for real equality in the workplace and more positive and inclusive portrayals of disfigurement in the media. Their 'face equality' campaign aims to transform opinions in a similar way to the campaigns for racial and sexual equality.
Back in Kirkcaldy, Linzie is living proof of the charity's beneficial effects. Though it came along too late to help in her own medical care, her association with it has nevertheless helped to boost her self-confidence.
Attending their workshops, doing role-plays and learning strategies to deal with social situations have all played their part. Since becoming a media volunteer in 2010, she's gone from strength to strength, sometimes talking to groups of up to 200 people. She has even appeared live on a TV chatshow.
"I had about four days' notice. We should have been on the day before and it was going to be recorded. But then I was told, you're going on live. It was absolutely petrifying!
"But," she says, laughing at the memory – and this is the important part – "it was a really great experience as well."
Adam Campbell is a freelance writer in Edinburgh and a regular contributor to MDDUS publications
This page was correct at the time of publication. Any guidance is intended as general guidance for members only. If you are a member and need specific advice relating to your own circumstances, please contact one of our advisers.
Read more from this issue of Insight
Insight (formerly Summons) is published quarterly and distributed to all MDDUS members throughout the UK. It provides a mix of articles on risk, medico-legal and regulatory matters as well as general features and profiles of interest to our members. Browse all current and back issues below.
In this issue