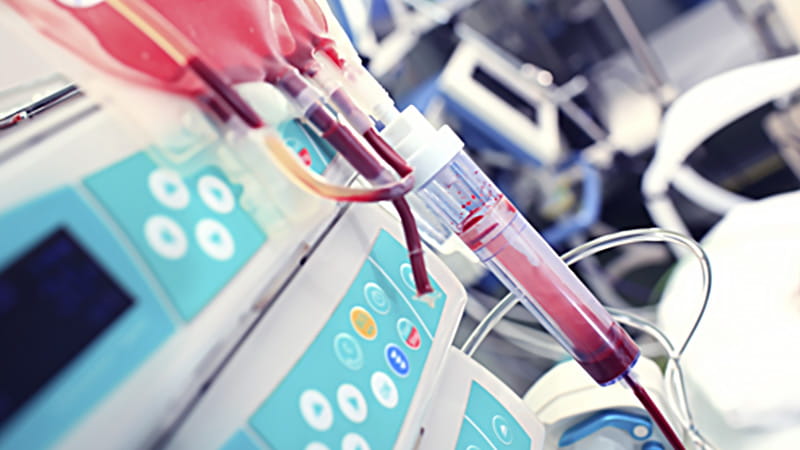 A MIDDLE-AGED patient is diagnosed with a recurrence of a cancer. The doctor explains the treatment options, including one rather taxing regimen with excellent clinical outcomes. The patient returns with a decision not to undergo any further treatment. He says: "Enough is enough. We all die eventually."
A 28-year-old pregnant patient with placenta previa signs a directive refusing any blood products in accordance with her beliefs.
Doctors can find it difficult to accept when patients choose to refuse treatment; particularly when beneficial or potentially life-saving treatment is available. Such "inaction" can seem to run counter to the professional instinct to help someone in difficulty or suffering: the desire to preserve life or to avoid the perceived failure that comes with a patient's death. Whatever the reason, the GMC reminds us that we must set aside our own beliefs when making the care of patients our primary concern.
Sometimes the law provides a solution to such dilemmas, particularly when a patient refusing treatment is assessed to lack the capacity to make such a decision. The Mental Capacity Act (MCA, England and Wales) and the Adults with Incapacity Act (AWIA, Scotland) both require that decisions about medical treatment are directed by a patient's best interests – in other words what would be of overall benefit to that person, taking into account both clinical and non-clinical considerations. This may not be a straightforward decision in itself (or a foregone conclusion that treatment is in that person's best interests), and a doctor may feel more comfortable with a team approach to decision-making rather than individually facing a patient refusing treatment.
An absolute right to refuse treatment
But what about the more challenging scenario of a competent adult patient who refuses treatment? Firstly, case law clearly sets out the rights of patients and duties of doctors in this regard. While doctors are not obliged to provide a requested treatment which they believe, after appropriate assessment, is not clinically indicated or of overall benefit to the patient (notably in the case of Burke v GMC), they certainly are obliged to respect a competent person's decision not to consent to treatment (considered in Re MB (An Adult: Medical Treatment)). In the latter case, the court held that such a person has an "absolute right" to refuse medical treatment "for any reason, rational or irrational, or for no reason at all," even where this choice may result in their death.
Secondly, statute in England and Wales entrenches the right of an individual to refuse treatment through an advance decision. Although the AWIA does not include a similar right for persons in Scotland, a valid and applicable advance directive (its terminology north of the border) is likely to be respected if challenged in court.
The MCA allows a person, aged 18 and over whilst still competent, to make an advance decision about the treatment and care that they wish for a time in the future when they may lack the capacity to consent to or refuse that treatment. Individuals can only make advance decisions to refuse treatment (rather than demand treatment) and cannot refuse in advance basic or essential care needed to keep them comfortable.
The MCA specifies very little formality in regard to the format of an advance decision, apart from when the decisions relate to life-sustaining treatment (these must be in writing and witnessed). All other decisions may be written or verbal, and a clinician may record a verbal advance decision in a patient's medical notes.
Good medical practice
When a patient refuses treatment, a practitioner may explore the reasons for this – as the patient allows – also considering if (and how) the patient's physical comorbidity, mental health and social circumstances are affecting decision-making.
Communication remains crucial in such cases, and the GMC's Good Medical Practice reminds doctors that they must give patients the information they want or need to know in a way they can understand, taking care. not to make assumptions about the same. Doctors should involve others (healthcare professionals and those close to the patient) when breaking bad news (as far as is appropriate), ensuring that information is relayed in a balanced way.
GMC guidelines on Consent: patients and doctors making decisions together and Treatment and care towards the end of life provide helpful guidance to doctors facing difficult conversations with patients. A patient should be involved in all decisionmaking, as far as they choose, with the doctor-patient partnership based on openness, trust and good communication.
Doctors must consider the patient's views of their condition, as well as their needs and priorities, and should establish whether patients have understood the details they have been given and whether or not they require or wish more information prior to or after making a decision. Patients have the right to change their mind about a decision at any time, and doctors must keep them informed accordingly.
Doctors making recommendations about treatment options must be cautious not to sway inappropriately a patient's decision making. They must take care not to express personal beliefs in a manner that may be seen to put pressure on the patient, cause distress or exploit their vulnerability.
The GMC reminds doctors to act within the scope of their competence, seeking expert review from a colleague when appropriate. Patients have a right to seek a second opinion should they have concerns about their care, and practitioners should remind them of this. The GMC requires doctors to be insightful and to reflect on the various situations they encounter in their everyday practice. Doctors should discuss complex clinical matters with colleagues, who may be able to assist them through what is potentially a distressing period for all parties involved.
Conscientious objection
The GMC expects doctors to treat patients fairly and with respect, whatever their life choices and beliefs. The GMC does recognise, however, that doctors hold their own beliefs and values. Its supplementary guidance, Personal beliefs and medical practice, states that doctors may practise medicine in keeping with their beliefs, provided that they act in accordance with the law and professional guidance.
Should a doctor feel unable to be part of a clinical team where a patient refuses potentially life-saving treatment, they must explain to the patient this conscientious objection, informing the patient of their right to see another doctor or actively seek a suitable practitioner to take over that patient's care. Doctors must not imply or express disapproval of the patient's choices or beliefs.
"I don't want to talk about it, doctor"
Patients who refuse treatment may choose not to communicate further about their decision, or may ask someone else to make decisions on their behalf. Doctors should follow the guidance as set out in Good Medical Practice, and discussed above, if faced with the former scenario. In the latter case, the GMC reminds doctors that while patients may ask family or close friends to play a significant role in decision-making, no one else can make a decision on behalf of a competent adult who has capacity.
If, despite all attempts, a patient still does not want to know about their condition or management, a doctor should respect their wishes as far as possible. The GMC states that doctors are still obliged to engage with these patients as best they can, offering even basic information as the patient allows and reminding them of their right to change their mind at any time.
So in summary, the law entrenches a patient's right to say "enough is enough" in any treatment, and professional guidance directs a doctor how to proceed in these invariably complex cases. But please do not hesitate to contact an adviser at MDDUS if you are uncertain how to proceed when a patient refuses medical treatment.
Dr Greg Dollman is a medical adviser at MDDUS
This page was correct at the time of publication. Any guidance is intended as general guidance for members only. If you are a member and need specific advice relating to your own circumstances, please contact one of our advisers.
Read more from this issue of Insight
Insight (formerly Summons) is published quarterly and distributed to all MDDUS members throughout the UK. It provides a mix of articles on risk, medico-legal and regulatory matters as well as general features and profiles of interest to our members. Browse all current and back issues below.
In this issue