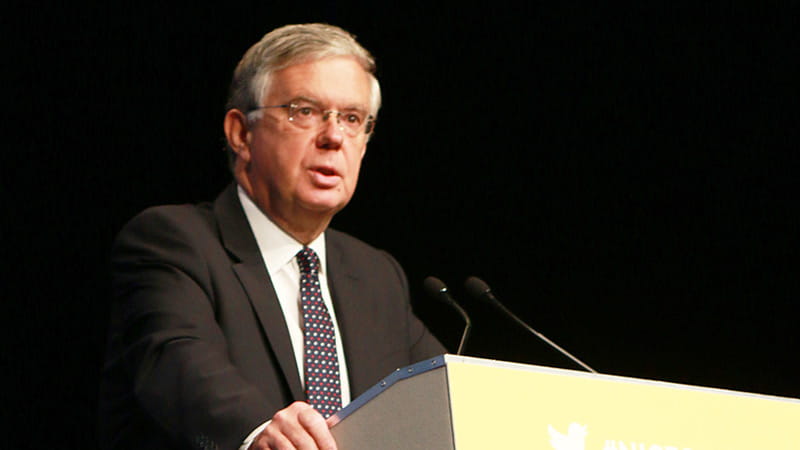 PROFESSOR David Haslam's career has spanned five decades and has seen him take on some of healthcare's most high profile leadership posts. He practised as a GP in Cambridgeshire for almost 40 years and took on the role of chair and then president of the Royal College of GPs, as well as vice chair of the Academy of Medical Royal Colleges. He was president of the British Medical Association before moving in April 2013 to his current post as chair of the National Institute for Health and Care Excellence (NICE). His commitment to medicine and healthcare was recognised in 2004 when he was awarded the CBE.
Much of the 66-year-old's work has been in shaping medical education, including two years as chair of the Modernising Medical Careers Programme Board from 2007. A prolific writer, he has authored 13 books and well over a thousand articles for both the medical and mainstream press. He lives in Dorset with his wife, and has two children and three grandchildren.
What do you think NICE does well as an organisation?
The critical thing for an organisation like NICE is that people should trust us. I think we generally achieve that by being as transparent as we can be, by involving patients and the public, working with professionals and using evidence. Most people understand that in every healthcare system in the world there are limits to what it can afford and there will always be more demand than resources to pay for it. This is an incredibly difficult situation in an area such as health but NICE has a reputation for taking some of these issues on in a way the public and professionals can trust.
In what areas could NICE be improved?
One growing problem area we have identified is patients with numerous healthcare problems. We are currently working on guidance on managing multimorbidity that will be published late 2016. We've already produced guidance on medicines optimisation, for people on numerous medications. For those with multiple health problems – maybe as many as eight or nine long-term conditions – it's not just a question of adding all the different guidelines together, you have to work with patients using professional judgement and shared decision-making. Personalising care for the individual is critical.
We are a rational organisation, rather than a rationing organisation
What are the main challenges of leading an organisation such as NICE?
The initial challenge was understanding the full breadth of what NICE does. We deal with everything from drugs for ultrarare conditions, to technology appraisal work looking at new treatments, right through to social care quality. I hadn't realised how great NICE's international reputation was and how much other countries are interested in what NICE does. I was also pleasantly surprised at our relationship with the pharmaceutical industry. I think most now trust and respect the way NICE works, even if they sometimes disagree with us.
How do you respond to criticism of NICE for its refusal to approve certain treatments?
I completely understand how emotive this area can be but I'm also very aware that with extremely expensive treatments the money can only be spent once and if you spend it in one way, it cannot be spent in another. It's very important that in any system money isn't reserved for the people who make the most noise. We have to look after people with a full range of conditions. We are a rational organisation, rather than a rationing organisation.
You have held talks in recent months with GP leaders on ways to make NICE guidelines easier to deliver in primary care. How can improvements be made?
Coming from a lifetime as a GP, I completely understand some of the issues raised. Not only am I holding meetings with representatives from general practice to look at how we can best support GPs, but we've had a lot of feedback about the need for simple summaries that can be used rapidly. I am keen on NICE guidance being adapted for use within decision-support software and clinical software used by GPs – not in a way which templates or forces GPs to work in a particular way, but provides them with the necessary information in a straightforward manner. When we put draft guidance out for consultation we do genuinely want feedback. Sometimes our stakeholders tell us they don't agree with us, at which point, where appropriate, we will change. Sometimes the media calls that a U-turn but I call it doing our job properly.
Some critics have accused NICE of being detached from reality in some of its guidance. Is that unfair?
I understand the frustration. I think sometimes people get irritated through a misunderstanding of what we have said. For instance, with the statins issue [in 2014 when NICE lowered the risk threshold for prescribing] the threshold change came about because the price of statins dropped very considerably, so the point at which it was cost effective to offer statins changed. Our guidance emphasises the importance of doctors talking with their patients about lifestyle issues such as smoking, exercise and alcohol. If having done that, at certain risk levels if their patient still thinks they would like to take statins then, because of the change in price, the threshold has changed. That absolutely isn't what some newspaper headlines reported at the time. The change of the threshold was applying to people with pre-existing hypertension and diabetes where they are already coming for check-ups. This was not a question of NICE saying "one in 10 of the population must now attend their doctor."
Is NICE doing its best to engage with GPs?
I try to speak to as many GP conferences as I can, write articles for general practice, take any criticism on the chin. If we're getting it wrong I need to know. I believe we are making a difference. A lot of problems tend to come down to misunderstandings. I know general practice is under incredible pressure at the moment and anything that seems like advice about something else to do is the last thing people want. Fundamentally, what NICE does is look at all the research and evidence available on a given topic and presents that in a way that will be helpful to practitioners. If NICE wasn't there, somebody else would need to do it.
How can NICE encourage more GPs to work on guidelines panels?
One of the first things I did as chair of NICE was to increase the reimbursement but I completely understand how busy GPs are. We do get a lot of GP representation on our committees and I find it slightly frustrating when doctors say to me "yes, but they're not real GPs". It's almost as if becoming interested in either an academic focus or working with NICE makes them inappropriate to represent GPs. There's a real catch-22 there.
You are often named amongst the most influential figures in the NHS. What are your priorities in using that influence?
Again, for me the critical areas relate to multimorbidity and patient-centredness. We're really working in that direction and I'm very positive about it. If we manage to achieve a balance between the best of evidence-based medicine and the best of personcentred medicine then that will make a fundamental difference.
What has been your proudest professional achievement so far?
Up until I stopped practising as a GP about four years ago, I must have carried out about 250,000 consultations. For me, they are my most important achievement.
Interview by Joanne Curran, associate editor at MDDUS
This page was correct at the time of publication. Any guidance is intended as general guidance for members only. If you are a member and need specific advice relating to your own circumstances, please contact one of our advisers.
Read more from this issue of Insight
Insight (formerly Summons) is published quarterly and distributed to all MDDUS members throughout the UK. It provides a mix of articles on risk, medico-legal and regulatory matters as well as general features and profiles of interest to our members. Browse all current and back issues below.
In this issue