NO one ever doubted the severe challenges NHS emergency care would face going into this winter. NHS England statistics have revealed that the percentage of patients seen within four hours in all A&E departments fell from 68.9 per cent in November 2022 to 65.0 per cent in December – the lowest reported performance since data collection began.
Nearly 55,000 patients waited over 12 hours (from decision to admit to admission) compared to 2,360 in the pre-Covid days of December 2019.
Commenting on recent statistics, Dr Adrian Boyle, President of the Royal College of Emergency Medicine, said: "It is vital that politicians, policymakers and the public understand that this is absolutely not driven by any increase in people who should not be in emergency departments.
"Demand remains at a steady level – despite a recent surge in childhood presentations – and in fact attendances decreased from October to November. These waits are almost entirely driven by poor flow through our hospitals; significant shortages of staff and beds mean we have dangerously high bed occupancy levels in hospitals."
The government was anticipating the winter strain on services last summer and announced a package of measures to "rapidly boost capacity and resilience" by increasing bed availability and staff numbers. NHS England plans called for creating the equivalent of 7,000 more beds through a mixture of increased capacity and an additional 2,500 "virtual ward" beds.
Enabling safe discharge
Virtual wards have been a key part of NHS plans since early 2021, then in response to the pandemic. Covid virtual wards were set up to provide a "step-down mechanism" to enable safe discharge of patients needing further clinical support without occupying much-needed hospital beds. Patients were provided with a home pulse oximeter and readings were recorded in a diary, with instructions to call hospital if oxygen saturation levels fell below 92 per cent.
NHS England now wants to broaden the application of virtual wards with a "national ambition" to implement 40 to 50 virtual beds per 100,000 population (equal to the delivery of up to 24,000 virtual ward beds) by December 2023.
Remote monitoring
A good example of a virtual ward in practice can be seen at Addenbrookes hospital, part of Cambridge University Hospitals (CUH) Trust. Here patients are cared for at home with remote medical monitoring supported by a dedicated nursing team. Smartphone apps, technology platforms and wearable medical devices, such as temperature readers and pulse oximeters, are monitored remotely with vital signs recorded throughout the day and night.
Senior nurses check in with patients up to four times a day by phone or video call and care is also available face-to-face from community-based, multi-disciplinary teams. Patients needing blood tests, scans or IV therapy can come into hospital for regular appointments.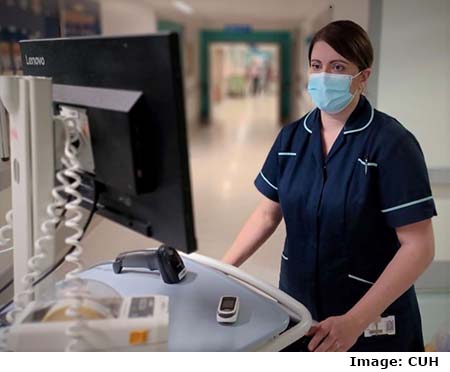 Senior Sister Gemma Czech (pictured) is the lead nurse for the CUH virtual ward. She said: "Our team includes a range of expertise including senior nurses and physiotherapists and links directly with consultants and specialist clinics from across the hospital as well as services in the community. We are there for patients 24 hours a day, seven days a week, ensuring they get the best care, in the best place for them. If any of our patients has any concerns, or just needs some reassurance, we are always available to talk to on the phone."
CUH sees multiple benefits to the virtual ward model. Patients can leave hospital days or even weeks earlier while still getting the expert care they need and can benefit from the comfort of their own surroundings, sleeping in their own bed, eating their own food and being in the company of their family, friends and pets. This can speed up recovery and reduce the risk of hospital-acquired infections, with patients able to return to daily routines and avoid deconditioning.
CUH says that in the nine weeks since the virtual ward was established, 105 patients were transferred, freeing up approximately 340 bed days. This has created greater capacity and flow-through of patients, easing pressure on the emergency department and helping to reduce waiting times for both planned and emergency care.
Next year CUH plans to expand its virtual ward to include additional patients with respiratory, gastro and frailty conditions, and those recovering from cancer treatment, neurosurgery and organ transplants. All are carefully selected to make sure their needs can be safely managed remotely.
Patricia Trigg (pictured), 67, from Quendon in Essex, is a cancer patient and one of the first to be looked after on the CUH virtual ward. She recently had intensive chemotherapy and was recuperating while waiting for a stem cell transplant.
"Being looked after by the virtual ward team in my own home, with [husband] Brian by my side, makes an enormous difference to both of us. I can sit in my own lounge, sleep in my own bed and I've not once felt worried about whether I should be in hospital. I still go in for regular appointments and if I have any concerns while I'm at home, I just give Gemma and the team a call."
Updates every three minutes
Another early adopter of virtual wards was Norfolk and Norwich University Hospital (NNUH), which was among the first centres in the UK to use technology to monitor patients outside of hospital.
Patients in the virtual ward at NNUH are provided with a kit including a blood pressure monitor and a wearable sensor that straps onto the arm and measures heart rate, respiratory rate, oxygen levels, skin temperature and movement. Staff on the ward get data from patients at home every three minutes via a GPS modem linked to the sensor, so there is no requirement for an internet connection. A tablet PC is supplied with the kit, providing step-by-step set-up guidance. It also allows virtual ward staff to stay in touch with patients via direct video links.
Clare Beard, a ward manager on the team at NNUH, explains: "So with a lot of patients we see them deteriorate before they feel ill.
"The way the virtual ward works is by two-way communication. We can always get in touch with them through the tablet. But in the same way if they wake up at three in the morning and aren't feeling well they can get hold of us as well."
Performance statistics from NNUH indicate that since the virtual ward launched at the beginning of 2021 more than 1,700 patients have used the service and more than 13,000 bed days have been saved.
Enablers for success
NHS England and NHS Improvement are now asking all Integrated Care Systems (ICSs) to extend or introduce the virtual ward model. They've published guidance (PDF) Supporting information for ICS leads: Enablers for success: virtual wards including hospital at home, which aims to support ICSs with their strategic and financial decisions on virtual ward planning and implementation.
At a minimum, NHS England state that they expect each system to implement virtual ward models for two pathways: acute respiratory infection and frailty. Some £200 million has been made available from the Service Development Fund (SDF) in 2022/23 for the set up and development of virtual wards and a further contribution of £250 million, on a match-funded basis, will be available in 2023/24.
Dr Shelagh O'Riordan is a consultant community geriatrician and professional advisor at NHS England. She and her team in East Kent set up a virtual ward in response to Covid-19 to help people living with frailty have an alternative to attending hospital.
She wrote recently in a blog: "There are different models of virtual wards. Some will involve staff working remotely, using technology to monitor the patient in real time, but others are much more like a hospital within the home, providing multidisciplinary care and hospital-type interventions such as point of care testing and intravenous therapies, face to face."
She encourages anyone interested in setting up a virtual ward to have a look at recent NHS guidance. "Technology is an essential enabler of all virtual wards but needs to be appropriate for the patients and clinically useful.
"Don't be put off starting a frailty virtual ward or hospital at home service, thinking it might be too complicated, difficult or you won't be able to get the staff. When reflecting on the workforce, think about who you can get, who you can train along the way and consider upskilling the staff you already have. Don't feel you have to start off running enormous services – start smaller and build up as the skills and confidence grow."
Dr O'Riordan says the NHS is keen promote interest in setting up virtual wards and invites clinicians to find out more and to join the Virtual Wards Network on FutureNHS (login required).
This page was correct at the time of publication. Any guidance is intended as general guidance for members only. If you are a member and need specific advice relating to your own circumstances, please contact one of our advisers.
Read more from this issue of Insight Secondary
Insight - Secondary is published quarterly and distributed to MDDUS members throughout the UK who work in secondary care. It provides a mix of articles on risk, medico-legal and regulatory matters as well as general features and profiles of interest to our members.
In this issue