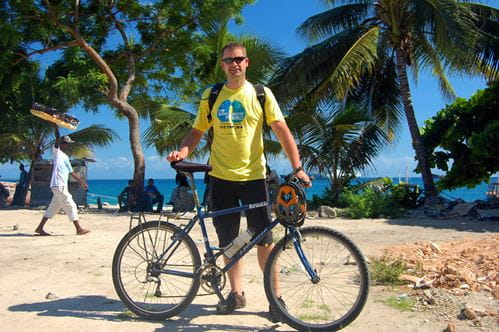 AS A KEEN cyclist, it was no surprise to Dr Jon Rees' family that he wanted to circumnavigate the East African island of Zanzibar on two wheels. With the support of his wife, children and patients, the North Somerset GP battled through sweltering 38ºC heat to successfully complete the gruelling six-day expedition.
But there is more to his African adventure than a personal cycling challenge – he was there to raise funds for the charity Health Improvement Project Zanzibar (HIPZ), of which he is a trustee.
That first ride in 2010 raised more than £80,000 which was used to build and equip a primary healthcare unit and a maternity service at the island's Makunduchi Hospital. Since then he has completed the feat twice more, with a 30-strong team of charity cyclists behind him, and pedalled from London to Paris, personally raising £20,000.
The father-of-three says the 2010 trip was "an amazing experience". "It was extremely hot, the roads were of variable quality, the bikes were of terrible quality, and it was challenging, but the amazing group spirit kept everyone going."
Jon had a brush with fame during his second bike ride around Zanzibar in 2013. Pop singer and reality TV star Peter Andre took part alongside an ITV2 crew as part of the fly-on-the-wall series, Peter Andre: My Life. The Mysterious Girl singer began supporting HIPZ after being operated on by urology consultant and HIPZ founder Dr Ru MacDonagh (Peter has since married the surgeon's daughter Emily).
Inspiration
Jon's involvement began when he worked alongside Dr MacDonagh as a urology research registrar in Taunton. Having already worked in a hospital in Zanzibar as well as Lesotho, South Africa and Tanzania, Jon was immediately keen to get involved with HIPZ and went back out to work in Zanzibar's Mnazi Moja Hospital.
He says: "I absolutely loved working out there and met so many inspirational people. It's an incredibly welcoming place, but the conditions in the main hospital were tough for the patients, and for the staff."
At one outpatient clinic, Jon describes seeing people everywhere. Many had travelled across the country and some slept in the grounds of the hospital to be there early for the first-come-first-served clinic. Just a curtain separated three clinicians consulting in the same room, making privacy almost impossible.
Jon says: "I saw advanced cancers and distressing cases, but the ability to cope with them and treat these people with compassion in those situations was so limited. I saw real human suffering."
So when Dr MacDonagh asked him to become a HIPZ trustee, the GP immediately agreed.
A different approach
The biggest draw for Jon was the different approach HIPZ took to their charity work.
"There was no doubt that there was a huge need, " he says, "but what really attracted me to working with Ru and HIPZ was that the charity was trying a different model of development aid than many other NGOs, working closely alongside the Zanzibar government. Ru has such good knowledge and a great network of contacts there, so we could work out what was really needed, rather than doing simply what we thought might help."
What started as a small kitchen-table charity in 2006 now provides essential healthcare to over 250,000 people across two district hospitals.
In 2007, the government in Zanzibar agreed a deal to sign over the running of Makunduchi Hospital in the south of the island to HIPZ for 10 years, now extended for a further five years. Then in 2011, with the HIPZ-run Makunduchi a success, Doctors Rees and MacDonagh were invited to meet the President of Zanzibar and agreed to take over a second larger hospital in the north of the island, Kivunge, which was in a poor condition.
To date, the HIPZ project has transformed healthcare in Zanzibar and raised hundreds of thousands of pounds from sponsorship and donations from groups ranging from Nailsea and Backwell Rotary Club to Comic Relief. A UK doctor is placed at Makunduchi and Kivunge to oversee clinical work, train staff and redesign services. HIPZ has also provided equipment and medical supplies; renovated the hospital's operating theatres, maternity unit and children's wards; and built a primary healthcare unit that treats more than 500 patients every week.
When Jon visited the new building for the first time he fought back tears: "It was an incredible achievement, to see the bricks and mortar standing there was very moving. Previously, the population of 75,000 people had no primary care."
Building trust
One key achievement of HIPZ is building trust in healthcare among the community. Maternity services in particular received a boost.
Jon says: "Before we took over at Kivunge, only 70-80 babies were delivered there a month because people didn't believe in their local hospital – women delivered at home, which was very dangerous. Today 350-400 are delivered each month as they now believe their local hospital is a better place. The community has really gained trust in the hospital because of the work that HIPZ has done, which is fantastic."
Despite the improvements, the development work is far from over and the team continue to fundraise and visit Zanzibar regularly. In the last few years, HIPZ has begun a psychiatric service, improved dental care provision and started a clinic for managing high blood pressure.
"It is inspiring to see things have been done better but there is always more that needs doing," says Jon. "There will never be a moment when we say 'job done'. I do this because I believe very passionately about what we are doing and what we have achieved."
Balancing act
Besides his HIPZ work, Dr Rees is a busy executive partner at Brockway Surgery in Nailsea, North Somerset, and has a special interest in men's health and urology. He is a trustee of Action on Bladder Cancer UK and founder and chair of the Primary Care Urology Society.
Jon, who also enjoys cycling and photography, spends three days in general practice and the rest of the week doing community urology, seeing NHS patients in Bristol and Gloucestershire.
"How do I manage to balance everything? I enjoy being busy and having lots of things on the go. One of the reasons I love general practice is that it gives me the opportunity to choose how I work and when I work."
Away from the world of medicine, the busy GP is looking forward to a family holiday to Bali in August – but another two-wheeled trip around Zanzibar may well be on the horizon (pop stars optional).
Kristin Ballantyne is a freelance writer based in Glasgow
To find out more about HIPZ and how to support their work visit www.hipz.org.uk The project is looking for volunteer doctors who are prepared to learn Swahili and can commit to a minimum of six months in Zanzibar. The hospitals also host medical students seeking elective placements. To apply, email: admin@hipz.org.uk
PHOTO: DR JON REES/HIPZ
This page was correct at the time of publication. Any guidance is intended as general guidance for members only. If you are a member and need specific advice relating to your own circumstances, please contact one of our advisers.
Read more from this issue of Insight Primary
GPST is published twice a year and distributed to MDDUS members in GP training throughout the UK. It provides a mix of articles on risk, medico-legal and regulatory matters as well as general features and profiles of interest to trainee GPs. Browse all current and back issues below.
In this issue