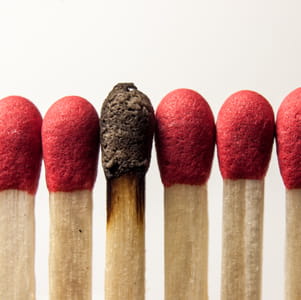 STRESS can be a challenging but sometimes unavoidable part of GP training. If left unattended it can lead to immense difficulty and burnout, but if recognised early and appropriately managed it can be a positive driver for excelling in all aspects of life.
Having worked with thousands of GPs in training, I have all too often seen the challenges that balancing stress in life can bring. Below are four techniques that can help reduce the potential negative impact of stress and enhance its beneficial effects.
Recognition
Accepting that there will inevitably be stressful times – and that it is perfectly okay for this to happen – means it can be targeted early and therefore adequately countered.
The first step to managing stress effectively is learning to recognise it. What manifests as stress in one person can be very different in another – being aware of your own signs is crucial. Whether that is increased snappiness, an overwhelmed feeling or simply a sense of apathy, try to observe these in yourself (if you are feeling brave perhaps ask someone else for your signs!)
Failing to recognise your own signs of stress limits your ability to effectively manage it, eventually leading to the stress managing you.
Action: Consider three signs that you know occur when you are stressed. Make a plan to do something about it as early as possible the next time you notice one.
Three mini-goals a day
Keeping things small and manageable in your mind allows for a more productive and stress-free day. If your mind is continuously bombarded with 10 or 15 things to get done in a day, it can feel overwhelmed and become counter-productive.
Focus on three things that you must achieve each day. Set aside a few minutes before you sleep, or a few minutes in the morning to focus on what you want to achieve that day – and commit to it. Write it down on paper or make a note in your phone. Whether that is to ring the patient that you've been meaning to contact for over a week, finally arrange a date for your educational supervisor's report or pick up that anniversary card on the way home from work.
Highlighting three, very achievable 'goals of the day' gives them high importance in your mind and you will automatically focus on ways to get them done. Once these are achieved, anything that you do beyond these seems a bonus. At the end of the day you'll feel highly productive, something that can automatically reduce stress.
Action: Write down three mini-goals for today or tomorrow. Start acting on them right away.
Pre-set catch-up action slots
Despite our best intentions there are inevitably busy periods in life. However busy GP training is, your non-work life will always be running alongside. Weddings, birthdays, parenting etc – all can lead to falling behind in aspects of GP training such as exam preparation or e-portfolio completion.
Consider scheduling predefined 'action' or 'catch-up' days in the diary – perhaps one Saturday a month or two evenings a month. Nothing else can go in these slots – they are purely for those (often mundane) tasks that usually get put behind everything else. All too often these small tasks creep up on us, leading to increased stress levels. Keep a note of things that will slot into those days and add to the list as you go along.
Adequate planning is a huge component of stress reduction. Knowing that tasks are accounted for (even if a few weeks away) allows your mind to be less cluttered, and consequently more effective.
Action: Schedule your first 'catch-up' slot and start a list of what you will do in it.
Meditation
This one is not for everyone but don't dismiss it out of hand - you will never know if it is for you until you try.
Forget the stereotype about sitting cross-legged for hours in a trance. For me, meditation simply means refocusing the mind away from the daily hustle and bustle. This refocus can be to your breathing, a memory, a colour, a word – anything that gives your mind a break from the stresses and 'business' of daily life. This does not have to be for extended time periods (I meditate for six minutes in the morning and three minutes in the evening) but the shift in focus to something that you chose can be liberating as well as extremely calming.
As a certified meditation trainer I have introduced simple meditation techniques to many doctors and have seen first-hand how it can help reduce stress, both with exam preparation as well as with daily life. Consider giving it a go… it may make all the difference.
Action: At some point today, close your eyes for 60 seconds and focus completely on something of your choice.
There are many other methods to counter stress and what works for one person may not work for another. GP training is long and eventful, with many ups and downs. Having a good grasp of your own stress management needs is crucial in order to make it as enjoyable and rewarding as possible. Always remember there are many sources of support in GP training – from educational supervisors to programme directors – never fear approaching someone for advice or guidance.
Dr Aman Arora is a portfolio GP who runs Arora Medical Education (www.aroraMedicalEducation.co.uk). He has previously been a GP VTS programme director, GP appraiser and GMC PLAB examiner
This page was correct at the time of publication. Any guidance is intended as general guidance for members only. If you are a member and need specific advice relating to your own circumstances, please contact one of our advisers.
Read more from this issue of Insight Primary
GPST is published twice a year and distributed to MDDUS members in GP training throughout the UK. It provides a mix of articles on risk, medico-legal and regulatory matters as well as general features and profiles of interest to trainee GPs. Browse all current and back issues below.
In this issue