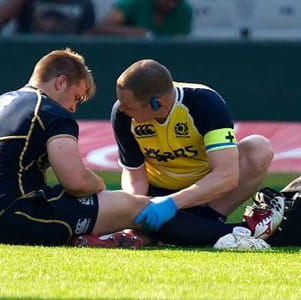 THIS month the Gold Coast of Australia is hosting more than 6,600 athletes and team officials from 71 nations at the 2018 Commonwealth Games. All four UK nations have sent not only athletic teams but "teams behind the teams" – these including squads of physiotherapists and highly trained sport and exercise medicine doctors.
Attending to elite athletes at major sporting events is a specialised role requiring not only core emergency skills and training in musculoskeletal medicine but also experience as a generalist. This might involve, for example, treating chronic asthma in an athlete without falling foul of complex doping rules and procedures.
This is peak specialism – but an interest and expertise in sports medicine can be just as essential on the sidelines of a school rugby pitch. And more often than not it is a GP providing that kind of medical cover.
There are numerous avenues for GPs wishing to pursue an interest in sport and excercise medicine (SEM). It could involve an all-encompassing career change with the goal of becoming a consultant specialist in SEM, or it could be a special interest undertaken alongside working in general practice.
SEM as a GMC specialty
Sport and exercise medicine became a recognised specialty by the General Medical Council in 2005. SEM trainees must complete a four-year training programme administered by the Joint Royal Colleges of Physicians Training Board. A GP can enter SEM training at ST3 level and by ST5 must have completed the Faculty of Sport and Exercise Medicine (FSEM) UK Membership Exam. Later upon completion of specialist training a certificate of completion of training (CCT) is awarded and an SEM consultant can join the GMC specialist register for SEM and apply to become a Fellow of the FSEM UK.
The medical care of injury and illness in sport is just one element of SEM. It also has much broader application in improving the health of the general public through exercise advice and prescription (exercise medicine) and general musculoskeletal medicine.
SEM doctors are involved in promoting physical activity and exercise medicine both to reduce and treat many non-communicable diseases. The role might include diagnosing musculoskeletal injuries or illness in patients for whom exercise would be beneficial and overseeing rehabilitation programmes, or it might involve a wider public health role in encouraging exercise and physical activity in the general population.
SEM specialists can be employed as team doctors for a sports club or organisation, or as a doctor for a specific sporting event or venue. In this role they support sportsmen and women in the medical care of injury and illness as part of a multidisciplinary team, maximising performance and reducing injury time and co-morbidity associated with sporting participation. This can involve treating a variety of conditions such as soft-tissue injuries of muscles and ligaments, or fractures.
It would be hard to describe a typical day for an SEM doctor. Work can vary from outpatient clinics reviewing sports injuries and NHS clinics to pitch-side immediate care at the highest level of elite sport. Some SEM doctors run specialist clinics performing image-guided interventional procedures; others may be concerned with assessment and rehabilitation of outpatients. SEM doctors also work in other areas, for example emergency medicine, and may be employed by universities, involved in research and education.
SEM as a special interest
GPs with a special interest in SEM can gain professional recognition in the field by sitting the FSEM UK membership exam. This skills and knowledge-based qualification provides formal accreditation and is the national standard for doctors working across SEM. The British Association of Sport and Exercise Medicine (BASEM) defines a GP with a special interest in SEM as holding an NHS or equivalent post and often with considerable experience in sport medicine and a higher degree such as an MSc in SEM and/or the FSEM UK membership exam.
All GPs can now apply for membership of FSEM UK by taking parts 1 and 2 of the membership exam, which is recognised as a UK standard, aligned with what is expected of doctors in the field.
Full or part-time jobs for GPs might involve working in clinical exercise, health promotion or in sports science with national sporting bodies and professional clubs – or providing unpaid support for schools and at amateur sporting events.
Links
For more information on careers in sport and excercise medicine check out:
Q&A Dr Jonathan Hanson, consultant physician in sport and exercise medicine
How did you first get involved in sport and exercise medicine?
I was sporty at school and university but also worked as a lifeguard as a student – so I combined sport and medicine from an early age. I did an intercalated degree as an undergraduate in Aberdeen on ACL deficient knees and MRI and was introduced to team work by my supervisor Dr Frank Smith – unusually a radiologist – but also the team doctor at Montrose football club. On my surgical rotation a very grumpy surgeon I worked for had a meltdown in theatre and advised me to get a job that lets me get outside. There and then I knew what I wanted to do and started shadowing other team doctors and volunteering for experience. One opportunity then led to another.
What attracted you to the specialty?
I saw it as a specialty that sits with a foot in specialism and generalism, and gives a way of staying close to the team environment as well as being something that would always have to change. I wouldn't be "inside" the same building for the next 35 years of my career and there might be a chance to travel a bit and work with some amazing people. Basically I knew I would never be bored in SEM.
What do you enjoy most about the job?
The variety: I work in clinics and pitch-side and consult in a wide range of settings from hospitals to hotels. I need broad, excellent clinical and non-technical skills to cope with unusual situations for individuals with unusual demands of themselves. The workplace: I am surrounded by driven individuals who want to get better and challenge me to be the best I can be every day. The niche: seeing a patient respond to a doctor giving them even just some basic rehab advice for an injury.
What do you find most challenging?
The plate spinning. Most SEM doctors have portfolio careers with a few employers to keep happy. That's a good thing for skill retention but you need understanding employers – let alone families.
What has been your most memorable experience in SEM?
For many years I was the team doctor for the British mountain running squad. The events would be unflashy long weekends to the mountains without any of the profile of some other World Championships – but the athletes were beasts and the racing was ridiculously tough and yet they were all completely down to earth people who just got on with it. I was there long enough to see some of the juniors come through to dominate the senior races. GB is a top nation in the world and some of the venues were remote and spectacular with extreme medical environments.
What advice would you give to a trainee GP interested in pursuing a full or part-time career in SEM?
I'd definitely have a fall-back and probably keep your regular clinical skills up through a portfolio career. So, complete training and get your exams in another specialty. There are many ways to have an influence and not everyone is desperate to do elite sport. Contributing to local PCT musculoskeletal models or exercise policy can be equally as rewarding for some. It is a specialty so you need to do the hours like anything else: shadow, volunteer, gain experience, ask lots of questions. Those of us within want new blood to take the specialty on.
Top image: Dr Jonathan Hanson aiding a player on the rugby pitch
This page was correct at the time of publication. Any guidance is intended as general guidance for members only. If you are a member and need specific advice relating to your own circumstances, please contact one of our advisers.
Read more from this issue of Insight Primary
GPST is published twice a year and distributed to MDDUS members in GP training throughout the UK. It provides a mix of articles on risk, medico-legal and regulatory matters as well as general features and profiles of interest to trainee GPs. Browse all current and back issues below.
In this issue