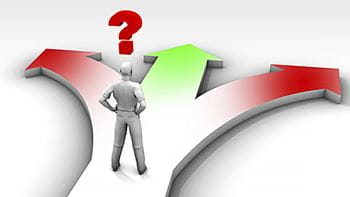 A DAY in general practice can be challenging for many reasons, but often the real sticking points can be the numerous decisions you have to make. Many are small and apparently insignificant, some have more recognisable consequences for you and your patients and every now and then we find ourselves confronted by the momentous.
Successfully navigating through these decisions can mean the difference between a stressful, unfulfilling day and one where we feel we have made a positive impact.
But how do we make good decisions? Here are the top 10 things you should consider.
1. Do you know how you make decisions?
We're all a complex mix of different decision-making styles. Some styles can predominate over others and some we prefer, either consciously or subconsciously, for making certain kinds of decisions.
2. Are you rational?
Are you the logical type who likes to make a list, carefully tallying the pros and cons to compute the right decision? Many with scientific backgrounds claim to rely on such 'hard facts' and it's certainly a useful approach when picking a new bank account, but not so good for finding love.
3. Do you listen to your gut?
Do you go with your gut, not really knowing how the decision has been reached, but somehow knowing it's 'right'? If so, you're probably using heuristics, or mental shortcuts. These make some decisions, especially some life-saving ones, easier and quicker to make, such as deciding to run away from a fire, but it's a poor way to decide on a drug dose.
4. Do others influence your decisions?
Before making a decision, do you ask yourself: is this the way we do things here, is this what I ought to do? Again, this is inbuilt to our decision making and we inevitably adjust any purely logical or instinctive strategy we might adopt by considering the bigger picture. Is it legal, is it right, is it professional?
5. Are you biased?
If we use information that's most easily accessible to inform our decisions, or give more weight to memories that are more readily retrievable because they are vivid, or if we make choices that fit with our established ideas, then we are subject to bias. Such biases affect everyone, but be sure to recognise them and keep them at bay to avoid making poor decisions.
6. Do you understand the risks?
Decisions have consequences and these may be unfavourable. Often our decision making is driven by a desire to minimise harm and that requires us to understand the risks involved. We often read about how poorly our patients understand the concept of risk, but doctors are not immune to misunderstanding either. We have to consider what might happen, how likely it is to happen in reality and what sort of impact it would have if it did.
7. Do you sidestep the traps?
Too often we find ourselves locked into a particular way of thinking about a problem simply because of how it's framed. Questionnaire designers know that how a question is phrased will inevitably determine its answer. Similarly, by thinking about a decision from only one angle, we may unknowingly dismiss several possible options before we start.
8. Do you realise any decision is usually better than none?
"In any moment of decision," said Teddy Roosevelt, "the best thing you can do is the right thing, the next best thing is the wrong thing, and the worst thing you can do is nothing." The procrastination that can result from our inability to decide often leads to stress and may leave those around us high and dry.
9. Do you learn from your mistakes?
Mark Twain said: "Good decisions come from experience. Experience comes from making bad decisions." However, we might add that we also have to reflect on those 'bad decisions' and learn from them to count them as experience.
10. Do you waste time on trivia?
Some decisions are difficult and they're often the important ones we have to make. All difficult decisions can seem equally important to us when in reality a lot of those conundrums are actually rather trivial. But because we think they must be important we spend too much time on them. Choose which decisions really need your time and which are only masquerading as important because of their complexity.
Dr Allan Gaw is a writer and educator in Glasgow
This page was correct at the time of publication. Any guidance is intended as general guidance for members only. If you are a member and need specific advice relating to your own circumstances, please contact one of our advisers.
Read more from this issue of Insight Primary
GPST is published twice a year and distributed to MDDUS members in GP training throughout the UK. It provides a mix of articles on risk, medico-legal and regulatory matters as well as general features and profiles of interest to trainee GPs. Browse all current and back issues below.
In this issue