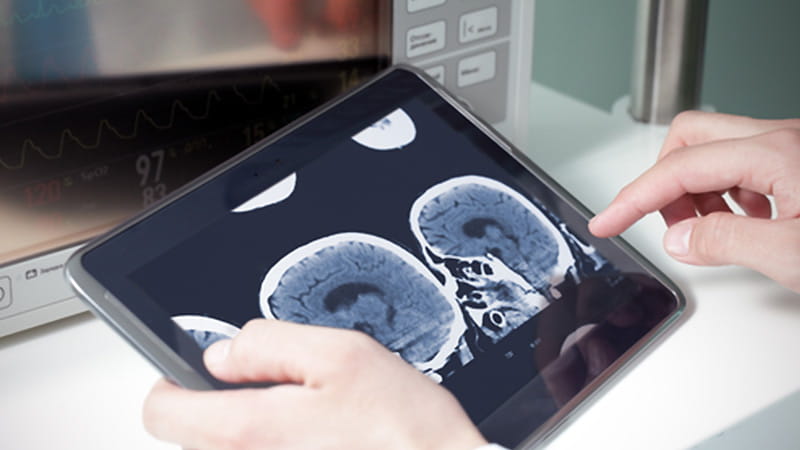 THEY'RE often the first to make a diagnosis and use some of the most advanced healthcare technology around. The job of a radiologist is varied but essentially involves the use of imaging to diagnose, treat and monitor various disease processes.
The Royal College of Radiologists (RCR) has reported a "massive growth" in applications of radiological imaging and imageguided treatments, fuelling what they call a "worldwide shortage" of trained specialists. As they push for additional training places to meet this demand, now could be the ideal time to take an interest in this field.
Entry and training
Doctors can move straight into specialty training from foundation year two, although some choose to train in another field before applying. Radiology specialty training lasts five years (ST1 to ST5) with no competitive application process at ST3. Core radiology training generally lasts three years (ST1 to ST3) followed by advanced (special interest) radiology training for a further two. An additional year is added for those who choose to subspecialise in interventional radiology.
Doctors must enrol with the RCR before beginning training and maintain membership throughout (currently £151 per year). They must also pass the three-part fellowship (FRCR) examination. Part one is normally taken halfway through ST1, with successful completion a requirement to advance into ST2. Part 2A is about to change to a single multiple choice exam covering all areas of the curriculum while Part 2B is based on practical image viewing. These are expected to be completed by the end of ST4 before progression to ST5.
The RCR's Specialty training curriculum for clinical radiology details the competences required to be awarded a certificate of completion of training (CCT). These will be achieved through a variety of learning methods, from formal teaching programmes to experiential learning on the job. Achievements can be documented in the trainee's ePortfolio.
The many special interest areas of radiology offer something to suit most personality types, whether you are looking for patient interaction and quick procedures (breast radiology), or enjoy handling more complex specialist cases (neuroradiology). Trainees usually start thinking about special interests around ST3 and most focus on two areas in ST4 and ST5, with options including cardiac, emergency, gastrointestinal, paediatric, thoracic and more. Trainees can also be appointed to the subspecialty of interventional radiology at ST4.
The job
Radiologists have a vital role to play at both ends of the clinical spectrum – in both diagnosis and interventional treatment – and deal with a wide range of cases. For diagnosis, there are a variety of imaging techniques at their disposal. Standard examinations can involve plain radiographs, ultrasound, and computed tomography (CT), while more complex techniques include magnetic resonance imaging (MRI) and positron emission tomography coupled with CT or MRI (PET-CT and PET-MRI).
The RCR describes how rapid advances in technology, along with advances in identifying diseases on diagnostic images, means imaging can be used at increasingly early stages of the diagnostic process.
Radiologists can also play a direct part in patient management, from performing urgent minimally invasive procedures and stopping life threatening haemorrhages to undertaking day case procedures such as oesophageal stenting or angioplasty. One treatment they do not perform is radiotherapy for tumours which is the responsibility of the clinical oncologist.
The RCR says: "Masses identified by radiology can be biopsied with guidance of the needle path by imaging techniques and without recourse to a surgical procedure in most cases. Interventional radiologists use image guidance for a rapidly increasing array of minimally invasive procedures, from arterial to colonic stenting, from vascular embolisation for uncontrollable bleeding to image guided ablation of tumours."
As the government continues to push for a so-called "seven-day NHS", it is likely that access to out-of-hours imaging will have to increase. While this may mean greater demand for radiology services, it could also mean more shift and weekend work for specialists. Whatever the future holds, this stimulating and satisfying field has much to offer.
Sources
• The Royal College of Radiologists – www.rcr.ac.uk
• "A career in radiology", BMJ
Joanne Curran is an associate editor of FYi
Q&A Dr Hefina Whiteley-Jones, specialty trainee in radiology based in Brighton
What first attracted you to radiology?
Radiology experience at medical school was non-existent for me, and I found it a rather mysterious entity. But during foundation and core surgical training I realised that radiologists often provide the answer when others have failed and major management decisions were being made based on the radiologist's opinion. Radiologists also make big calls in MDTs, as well as getting involved in highpressure major interventional procedures. The other attractive aspects include a great work/life balance, varied sub-specialties, flexibility for part-time working and training, and potential for private practice. And of course, radiology is at the cutting edge of technology, so we have the best toys in the hospital!
What do you enjoy most about the job?
My added value in a patient's journey is huge. You are always working to ensure they get the right imaging and the right treatment at the right time. You can perform life-saving major interventions if you're after some adrenaline, or smaller procedures if that's not your thing. There are a range of new skills to learn, which is really rewarding. The research opportunities are vast and teaching and learning is made much easier as the patients are always available for review. I am truly excited to imagine where the specialty will be in 10 years' time – scanners are continually improving, imaging sequences are continually in development, and the radiologist's role will be more central than ever, especially in cancer care.
What do you find most challenging?
The exams are tough and probably the biggest hurdle for trainees. The Royal College of Radiologists has recently cut these from 11 to seven in an attempt to improve things. There is an ever increasing workload: the UK has half the number of radiologists it should have, with more and more scans being performed. This does mean of course that the future for radiology as a specialty is very bright and employment prospects are excellent. Trying to follow that loop of bowel on cross-sectional imaging is always a challenge, although this does get easier with time.
Has anything surprised you about the specialty?
I have found the reduced patient contact quite positive and I enjoy the balance. It gives me more time for other activities, e.g. research, and when I do see patients I value it. I also found that radiologists are generally a happy bunch who truly enjoy their job, and are not (usually) grumpily locked away in a dark room.
What do you consider the most important attributes of a good radiologist?
Attention to detail, excellent clinical knowledge, and good negotiating skills. An interest in anatomy is vital, as this is the universal language of radiology that you continue to hone throughout your career. IT skills are useful, and good hand-to-eye co-ordination is crucial for procedures. Radiologists need to be inquisitive and ask questions, and often suggest diagnoses that the clinicians have not yet considered. There is nothing more satisfying that clinching the diagnosis in a difficult case.
Is there any advice you could give to a final year or FY trainee considering radiology?
Do a taster week to get a real idea of what radiology entails and talk to radiologists about their job. I would recommend a good foundation in clinical medicine and surgery, e.g. completing CMT or CST, and postgraduate exams are a good idea too. They set you in good stead for the clinical requirements of the job and help you perform better at interview. I love my job - it is incredibly satisfying, interesting, and there is always time for a cup of tea. So if you think it is the job for you, go for it! You absolutely won't regret it.
This page was correct at the time of publication. Any guidance is intended as general guidance for members only. If you are a member and need specific advice relating to your own circumstances, please contact one of our advisers.
Read more from this issue of FYi
FYi is published twice a year and distributed to MDDUS members in Foundation Year 1 and Foundation Year 2 training programmes and final year medical students throughout the UK. It provides a mix of articles on risk, medico-legal and regulatory matters as well as general features and profiles of interest to trainee doctors. Browse all current and back issues below.
In this issue