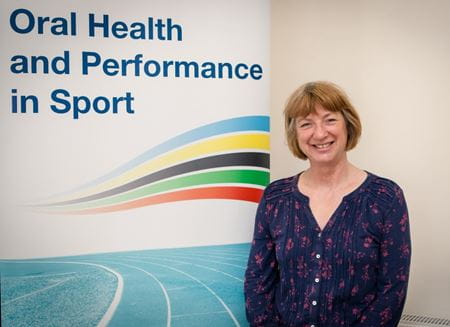 FROM improved handwashing techniques to bespoke pillows and mattresses, much has been written about the impact small changes had on the meteoric rise to success of the Team GB Olympic cycling team.
Now dentist and keen triathlete Dr Julie Gallagher (pictured) is hoping to add one more small change to the list after her research project uncovered a surprising link between oral health in top athletes and their performance on the field.
She believes a simple change in toothpaste could provide another boost for the country's elite sportsmen and women.
Think small
It was the new head of British Cycling Sir Dave Brailsford who first brought the theory of "marginal gains" to public attention in 2002. He believed in "thinking small, not big" and adopted a philosophy of continuous improvement through the aggregation of marginal gains: focusing on such things as improved handwashing techniques to prevent illness and bespoke bedding to ensure a good night's sleep. Within a few years his squad famously went from winning a single gold medal in its 76-year history to taking home seven out of 10 golds at the 2008 games in Beijing.
Now Dr Gallagher is pushing to make high-strength fluoride toothpaste a part of every athlete's kit bag.
During her research, conducted as part of her five-year, part-time PhD course at Eastman Dental Institute at UCL, the Glasgow-born clinician met with more than 350 sportsmen and women – many of them at the top of their game – across 11 different disciplines.
Among the key findings was that, despite 94 per cent of athletes brushing their teeth at least twice a day, nearly half (49 per cent) had untreated tooth decay while a third (32 per cent) said that oral health had a negative impact on their training and performance.
The 'root' cause of the problem was the high consumption of sugary energy drinks, bars and gels.
Julie says: "Athletes have a much better general health profile so we don't see lifestyle diseases like diabetes and obesity.
"But their oral health profile is no different to the man in the street, which is disappointing considering how closely monitored they are.
"Our aim is to raise awareness of the importance of oral health as part of athletes' general health and wellbeing."
Data challenge
Taking on a PhD when you already have a successful dental career is a tough decision, but one that was right for Julie. In 2014, she gave up community dentistry in West Sussex to begin her research but continued to work one day a week as a tutor at Eastman Dental Hospital's education centre.
She says: "When you do a PhD, the only thing you know is, you know nothing so it was lovely to have one day a week when some people believed I knew something in my role as a teacher. That was a nice balance."
During the study Julie regularly braved the busy M25 to collect data from national sports centres of excellence across the country. Team GB cyclists, runners, gymnasts and swimmers, as well as the England rugby squad, players from Reading FC and other world-class teams all agreed to an oral health check-up. While Julie measured tooth decay, gum health and acid erosion, a small team of three or four people recorded the data.
For Julie, this was as much a personal as well as a professional journey. A passionate triathlete, she has set herself the daunting challenge of competing in the 2020 Ironman race in Italy to mark her 60th birthday.
She says: "I feel incredibly privileged to have had the chance to meet my heroes."
When asked who she enjoyed meeting the most, she names the GB women's cycling team "because they do stuff I dream of". But she is quick to emphasise it was a pleasure meeting every one of her study participants who took time out of their busy training schedules to support her work.
She praises them for taking the research seriously which was vital when it came to the last part of the PhD – an intervention study. She says: "Once we had collected all the data, we wanted to do something with it, so we designed a very simple oral health intervention."
Creating change
Her thesis based on this research has been submitted to examiners, with the final defence in February 2020. Though this project is complete, she is now pushing for change to improve athletes' dental health.
She has just submitted a fourth paper for publication to the British Journal of Sports and Exercise Medicine and hopes "something useful" can be done with the research data.
She says: "The main intervention is to promote the use of prescription fluoride toothpaste because that is a very simple way of mitigating dental caries and something athletes are very willing and able to make.
"We would be advising dentists to work with athletes to prescribe high-strength fluoride toothpaste – and I would expect this to happen quite soon once we publish.
"There is a willingness amongst athletes and their support teams to recognise the importance of oral health and we need to build on that. We are also trying to promote regular oral health screening for athletes so we can raise awareness."
Julie's UCL team has made three short films (see link below) promoting oral health with Team GB Olympic rower, Zak Lee-Green, who is also a dentist.
He emphasises the importance of good oral hygiene and recalls recent cases of fellow athletes who were forced to withdraw from world championships due to "easily preventable" dental problems. He says: "As elite athletes we are pushing ourselves to the limit almost every day. We need to pay attention to problems such as gingivitis and periodontitis which have been shown to affect our general health."
He recommends athletes brush twice daily, use fluoride toothpaste and mouthwash, use interdental brushes and "always spit never rinse".
In a separate but related study, another PhD student at the Centre for Oral Health and Performance (COHP) is looking into dental erosion and the role of pellicle (the protein layer on the enamel surface) in athletes.
Although now retired from the NHS, Julie wants to maintain an interest in research and is continuing to campaign for change. She is also keen to encourage other dentists to get involved in sports dentistry to build up a network of clinicians with an understanding of the demands athletes face.
For dentists who wish to explore this as an option, she advises: "Approach your local sports team, refer them to the research and tell them we know we can boost performance by improving oral health.
"You certainly won't do any harm. Athletes' health and wellbeing is so important, so if they want their athletes to perform at their best, they can't ignore their oral health."
Click here to find out more about the work of UCL's COHP.
Kristin Ballantyne is a freelance writer based in Glasgow
PIC COURTESY OF DR JULIE GALLAGHER
This page was correct at the time of publication. Any guidance is intended as general guidance for members only. If you are a member and need specific advice relating to your own circumstances, please contact one of our advisers.
Read more from this issue of Insight Primary
SoundBite is published twice a year and distributed to MDDUS members in their final year of dental school and to those undertaking one or two years of postgraduate training throughout the UK. It provides a mix of articles on risk, dento-legal and regulatory matters as well as general features and profiles of interest to trainee dentists.
In this issue