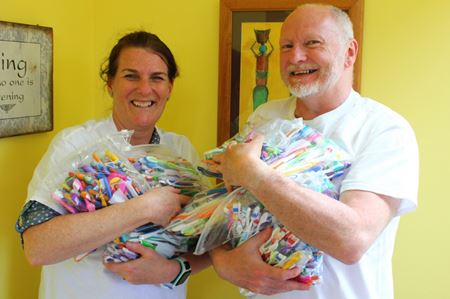 THE pile of 500 new toothbrushes is stacked high on the Milne family's kitchen table. As they are both dentists this might not seem unusual, but the brushes are not destined for their patients. Instead the couple will personally deliver them to communities across Malawi.
Practice owners Nigel and Vicky Milne will transport the donated brushes to the poverty-hit African country for Smileawi, a charity they founded in 2015 to improve the oral health of children and adults who don't have access to a dentist.
This will be the sixth time the married couple based in Dunoon in the west coast of Scotland have visited Malawi, a trip which takes the place of their annual summer holiday. Visit number seven is scheduled for September 2017 alongside a small group of volunteers.
The need for help
It all started five years ago with an invitation from John Challis OBE – a patient and founder of Malawi charity the Raven Trust – who had been struck by his experiences there and insisted the Milnes "have to go". So in September 2012, four days after the youngest of their four children left home, they did just that.
Vicky, who has two sons and two daughters (aged 22 to 30) with Nigel, says that first visit opened their eyes to how limited dental care is, particularly in rural areas. "I remember seeing one clinic with just one dental syringe for 600,000 patients, when a practice with a fraction of those patient numbers would usually have 30 or more," she says.
Nigel was amazed to learn that a population of more than four million people in the north of Malawi was served by only 26 dental therapists. Often going unpaid, they struggle to provide treatment with poor equipment and limited supplies of basic materials such as local anaesthetic.
He says: "When we came back, we had two choices – turn your back on it or do something. We instantly felt we have got to do more."
Sugar is cheap
The husband-and-wife team, who met at the University of Glasgow in the late 1980s, have been travelling there at least once a year to carry out much-needed dental care in the main towns and rural clinics where "sugar is cheap and toothbrushes are expensive".
Trip number two happened within a year along with friend Alan Thomson, a retired doctor and trained anaesthetist. The three of them performed hundreds of emergency extractions in the country where Coca-Cola is the favoured thirst-quencher amongst schoolchildren who do not always have access to clean drinking water.
We saw one clinic with just one dental syringe for 600,000 patients.
Vicky says a fundraising drive ahead of their trip allowed them to buy local anaesthesia and two portable dental chairs from international dental charity Dentaid. Once in Malawi the trio visited three hospital clinics that included dental surgeries, and two rural clinics.
"That's where the real need is," Vicky says. "It is very basic out there and, without electricity or running water, we could really only do extractions and deliver preventative messages. It was such a contrast to come home to a clean surgery with lighting, heating, and running water."
With one in eight people in Malawi diagnosed HIV+, the couple were acutely aware of the infection risk to them and their volunteer dentists and dental therapists.
"We were fortunate to have a safe local anaesthetic delivery system from Astek Innovations which greatly decreased the risk of needle stick injuries," says Vicky. "We were also aware malaria is one of Malawi's biggest killers, but to be honest I was more worried about navigating the transport network!"
Contrasting patients
The couple run the Hollies Dental Practice in the picturesque coastal town of Dunoon, making for a stark contrast between their patients at home and abroad.
Says Nigel: "At home our patients are families and retired people who generally take care of their teeth and have good oral health. That's a huge contrast to Malawi where sugary drinks are often easier to find than clean water, yet most of them don't know that sugar causes dental decay.
"Add to that the fact it's almost impossible for people to reach a dentist, especially in rural communities, and many end up suffering toothache for years."
A busy day for the Smileawi team can see as many as 50 people waiting for treatment. "For us, the main aim is to relieve long-standing dental pain," Nigel says. "But sometimes we don't have time to treat them all and it's heartbreaking to leave them, especially as many may have walked five or 10 miles to see us."
Continuing care
Both arriving in Malawi and returning home can be "a huge culture shock" for the couple, but their charity work continues.
The 500 colourful toothbrushes occupying their kitchen table were donated by Dunoon Grammar School and are among a range of vital supplies the Milnes will take with them on their forthcoming trip, including a seventh portable dental chair, bottled water and a Dentaid water steriliser.
To date, Vicky, Nigel and around 40 volunteers – whom they call the Smileawi family – have delivered hands-on dental treatment, extracting up to 2,500 rotten teeth in one visit. The purpose of this latest trip is to visit and work with each of the 26 dental therapists in their clinics.
They also plan to catch up with their former translator Lusekero Kyumba, a dedicated young man who is training to be a dental therapist at Lilongwe College of Health Sciences. Nigel and Vicky were so impressed with his desire to help people that they decided to fund his studies through Smileawi, helping him secure a permanent post at Malawi's David Gordon Memorial Hospital on completion of his course.
Vicky says: "It made it all worthwhile when Lusekero's wife asked to speak to us both. She thanked us so much for 'saving her family'." Nigel adds: "I don't do 'greetin', but I was welling up."
So how do the busy working parents manage to balance their charity work, with running a busy practice, spending time with their children and enjoying the occasional skiing holiday?
Vicky laughs: "Well, our housework never gets done, and neither does the garden!"
It's clear from meeting the Milnes that this is a labour of love, as Nigel admits: "I wouldn't do it [dentistry] if I didn't love it and I also wouldn't be involved in a dental charity.
"We manage to have a good balance between running our practice and doing our charity work, and that's largely down to Lynne, our practice manager, and our very understanding patients. Many of them have donated to Smileawi and always ask when we are going out next."
Vicky adds: "Our patients have overwhelmed us with their generosity and support. Recently a group of local ladies knitted baby cardigans, so we will take them out with us this time."
Looking ahead, Nigel and Vicky will continue to send Smileawi volunteers out to treat those in dire need of dental care, before eventually reducing the hours they work in Dunoon and dedicating more time to their charity.
But as Nigel points out, doing 2,500 extractions in one visit is only the tip of the iceberg: "Malawi won't be able to sort out its dental problems in our lifetime, it's unimaginable, so we will do our best to continue to grow the charity."
It is a formidable task but they remain determined and, as their charity slogan says, they hope to help Malawi one tooth at a time.
• To find out more about Smileawi, including how to volunteer, visit www.smileawi.com
Kristin Ballantyne is a freelance writer based in Glasgow
ABOVE: Vicky and Nigel Milne with some of the Malawi-bound toothbrushes (PHOTO: KRISTIN BALLANTYNE)
This page was correct at the time of publication. Any guidance is intended as general guidance for members only. If you are a member and need specific advice relating to your own circumstances, please contact one of our advisers.
Read more from this issue of Insight Primary
SoundBite is published twice a year and distributed to MDDUS members in their final year of dental school and to those undertaking one or two years of postgraduate training throughout the UK. It provides a mix of articles on risk, dento-legal and regulatory matters as well as general features and profiles of interest to trainee dentists.
In this issue