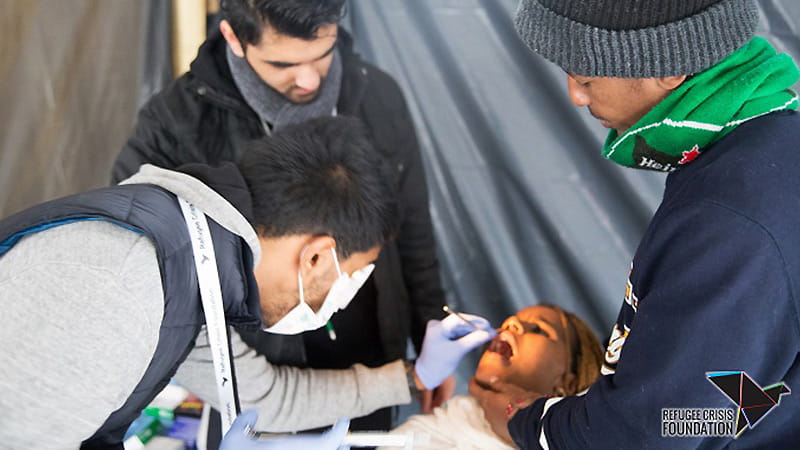 DENTAL students rarely have much free time, but London-based Salman Sheikh has been combining his studies with life-changing relief work in the refugee camps of France.
Currently in fourth year at King's College London Dental Institute, the 22-year-old travelled to Calais with the Refugee Crisis Foundation (RCF) to help qualified dentists deliver emergency care in the notorious 'Jungle' migrant and refugee camp.
His experience there was a far cry from the swish hospitals and private practices he has seen in the UK capital.
Since his first Jungle trip in December 2015 he has made three further visits this year. And while the Calais camp has since been demolished, the RCF plan to expand their work further afield in future.
Salman says the visits have changed him on a personal level.
He says: "You change as the camp changes and grow as a person the more experience you gain. Every visit reaffirmed my motivation to help. You need a lot of emotional strength to hear some of their stories, especially when kids are involved."
It was Salman's first visit, alongside some of his fellow dental students, that had the biggest impact. He will never forget those first impressions of the Jungle which, at its height, was home to as many as 10,000 refugees.
"We didn't know what to expect," he says. "We were briefed, but you just can't prepare for what you're about to see. The disorganisation hits you. I didn't expect that many people to be there. How desperate must they be to travel thousands of miles, with their kids?"
Providing relief
Together with other volunteers, he helped set up a mobile dental clinic in a vacant container, set amongst the mud and cold of the vast camp. A queuing system and triage area was set up outside and a treatment area inside, consisting of two mobile dental chairs donated by the Dentaid charity.
As word of the clinic slowly spread, people from a diverse range of countries, speaking more than half a dozen different languages, attended. Salman and his fellow students supported qualified dentists, registered to work by the French authorities, in delivering dental care to a steady stream of patients. Many were in severe pain with periapical infections or deep carious teeth.
He says: "The primary objective was to get people out of pain. Many people there had been unable to eat or sleep because of it.
"My role, as a student, was triage and nursing for qualified dentists (non-operative, non-invasive work). We saw a lot of dental infections, abscesses and decay so the most common treatments were carious excavation by hand, GIC restorations and extractions. No treatment was started if it was not urgent and could not be completed in our clinic."
Resourceful
Naturally, the language barrier was a huge challenge, but Urdu-speaking Salman and the dental team were often saved by multilingual refugees and volunteers from other NGOs without whose translation, he admits, "we simply could not have worked in such an extremely diverse camp."
Other challenges included no running water or electricity, meaning no hand pieces or radiographs and limited light as evening fell. Added to this was the constant watchful presence of armed French guards, as well as the various factions (referred to by some as the local "mafia") who exerted control over large parts of the camp.
Lack of supplies didn't stop the resourceful dental team either. A steam steriliser was cobbled together using a hot plate with a pressure cooker on top, an old autoclave was brought back into use, and a makeshift marquee propped up against a shack served as the triage area.
Salman, who volunteered in Rio de Janeiro during a gap year at the age of 18, says: "It was a great experience for me in terms of learning how to work in an emergency dental clinic, running it and seeing how different patients are treated in different emergency settings, as opposed to the fancy hospitals and private practices I have seen in London."
Selfless
In addition to his dental work, Salman has also volunteered for various welfare projects run by RCF, distributing tents, blankets, and food parcels to refugees. He advises fellow dental trainees considering volunteering to set their personal ambitions aside.
He says: "You can get a hell of a lot out of these trips, so if you are asked to do less glamorous work 'backstage', then do it. It will allow somebody to deliver the care further down the line. I was in the Care4Calais warehouses coordinating food packs and shuttle runs. You have to alternate between that kind of work and the actual delivery of the care itself, so the more selfless you are the better the team can work."
Despite the scale of the refugee crisis in Europe, Salman believes his efforts are worthwhile but that a long-term solution is needed.
"The teams can take care of people the best way we can, but the real problem is if you don't stop what's causing it [dental decay and other symptoms], how can you change their circumstances? It is circular, people start in need, we then take care of that need, but within a week they might be back in need again. How do we break that cycle?
"I am there thinking 'I've turned up to an earthquake with a dustpan and brush'. One weekend in a month is not enough: we need to increase the care we give and target that care properly. But how do we stop the refugee crisis? That is a question that's bigger than all of us."
When he is not volunteering abroad, or studying for his dental qualification, Salman is busy running a pop-up art gallery in North London, Islamic Imprints Art Gallery, which represents over 25 artists from around the world. He laughs: "I am not all about dentistry!"
But how does Salman manage to balance his challenging BDS course with all his extracurricular activities? He adds: "Balancing it all is difficult, but it keeps life fun. It is good to keep busy, keep things diverse, and do things for a good cause, as long as the dentistry doesn't fall behind. And it hasn't so far, I have made it to my fourth year – let's hope I can make it through the rest!"
• The Refugee Crisis Foundation was founded by pharmacist Kiran Ismail, head of the charity. To find out more, email: info@refugeecrisisfoundation.com
Kristin Ballantyne is a freelance writer based in Glasgow
This page was correct at the time of publication. Any guidance is intended as general guidance for members only. If you are a member and need specific advice relating to your own circumstances, please contact one of our advisers.
Read more from this issue of Insight Primary
SoundBite is published twice a year and distributed to MDDUS members in their final year of dental school and to those undertaking one or two years of postgraduate training throughout the UK. It provides a mix of articles on risk, dento-legal and regulatory matters as well as general features and profiles of interest to trainee dentists.
In this issue