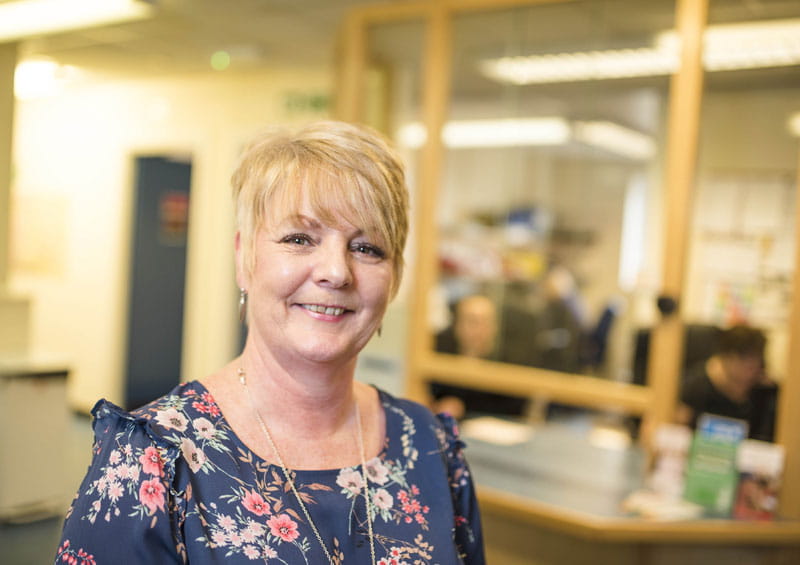 Elaine Smith, practice manager, Garscadden Burn Medical Practice
ANNETTE Fennell is perhaps not a typical medical receptionist. Four years ago she moved to the Glasgow area from Aberdeen where among other roles she worked with the church doing mental health visiting and counselling teenagers with drug and alcohol problems.
Joining Garscadden Burn Medical Practice in Drumchapel seemed fortuitous given its ethos of addressing head-on the challenges of social and health inequality that characterise this deprived area – but also considering the inclusive approach the practice takes when it comes to the strengths and interests of its staff.
Just over a year ago at the instigation of one of the GP partners, Annette began working with a small peer support group of patients who were affected by loneliness and isolation – calling themselves Promising Links. They meet every Tuesday morning to share coffee and cake and chat – as well as undertake activities in support of the local community.
Studies have linked loneliness to numerous health conditions including cardiovascular disease, mental health issues, high blood pressure and dementia. In areas of high deprivation, twice as many people report feeling lonely or living in isolation.
Typical of the group was on patient who spoke recently in a BBC interview. "When the day comes you don't want to go. So you're making all the excuses under the sun not to go." But the group has helped her gain the confidence to take part. "It's a lifeline," she says. "It brings you out yourself for two hours a week."
Annette is passionate about what has been achieved by this small initiative. "The change in people is astounding," she says. "They've gone from not wanting to come out of their house – real tears, real anxiety – to actually going to lunch... We've had a young man who was so anxious he was literally shut up in the family home for 10 years. He started coming to the group; he's now working. It's amazing."
Promising Links is just one of numerous initiatives attracting the attention of both media and politicians alike and recently resulted in Garscadden Burn being awarded Scottish Practice of The Year by the Royal College of General Practitioners.
Last month I visited practice manager Elaine Smith at Drumchapel Health Centre, an ageing NHS facility which Garscadden Burn shares with five other practices, each covering designated postcodes in the area. Here Elaine ensures the smooth running of the surgery with a list of 5,100 patients looked after by five GP partners and one salaried GP, two practice nurses, a healthcare assistant and five admin staff.
Health deprivation
Garscadden Burn belongs to a group of 100 Scottish practices designated as General Practices at the Deep End. These serve the poorest populations in Scotland with 60 per cent of registered patients living in the 15 per cent data zones categorised as the most socio-economically deprived. Here healthy life expectancy for men is 18.8 years less than in more affluent areas – and 17.1 years less for women. Garscadden Burn is a typical "deep end" practice.
"Mortality is very high compared to Bearsden which is just a mile or so up the road," says Elaine. "Move over the boundary and you live nearly 20 years longer on average than the people here."
Studies have also found that practices in deprived areas like Drumchapel have 38 per cent more patients with complex health problems (five or more long-term health conditions) and twice as many with combined physical and mental health problems than in more affluent areas.
Dr Peter Cawston is a GP partner at Garscadden Burn and a founding member of GPs at the Deep End. He explains the ethos behind the group: "Back when we started, inequality was seen as a public health issue not a medical issue. So within general practice it was invisible. It was never really discussed. There was no recognition that there might be a different scenario for GPs working in highly deprived areas."
Today that has all changed with Scottish Government now having a legislated priority to integrate health and social care at a structural level. In 2013 a group of deep-end GPs submitted proposals to help achieve this goal at the grassroots and improve the provision of healthcare in the poorest areas of Scotland. Among the proposals was the creation of a new role known as a community links practitioner – someone whose job is to offer "social prescribing" and to improve links with other community resources and services. The proposal was picked up by Scottish Government and in April 2014 seven practices – including Garscadden Burn – began a pilot employing a "links worker".
"A great many health problems are caused by social conditions and GPs were being asked to address issues that were not medical and we weren't equipped to deal with in a very effective way," says Dr Cawston. "We strongly urged that the links worker should be part of the practice team and also that opportunity should be made for the whole practice to rethink how they approach social problems and become better at sign-posting – more aware of what's available in the local community."
Roller coaster ride
Margaret Ann Prentice is the links practitioner at Garscadden Burn and is employed by the Health and Social Care Alliance Scotland with support from Scottish Government. She is also considered a full member of the primary care team, seeing patients in a consultation room and also in their homes. The job is not an easy one and in a YouTube video she describes her typical week as a "roller coaster ride" – helping patients with issues such as adult and child protection orders, bereavement, rent arrears or threatened eviction, dealing with police and social workers, mental health issues, as well as promoting healthy living, including organised walks, yoga and cookery classes. Annette Fennell acts as links administrator in the practice in addition to her role as receptionist.
Having a links worker has had a major impact on the practice, says Elaine. "On a Friday afternoon a GP might come across someone with no money, no food and three children. The GP can then say 'okay I'm going to refer you on to Margaret Ann' and she can take over that patient."
The scheme has also given GPs greater confidence to ask patients about underlying issues, such as debt or domestic violence, because they now feel able to offer an adequate response. So is it working? Evidence is due to be published later this year but from April 2014 and August 2016 there were 508 referrals to the links worker at Garscadden Burn and she was able to engage with 388 (76 per cent). A questionnaire sent to patients across the pilot found that 60 per cent of users reported improved wellbeing and 25 per cent reported significant improvement.
"A lot of patients we would see week in, week out – we now see less of because their problems have been sorted out by Margaret Ann," says Elaine. "They only need to speak with a doctor if they are genuinely ill."
Certainly evidence coming out of practices such as Garscadden Burn has convinced the Scottish Government. It recently published an action plan involving the recruitment of 250 community links practitioners to work with GP surgeries across Scotland. Dr Cawston has been asked to advise on the implementation.
"I think we are still a very ordinary practice with all the stresses and strains and failings of ordinary practices," he says "We don't claim to be special in any way. But we do feel in a better place both in terms of team dynamics and morale. We have also been able to see really quite visible improvements for patients, especially those at the most difficult end of social problems. And I guess the reason we come to work, the thing that improves our morale, is feeling that we can make a difference – not just keeping our heads above water. We are actually managing to do something positive."
▪ Jim Killgore is publications editor at MDDUS
This page was correct at the time of publication. Any guidance is intended as general guidance for members only. If you are a member and need specific advice relating to your own circumstances, please contact one of our advisers.
Read more from this issue of Practice Manager
Practice Manager is published twice yearly and distributed to MDDUS practice managers and others with management responsibility in dental and medical surgeries. It features articles on employment law, health and safety, risk as well as profiles of practices across the UK. Browse our current and back issues below.
In this issue