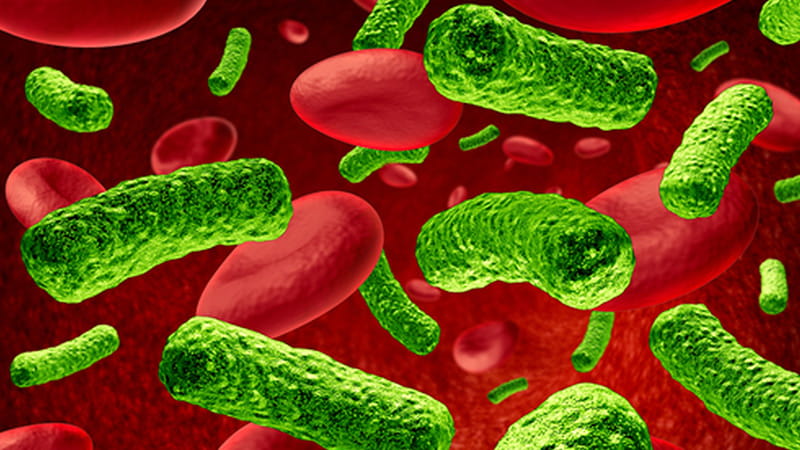 SEPSIS is a reaction to infection in which the body attacks its own organs and tissues. It can arise in response to any infection, but most typically a bacterial infection of the lungs, urinary tract, skin/soft tissues (arising from a bite, cut or sting or from cellulitis) or abdomen (such as a perforated bowel). If not spotted and treated quickly, sepsis can rapidly lead to organ failure and death.
Every year in the UK 150,000 people are affected by sepsis; 44,000 die as a result and 26,500 (a quarter of all survivors) suffer permanent, life-changing injury.
It's an indiscriminate condition, claiming young and old alike and affecting the previously fit and healthy. It is more common than myocardial infarction and kills more people than bowel, breast and prostate cancer and road accidents combined. Misdiagnosis and delayed treatment (followed by rapid deterioration) are at the centre of most poor outcomes or fatalities. Earlier identification and treatment across the UK would save 14,000 lives and result in 400,000 fewer days in hospital for patients every year, which alone would save the NHS over £314 million per annum.
A report published last year by the National Confidential Enquiry into Patient Outcome and Death revealed that in over a third (36 per cent) of cases there were delays in identifying sepsis. The report also found that many hospitals had no formal protocols in place to recognise sepsis.
Diagnosis
The new National Institute for Health and Care Excellence (NICE) sepsis guideline – published this July and building on care recommendations developed by the UK Sepsis Trust – provides best practice guidance for healthcare professionals confronted with potential cases.
The guideline advises that sepsis be considered in any patient with an infection and that the condition should be treated with the same urgency as a possible myocardial infarction. It describes the signs and symptoms that clinicians should check for, dividing these into high and moderate risk criteria and delineating where the person should be treated. It further advises which tests to use in diagnosing sepsis and monitoring response to therapy.
If someone is identified in the community as being high-risk, NICE says they should be admitted to hospital urgently by ambulance. Once in hospital they should be seen by a senior doctor or nurse straight away so that treatment may be commenced.
The guideline also advocates responsible use of antibiotics. Antibiotics should only be given to the sickest people: those who meet the high-risk criteria set out in the guideline, or alternatively those with a particular combination of moderate risk criteria. The UK Sepsis Trust screening tools encapsulate both patient groups under the term 'red flag sepsis': those patients warranting urgent intervention.
Management
If the patient has a suspected infection and their physiology suggests that there may be complications developing, the UK Sepsis Trust screening tools work well in conjunction with the NICE guidelines to identify patients with red flag sepsis. It is important to listen to the patient and their relatives: health professionals will ignore phrases like "I've never seen him this ill" or "I feel like I'm going to die" at their peril.
NICE, the UK Sepsis Trust and the international Surviving Sepsis Campaign all recommend the delivery of a set of basic care elements for patients within the first hour – in the UK and in other countries these are described by the Trust's 'Sepsis Six' care bundle.
The Sepsis Six (see box) is a set of interventions which can be delivered by any junior healthcare professional working as part of a team – all it requires is a qualified prescriber and basic healthcare equipment. Executing these six steps in the first hour following presentation with sepsis will double the patient's chance of survival.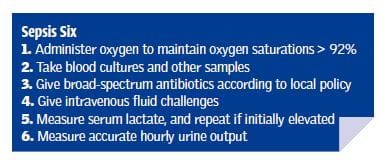 A majority of patients will begin to improve rapidly once the Sepsis Six are delivered in a timely fashion. For those who don't, or who continue to deteriorate, early contact with seniors and with critical care is of paramount importance: patients with sepsis have a 30 per cent risk of death so nothing should be left to chance.
Start the clock ticking following presentation: it is not acceptable to start the clock ticking on first identifying red flag sepsis; rather it should be when having first identified the condition. For emergency departments and acute medical units, this might be at triage, but for inpatient facilities we should acknowledge that even in acute trusts, guidelines mandate observations only every 12 hours in otherwise stable patients.
Implications for increased awareness
For 2016/17 and into the next financial year, NHS England has (via commissioners) put in place a national lever to drive improvement in hospitals, requiring that they screen for sepsis and deliver antimicrobials promptly. The Royal College of General Practitioners has developed a sepsis toolkit, NHS England has issued a Safety Alert, and Health Education England has developed a suite of resources. These all aim to increase the awareness of the condition and its treatment.
With increasing levels of public awareness, and following the Parliamentary and Health Service Ombudsman's report of 2013, complaints around sepsis are on the rise. Guidelines will give way to a NICE Quality Standard in 2017, which will make deviation from accepted protocol harder to defend.
It is crucial that healthcare professionals can show that reasonable steps were taken to identify sepsis, and to assess and investigate the symptoms. Organisations are expected to demonstrate that systems are in place to facilitate recognition and intervention.
Of course, not every situation in which diagnosis or treatment was delayed will amount to negligence. Healthcare professionals must have exhibited unreasonable and inappropriate actions (or inactions) – for example not investigating symptoms or leaving the patient without basic care (e.g. fluids or antibiotics). Clear medical records that explain an individual's actions and the steps they took to dismiss or confirm any suspected diagnosis, together with clear documentation of intervention, are important.
It can be difficult to link negligence to causation of harm in a condition as deadly and complex as sepsis where deterioration may be rapid, but early intervention is beneficial. Once septic shock has developed, there is only a 50 per cent chance of survival. For every hour that life-saving antimicrobials are delayed in septic shock, the risk of death increases by almost 8 per cent.
In summary, following the NICE guidelines, which have been operationalised in the UK, will provide key protection – and these include recognising red flag sepsis early and delivering the Sepsis Six within one hour, communicating and escalating clearly and keeping clear records of those actions in the medical records.
Dr Ron Daniels BEM is chief executive of the UK Sepsis Trust and a global sepsis expert
This page was correct at the time of publication. Any guidance is intended as general guidance for members only. If you are a member and need specific advice relating to your own circumstances, please contact one of our advisers.
Read more from this issue of Insight
Insight (formerly Summons) is published quarterly and distributed to all MDDUS members throughout the UK. It provides a mix of articles on risk, medico-legal and regulatory matters as well as general features and profiles of interest to our members. Browse all current and back issues below.
In this issue