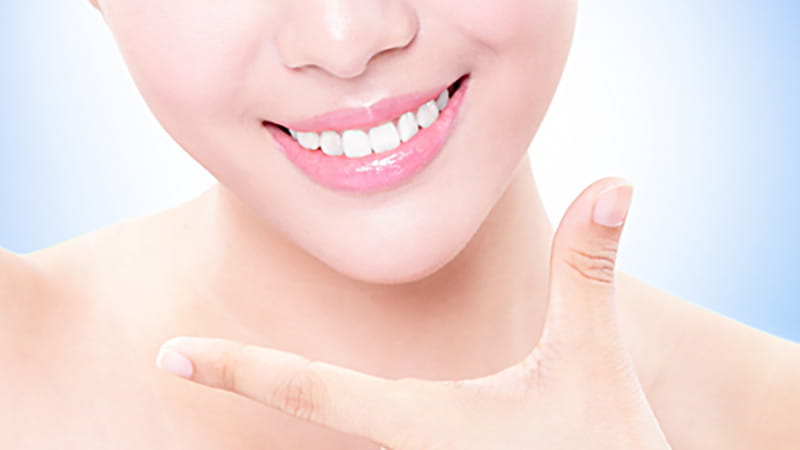 Beauty is power; a smile is its sword.
THE words of 17th century naturalist John Ray remain one of the most poetic endorsements of beautiful teeth. Ray's aphorism has particular resonance considering it came at a time when conventional tooth brushing methods were scarce. A complete, flashing smile would have been a rare and valuable commodity. Mind you, since life expectancy in Ray's time was 36 one suspects there was little to smile about.
Nowadays, those in the developed world can expect to live at least twice as long, with increasing numbers of the population dentulous. We live in an age which is not only healthier, but also more affluent and image conscious. Fewer people are content with simply keeping their teeth. They also want them to look good.
A new art form
Dentistry, once the preserve of amalgam, plastic dentures and GA extractions, has risen to the challenge. Increasingly sophisticated ceramics have enhanced the aesthetic appeal of crowns which can now be swiftly created using CAD CAM technology. Less invasive alternatives include veneers and adhesive restorative materials. Malaligned anteriors which might previously have required extractions followed by months of wearing fixed appliances, can now often be straightened with rapid orthodontic techniques.
On the face of it, dentistry is becoming an art. Yet, these new techniques have not met with universal acclaim. While there is little opposition to the use of innovative, recognised means of restoring diseased, fractured or missing teeth, ethical concerns emerge in non-therapeutic cases. Initially, criticisms were euphemistic, even humorous – elective veneer preparation may have been described as "treatment for hyper-enamelosis". Recently, however, less subtle neologisms such as "destructodontics" and "mutilectomy" have appeared in journals, often submitted by respected clinicians. Why, in the midst of this apparently positive trend, do we read such dire warnings?
Balancing risk
It cannot be denied that cosmetic dentistry involves a degree of risk. A significant percentage of pulps become non-vital following crown preparation. While veneers are certainly less destructive, studies suggest they have a relatively high failure rate and, with each replacement, further tooth tissue may be removed. In contrast, rapid orthodontics involves little if any enamel loss. However, the almost inevitable fracture or de-bond of permanent retainers, which are often required due to the inherent instability of the aligned teeth, necessitates further intervention. Even bleaching, which at first seems ultra-safe, can result in sensitivity and may necessitate replacement of restorations. Also, if you overdo it, you have many years of drinking strong coffee and smoking Gauloises to reverse the process.
Proponents of these techniques might argue that virtually all dental treatment, from bitewing radiographs to implants, are risky. There is no reason to distinguish cosmetic treatments. Yet, when a patient presents with, for example, a carious or fractured tooth, the advantages of intervention are usually palpable, whereas doing nothing is often the riskiest approach. Purely cosmetic cases are a different kettle of fish. Here, the argument runs, there is little risk in doing nothing, other than the likelihood that patients will remain dissatisfied with their smiles. All the tangible risk lies with the interventionist approaches in their various guises. Some in the profession have expressed profound reservations regarding such treatments.
An oft-cited example involves cases where dentistry is carried out on sound teeth solely for the purpose of matching them with restorations placed to improve neighbouring teeth. In experienced, skilled hands the results can be superb. However, there is a body of opinion that regards preparing healthy teeth in order to satisfy the subjective and possibly transient concept of the "perfect smile" to be beyond ethical boundaries.
There is a body of opinion that regards preparing healthy teeth in order to satisfy the subjective and possibly transient concept of the "perfect smile" to be beyond ethical boundaries.
The argument is often captured by the so-called "daughter test". Would you carry out this treatment on your daughter? No? Well don't do it on someone else's daughter. This test, in many instances, provides the practitioner with a valuable yardstick. Yet, it does not offer an ethical nirvana.
Patient autonomy is now a cornerstone of modern healthcare delivery. Therefore, whether you would provide a treatment to your daughter may not be the point. What if your daughter, if competent and properly consented, wished to undergo elective cosmetic dentistry? She may be delighted, even empowered, by the resulting improvement. Surely, denying her all that modern dentistry has to offer because you regard it as morally unacceptable smacks of paternalism, the scourge of today's medical ethics? Even if you remain unwilling to carry out the desired treatment, your daughter might reasonably expect a referral for further assessment. Failing this, she may go elsewhere.
Patient choice
This leads us nicely to the next controversy. Most of those in primary healthcare settings tend to rely upon patient satisfaction and return business to pay the bills. General practices remain afloat by catering not only for patients' needs but also (within limits, one hopes) their wishes. But that certainly does not mean dentistry should be patient-led. Even the most enthusiastic patient request will not validate unsuitable or unrecognised treatment choices. However, if dentists are unable or unwilling to offer conventional, applicable cosmetic techniques, patients may vote with their feet, taking their chequebooks with them. Therefore, at some point, even the most risk-averse, conservative dentist may be tempted to undertake cosmetic procedures.
Yet, the refuseniks are not necessarily troubled by the image of a dentist reluctantly bowing to a patient's demand for wall-to-wall veneers. Quite the contrary – the focus of their concerns is the possibility that patients may be beguiled or induced into such treatments, perhaps with the aim of maximising revenue. The irreversibility and unpredictability of certain procedures, which look so straightforward on carefully edited TV makeover shows, might be underplayed. The likelihood that costly replacement or even extension of the initial work will be required in the future might be lost in translation.
"Before" pictures look as though the patient has been photographed under a 40-watt bulb just after being told that the cat has died. In the "after" picture, the patient has clearly had a professional makeover and, judging by her smile, is holding the winning lottery ticket. I have little doubt that the vast majority of practitioners aim to employ impeccable consenting methods. However, patient expectations combined with financial pressures make the slope that bit more slippery.
The critical importance of patient autonomy is undeniable and may well dictate that it should be the competent patient and not the dentist who decides whether the risks associated with elective cosmetic interventions are acceptable. Yet, this argument evaporates where the patient's decision is based upon incomplete or inaccurate information. Lest we forget, the subjective nature of what constitutes a good aesthetic outcome already increases the chance of disappointment and conflict. Where the consenting process has strayed, perhaps inadvertently, from explanation to seduction, complaints, claims and GDC referrals may well follow.
It is the issue of consent which is often subject to the most forensic scrutiny.
Obviously, in the course of the subsequent investigation, the practitioner's treatment planning and execution will come into play. However, it is the issue of consent which is often subject to the most forensic scrutiny. Therefore, members should, if challenged, be able to produce (in addition to excellent records) a bespoke consenting document (quite separate from the costing schedule) which must recap on the patient's presenting complaint and the resulting discussions. It must also accurately describe the agreed procedure, its limitations and the recognised complications in layman's terms. Visual aids which provide a realistic concept of the aesthetic outcome are most helpful. Finally, other approaches must be set out. This must include the most obvious yet frequently overlooked alternative - the option of doing nothing. If a consensus cannot be reached and the document remains unsigned, treatment should not proceed.
Even the most gifted operator employing well-accepted techniques will have to deal with problems such as non-vital pulps, failed restorations and disappointing aesthetic results. However, where there has been a scrupulous, pragmatic consenting process, the essential relationship of trust should remain intact.
Doug Hamilton is a dental adviser at MDDUS
This page was correct at the time of publication. Any guidance is intended as general guidance for members only. If you are a member and need specific advice relating to your own circumstances, please contact one of our advisers.
Read more from this issue of Insight
Insight (formerly Summons) is published quarterly and distributed to all MDDUS members throughout the UK. It provides a mix of articles on risk, medico-legal and regulatory matters as well as general features and profiles of interest to our members. Browse all current and back issues below.
In this issue