THE national prevalence of diabetes is over five per cent, and recent studies indicate that about 20 per cent of all hospital in-patients and nursing home residents have diabetes. This means that all involved in healthcare need to know something about diabetes, and in particular which patients with diabetes are "at risk" of coming to harm in the short-term.
Diabetes is the commonest cause of lower extremity amputation in the UK, usually as a result of the combination of two lower limb complications: neuropathy and peripheral vascular disease. Patients with neuropathy have numb feet and frequently do not notice or complain of problems. Several cases have been highlighted in the press over recent years involving individuals who developed foot ulceration whilst being an in-patient or in a nursing home and then went on to require a major amputation. This has often been a tragic sequelae to otherwise exemplary and successful in-patient care for some other condition. It is equally tragic in that it is often avoidable given a little knowledge, thought and some straightforward action.
If diabetes features low in the medical "problem list" this can potentially result in a greater risk for the individual patient, as clinicians may be distracted by other seemingly more important issues. In 85 per cent of cases, amputations start with a foot ulcer and the vast majority of these are preventable. However, which patients with diabetes are at greatest risk?
Identifying risk
By far the strongest predictor of foot ulceration and amputation (see box) in a patient with diabetes is a history of a prior ulcer1. Nearly all patients are able to recall reliably whether they have had an ulcer or not – and it is very easy to ask! Other key risk factors include assessing whether the patient has neuropathy, absent foot pulses and nephropathy. This takes more effort but is relatively straightforward.
Neuropathy is usually assessed by detecting sensation to tuning fork vibration or 10g monofilaments. However, it is well recognised that these are often difficult to find on a busy ward. Although it is probably not as well validated as the aforementioned tests, a new test called "touch the toes" has been shown to be useful for detecting neuropathy (developed by Gerry Rayman and a team at Ipswich Hospital). This involves lightly touching the first and fifth toe of the right and then left foot and then lightly touching the middle toe on each foot. If the patient cannot feel two or more toes being touched, they are deemed as having neuropathy. Research has found that the test correlates fairly well with monofilament testing and other neuropathy assessments and is easy and convenient for ward use.
Asking the patient if they have had a previous ulcer, and examination for neuropathy (after excluding existing ulcers) will identify most of the patients at high risk of developing foot ulcers and amputations. About four per cent of people with diabetes have had a previous ulcer, and about 20 per cent have numb feet in the community2, although this proportion is probably higher in the diabetes population found within a hospital setting.
How well do we actually do in practice? An audit in November 2013 of 1,040 patients in hospital with diabetes across nearly every health board in Scotland was not impressive3. Of all in-patients on any ward in Scottish hospitals only 44 per cent of patients had had their feet checked, and of those checked 36 per cent had neuropathy and were thus "at risk" of hospital-acquired ulceration. Of patients with neuropathy, in only 41 per cent had some effort been made to protect the foot. Of patients with current foot ulcers, 35 per cent had not been referred for treatment and 2.4 per cent of all foot ulcers had developed whilst the patient was in hospital. Similar findings were identified in an ongoing in-patient audit in English hospitals. There is clearly a need to improve on this.
Frailty, malnutrition and foot deformity are also important risk factors to consider for a hospital in-patient. This is particularly important if the patient has neuropathy. Although the whole foot is vulnerable, the heel is particularly susceptible for poorly mobile patients. Unfortunately, heel ulcers are the most difficult to resolve, and thus prevention is best.
What action to take
Once patients at risk have been identified, what can be done about it? Within Scotland an initiative entitled CPR for feet has been developed to try and help healthcare professionals reduce the risk of patients developing foot ulceration. This involves checking (C) patients for visible problems and neuropathy, providing protection (P) for those at risk, and referring (R) those with active problems, such as ulcers or gangrene (see figure). Checking the feet for problems includes removing all dressings, as this is frequently not undertaken. Dressings often cover a major problem, which usually gets worse if not attended to. A number of pressurerelieving devices are available to avoid heel complications for patients at risk. These include heel pillows, heel protection boots, repose devices, PODUS boots, PRAFO or LEEDer splints and many more, which are usually available at orthotic departments. Pressure-relieving mattresses are another approach which may help. However, specific devices are usually preferable for patients at high risk of foot ulcers, although the two can be combined and may be especially useful for the frail patient who is also at risk of pressure sores.
In summary, nearly all wards and residential or nursing homes will have patients with diabetes who are at risk of amputation. This will be the case for about a third of all in-patients, and they are easily identified by asking them if they have had a previous foot ulcer, checking their feet for ulcers (including under any dressing) and looking to see if they have numb feet, e.g. by using the touch the toes test. "At risk" patients should be provided with pressure relieving devices, and such patients should have their feet checked regularly. It sounds simple but frequently these measures are not taken in practice, thus putting patients at risk of unnecessary amputations and clinicians at risk of unnecessary litigation.
Key points
About 20 per cent of hospital in-patients and nursing home residents have diabetes.
Around a third of these will have neuropathy and be at risk of foot ulceration and amputation.
History of prior ulcer is the strongest predictor of future ulcer – so ask!
Always look under a dressing for the presence of a current ulcer.
A number of pressure-relieving devices are available for those at risk.
References
1. Leese GP, Cochrane L, Mackie AD, Stang D, Brown K, Green V. Measuring the accuracy of different ways to identify the 'at risk' foot in routine clinical practice Diab Med 2011; 28: 747-754.
2. Abbott CA, Carrington AL, Ashe H, Bath S, Every LC, Griffiths J, et al. The North West Diabetes Care Foot study: incidence of, risk factors for, new diabetic foot ulceration in a communitybased cohort Diab Med 2002; 19: 377-84
3. National audit of foot care in Scotland (2014). Diabetes in Scotland http://diabetesinscotland.org.uk/Default.aspx
Professor Graham P. Leese is Chairman of the Scottish Diabetes Foot Action Group and is based at Ninewells Hospital, Dundee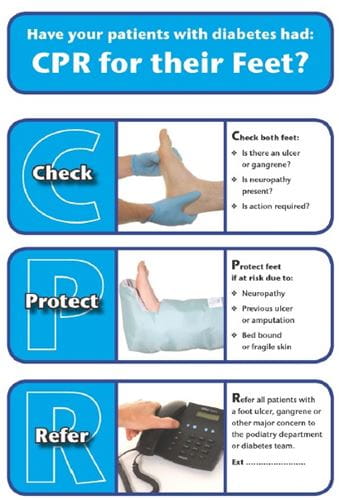 Printed with kind permission from the Scottish Government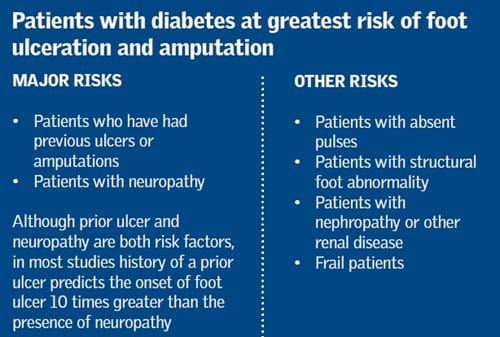 This page was correct at the time of publication. Any guidance is intended as general guidance for members only. If you are a member and need specific advice relating to your own circumstances, please contact one of our advisers.
Read more from this issue of Insight
Insight (formerly Summons) is published quarterly and distributed to all MDDUS members throughout the UK. It provides a mix of articles on risk, medico-legal and regulatory matters as well as general features and profiles of interest to our members. Browse all current and back issues below.
In this issue