"MEDICINE and Art have a common goal: to complete what nature cannot bring to a finish, to reach the ideal, to heal creation. This is done by paying attention. The physician attends to the patient; the artist attends nature… Art, like medicine, is not an arrival; it's a search. This is why, perhaps, we call medicine itself an art."
These are the words of Marie Therese Southgate, physician and former deputy editor of the Journal of the American Medical Association – an enlightened publication with such high regard for fine art that it reproduced paintings on its covers for almost 50 years.
I believe it is worth reflecting on these words and exploring the common ground between art and medicine – in particular the role of art in medical education. Below are three examples of paintings that can be used in different areas to enrich a formalised, and all too often conservative, medical curriculum.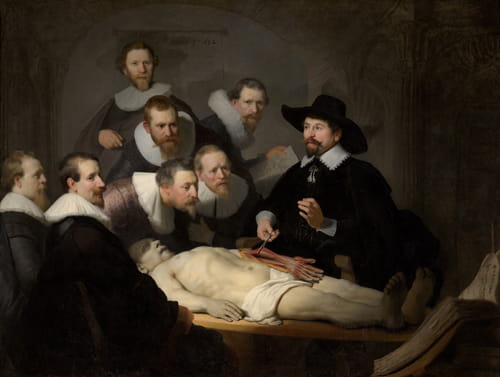 MEDICAL HISTORY
I begin with an anatomy lesson because this painting was the only one ever to feature in my own medical education – and I have never forgotten it. One afternoon almost 40 years ago, one of my lecturers went off-piste and surprised us by starting his lecture on orthopaedics with a slide of this painting. He talked us through the details and drew us in, which of course was his plan.
Here Rembrandt portrays the eminent anatomist Nicolaes Tulp demonstrating the dissection of the forearm muscles (left). Propped at the foot of the dissection table, perhaps to show his credentials, is his large anatomy textbook. Huddled around the cadaver are a group of rather ageing medical students…. or are they? Despite the familiar group demeanour (the over-eager ones at the front, the one trying to crib from his notes and the one staring off into space at the back), these seven were in fact not medical students but Masters of the Surgeons' Guild of Amsterdam – the top Dutch surgeons of the day.
The dissection itself is also not all that it seems. Before the practice of preservation of cadavers, those organs that would deteriorate quickly had to be dissected first – the contents of the abdomen and head. A dissection would never begin with the arm, and as such this scene is staged and unrealistic.
This painting has obvious appeal to the pre-clinical anatomist, but it also raises more important issues on the use of fine art as documentation of historical fact. In many instances, what is portrayed is what it appears, but not always. We often wrongly ascribe an almost photographic quality to fine art representations of people, events and places connected with medicine. We should leave this example on a note of caution but remembering that even a misrepresented image may be of educational use.

IMAGES OF ILLNESS
Some artists clearly intend to represent illness, but sometimes it happens unintentionally, as was the case with Dante Gabriel Rossetti. Monna Vanna (left) was a sumptuous portrait of his model Alexa Wilding, and Rossetti himself thought it one of his best.
Alexa was a dazzling redhead, who like some of his other models was found by Rossetti on the London streets. She figures in several of his works and her features and colouring have become almost synonymous with the Pre-Raphaelite ideal of beauty. Beautiful though she was, look closely and you will see that she also had thyroid disease as evidenced from the goitre in her neck.
There are countless instances throughout the galleries of the world of clinical signs inadvertently captured by the observational powers of the artist, and identifying them can be both entertaining and educational.

IMAGES OF THE PHYSICIAN
Many formal portraits of famous physicians hang in hospitals and galleries around the world, but perhaps we can learn more by studying depictions of the doctor at work. The Doctor by Sir Luke Fildes (left) has been described as "undoubtedly the best-known medical painting ever done". On one level this is simply a sentimental scene of country life, which appealed to the rural nostalgia intrinsic to late Victorian Britain – so much so that an engraving of the painting published at the time was a best seller. However, it can be read more subtly.
Except for prevention, the Victorian physician had few of the tools of modern medicine – yet the central drama of medicine even in a staged scene, such as this, remains the same. It is played out, not in the expressions of the parents in the shadowy background (the helpless father trying to comfort his distraught wife) but rather in the interaction between the two central figures: the physician and his patient. The relationship of the doctor to the child can best be summarised in a single word – attention.
In spite of great advances, what medicine is still all about is the patient, the physician and the quality of the relationship that exists between them. This painting has a lot to say about that relationship, and what it says, it says more eloquently than words.
LAST WORDS
Paintings can be used to illustrate the past, make a point or even start a discussion on what it means to be a physician. They can be a remarkable resource, not only providing useful educational tools, but can also offer the colour, subtlety and depth to topics otherwise so difficult to achieve.
We began with a quotation from Marie Therese Southgate and it is to her that I return for the last words.
"Medicine is itself an art. It is an art of doing, and if that is so, it must employ the finest tools available — not just the finest in science and technology, but the finest in the knowledge, skills, and character of the physician…And so I return to the question I asked at the beginning. What has medicine to do with art?
"I answer: Everything."
Allan Gaw is a writer and educator in Scotland
Photographs: Tate Images /Wikimedia Commons
This page was correct at the time of publication. Any guidance is intended as general guidance for members only. If you are a member and need specific advice relating to your own circumstances, please contact one of our advisers.
Read more from this issue of Insight
Insight (formerly Summons) is published quarterly and distributed to all MDDUS members throughout the UK. It provides a mix of articles on risk, medico-legal and regulatory matters as well as general features and profiles of interest to our members. Browse all current and back issues below.
In this issue