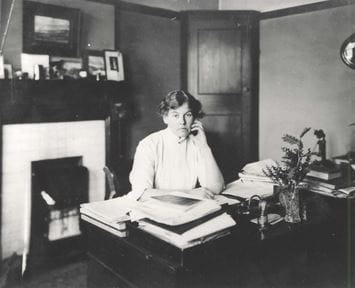 AT THE end of her long life, Louise McIlroy may have reflected on the battles she had fought. From a provincial start she would rise to the very top of her profession and would break down every barrier placed in her path. She would work in hospital tents on the front lines of one war and in the black-outs on the home front of another. She would accumulate military, academic and professional honours and praise along the way. But all of this might have been secondary to the battles she fought in operating theatres and on labour suites for the benefit of her patients.
Louise McIlroy was one of four sisters born in Ballycastle, County Antrim. Two would follow distinguished medical careers, while two would study the arts. Their father was a GP and sufficiently enlightened to encourage all his daughters to pursue a higher education. Louise McIlroy matriculated at Glasgow University and was amongst the first women to graduate in medicine. In 1900, she became the first woman ever to be awarded an MD by the University.
After appointments in Dublin, Berlin and Vienna, she returned to Glasgow to take up a number of clinical posts, culminating in her appointment as the first female gynaecologist at Glasgow's Victoria Infirmary from 1906-10. In those early years of the twentieth century, medicine was indisputably a male domain (see our p10 article on the history of women in medicine), yet her competence and her resolve ensured her steady advance.
On the outbreak of war, she was further frustrated by the professional sexism of the day and wrote: "It had been ordained that women could not fight, and therefore they were of no use in war time." However, she and other like-minded physicians would not be thwarted and money was raised to create the Scottish Women's Hospitals for Foreign Service, which would ultimately consist of 14 units across Europe. She served in France in 1915 and in one letter home said: "We are hoping to [teach] the French the enormous advantages of open air and sunlight for septic wounds ... Our results have been simply extraordinary ... no antiseptics at all."
Later, she would continue her work in Serbia and Greece, and a contemporary wrote of her: "[She] is one of a little band of notable women chief medical officers who made the name of the Scottish Women's Hospitals synonymous with surgical brilliance and administrative efficiency on three fronts during the war." She was awarded the Croix de Guerre in 1916 and four years later received an OBE for her war service.
After the war she continued her medical work with the army in Turkey before returning to London, where in 1921 she became the first woman appointed to a medical chair in the UK as the Professor of Obstetrics and Gynaecology at the London School of Medicine for Women. The press were keen to highlight the achievement: "She has arrived at last - the first woman to secure an appointment open to both sexes". There was also marvel at her salary: "£2,000 is the largest ever paid to a woman for University work". She would spend 15 years in London during which time she was made a Dame in 1929 and in the same year became one of the founding Fellows of the Royal College of Obstetricians and Gynaecologists.
Throughout her career she wrote extensively on her specialist interests, the toxaemias of pregnancy and the relief of pain in childbirth. Indeed, she was one of the first to insist that analgesia and anaesthesia be offered to every woman in labour. Her clinical teaching was noted to be as excellent as her criticism of those who displeased her was harsh.
She retired early in the hope of having "a few years of freedom" but the Second World War brought that aspiration to an abrupt end, and she immediately offered her services again. Throughout the war she organised emergency maternity services in Buckinghamshire, working tirelessly often through the black-outs with minimal equipment and support.
She finally found her years of freedom, spent on the Ayrshire coast with her sister, and she died in Glasgow at the age of 93. Hers was a long life, spanning world wars and innumerable lesser, but no less challenging, conflicts in her professional life, as she fought for not just personal recognition but for that of all women in medicine. She will be remembered as the first woman to reach many medical milestones, but perhaps her real legacy is as a clinician who fought for the well-being of the women in her care.
Dr Allan Gaw is a writer and educator from Glasgow
Sources:
Cross M. First World War Glasgow, 2013.
Royal College of Physicians London Munk's Roll.
Obituary, Lancet, 24 Feb 1968, 429-30
ABOVE PHOTO:GLASGOW MUSEUMS
This page was correct at the time of publication. Any guidance is intended as general guidance for members only. If you are a member and need specific advice relating to your own circumstances, please contact one of our advisers.
Read more from this issue of Insight
Insight (formerly Summons) is published quarterly and distributed to all MDDUS members throughout the UK. It provides a mix of articles on risk, medico-legal and regulatory matters as well as general features and profiles of interest to our members. Browse all current and back issues below.
In this issue