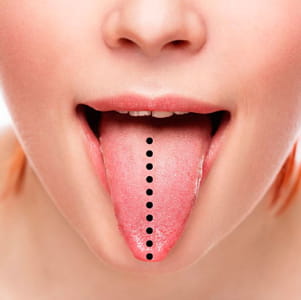 BODY modification for cosmetic purposes has become increasingly popular over the last few years and as many as 10 per cent of the adult population have had some form of body piercing. It is particularly common in women between the ages of 16 and 24.
Tongue-splitting is a form of body modification which creates a forked effect with the tongue, similar to a lizard or snake. Online sites recommend tongue-splitting as a "disguisable and discreet body modification" which is "super-fast, simple and very reversible". One site suggested that it was simple to perform, and that all you have to do is "just cut on the dotted line".
Is tongue-splitting legal in the UK? In March this year, the Court of Appeal found tongue splitting to be unlawful when performed by a body modification practitioner for cosmetic purposes – a ruling which applies to England and Wales.
However, the Faculty of Dental Surgery at the Royal College of Surgeons (FDS) and the British Association of Plastic Reconstructive and Aesthetic Surgeons (BAPRAS) are concerned that the legal status of tongue splitting remains unclear in other parts of the UK and they highlight an urgent need for the law to be strengthened and enforced across the whole of the UK.
GBH BY CHOICE
The Court of Appeal's judgement on tongue splitting found that such procedures, when undertaken by a body modification practitioner for no medical purpose, constitute grievous bodily harm (GBH) even if someone has given consent. It is very important for patients to be aware that even if they agree to a tongue split with the associated risks, a body modification practitioner in England and Wales will still be breaking the law if performing the procedure.
Initially, tongue splitting involved tying string around a tongue piercing and pulling it until the tongue split. However, this process was inevitably painful and lengthy. These days the most common procedure involves use of a scalpel to cut down the centre of the tongue – the sides are then separately stitched. Alternatively, a laser may be used to separate and cauterise the tongue.
The "High Priestess" method requires the tongue to be pierced before a scalpel is placed in the hole created by the piercing and used to slice the tongue. As a result, the tongue bleeds for about 15 minutes into a bag which is tied under the recipient's neck. Understandably, there is a paucity of data available on how and where these procedures are being performed.
Tongue splitting comes with some obvious clinical risks:
Haemorrhage. There is a risk of significant blood loss if major veins or arteries are severed. The person carrying out the procedure may not be appropriately acquainted with the anatomy of the tongue.
Infection. As with oral piercings, there is a danger of infection if the equipment used is not suitable or appropriate and, particularly, if it is not adequately sterilised.
Nerve damage. Similarly, damage to nerves within the tongue is a significant risk which may result in chronic pain, altered sensation or even permanent anaesthesia.
Anaesthetic risks. In instances where local anaesthetic is used as part of a tongue split, there is a risk that the person undergoing the procedure may suffer an adverse reaction.
Speaking and eating. There are also potential long-term difficulties with eating and speaking, along with the fact that maintaining adequate oral health and hygiene could be more challenging after the tongue split.
ORAL PIERCINGS
In February, Wales became the first country within the UK to ban "intimate piercing" (including oral piercings) for those under 18 years of age. While some councils have put age restrictions in place locally, there is no national age limit in other parts of the UK. Quantifying the actual proportion of body piercings that develop complications is not easy, as only a few people report having the procedure done. Despite this fact, complications do appear to be common and are reported in about a third of piercings, with one in seven requiring professional input. The patient tends to seek help from a pharmacist, the body piercer or from their GP. Although the majority of problems may be minor and resolve without intervention, approximately one per cent do lead to serious complications and a hospital admission.
Among the risks are:
Swelling: this is the most common side effect following an oral piercing. An enlarged tongue can lead to serious breathing difficulties.
Infection: there is a risk of introducing infection during the actual procedure and a piercing may also become a source of chronic infection.
Tooth wear/tooth fracture: a ring or stud placed through a piercing has the potential to cause tooth wear over time and can also increase the risk of a fractured tooth.
Gingival recession: a person with an oral or tongue piercing is three to four times more likely to experience gingival recession.
Oral lesions: the presence of jewellery in the mouth can result in the development of oral lesions (known as tissue hyperplasia) around the piercing.
Inhalation/ingestion: there is always the possibility of the jewellery becoming loose or dislodged, with the subsequent risk of inhalation or ingestion.
HELP FROM THE PROFESSION
Raising awareness of the risks of oral body modification, such as tongue splitting, is critical to helping our patients. Providing advice, being non-judgemental and respecting a patient's autonomy (within legal bounds) will hopefully encourage patients to attend for treatment of any possible complications. If the dental team and patient are fully aware of potential consequences and complications, a pro-active approach can be adopted with careful monitoring and regular reviews.
BAPRAS and the FDS have been unequivocal in advising against oral piercings, as well as tongue splits, as they can have a significant impact on oral health and lead to potentially serious adverse complications.
If your patient does choose to have an oral piercing, then we advise that they should have their oral health monitored regularly by their dentist. Patients should be made aware that body modification practitioners who offer tongue splitting services may now be doing so illegally. Members of the public should be warned never to contemplate carrying out these invasive procedures on themselves or anyone else.
It is important that all health professionals are cognisant of the potential complications following oral piercing and/or tongue splitting, together with appropriate management strategies and techniques.
Dr Selina Master MBE FDSRCS is the current Senior Vice Dean of the Faculty of Dental Surgery of the Royal College of Surgeons
• See the recent FDS and BAPRAS Joint Statement on Oral Piercing and Tongue Splitting
This page was correct at the time of publication. Any guidance is intended as general guidance for members only. If you are a member and need specific advice relating to your own circumstances, please contact one of our advisers.
Read more from this issue of Insight
Insight (formerly Summons) is published quarterly and distributed to all MDDUS members throughout the UK. It provides a mix of articles on risk, medico-legal and regulatory matters as well as general features and profiles of interest to our members. Browse all current and back issues below.
In this issue