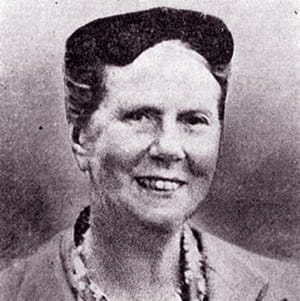 GERIATRICS was at one time referred to as "a second-rate specialty, looking after third-rate patients in fourth-rate facilities". But there was one physician determined to change both this perception and the equally stark reality behind it. And she succeeded.
Born in London in Queen Victoria's diamond jubilee year, Marjory Winsome Warren was the eldest of five sisters. She went on to study medicine at the Royal Free Hospital in London and qualified LRCP, MRCS in 1923. After an initial training in surgery, she became deputy medical director at the Isleworth Infirmary. In 1935, she was also put in charge of Warkworth House, the adjacent workhouse.
Warren was appalled by what she found there and began a detailed audit of those now in her care. The almost 900 residents were a very mixed group, perhaps best described as inmates rather than patients. She observed: "In the same wards were to be found senile dements, restless and noisy patients who required cot beds, incontinent patients, senile bed-ridden patients, elderly sick patients who were treatable, patients who were up and about all day, and unmarried mothers with infants".
As she noted, many were elderly with conditions she knew to be treatable, but who had been simply left to languish in the workhouse. At the time, the majority of these patients — the chronic sick as they were called — held little interest for general physicians. One commentator notes: "The medical profession as a whole was unenthusiastic about treating sick elderly people because they had multiple pathologies frequently associated with social problems that required extra time and patience, took longer to recover from illnesses, blocked beds and provided little opportunity for private practice".
Warren knew that things could be better. She held her own profession to account, deploring that it had taken "so long awakening to its responsibility towards the chronic sick and the aged". She set about rigorously assessing the patients in her care, treating, rehabilitating and if possible discharging them home or to more suitable institutions. Thus, she created the UK's first geriatric unit.
In the years before the formation of the NHS, she wrote highly influential papers in the BMJ arguing for the creation of a new medical specialty — geriatric medicine. She called for the creation of such specialist-led units in district general hospitals and for nurses and medical students to be taught about the diseases of the elderly.
In her own approach to the care of the elderly she saw no overwhelming complexity. Indeed, Lord Amulree, the peer, physician and advocate of geriatric medicine, who visited her at the end of the war, noted that he was "impressed by the modest way in which she explained... how simple it all was". She concentrated on assessment and making the correct diagnosis. She also adopted a broad view, defining care plans based on the patient's specific needs, focusing on feet, eyes, ears, diet, clothing, sleep and disabilities.
In terms of rehabilitation, she was adamant that "nothing the patient could do for himself should be done for him". Her pioneering unit became a magnet for visitors from around the globe, who came to see her approach for themselves. Warren co-founded the Medical Society for the Care of the Elderly in 1947, which would later become the British Geriatrics Society and successfully saw geriatrics become a recognised medical specialty within the NHS in the 1950s.
Warren's death was premature and tragic, at the wheel of her car as she was driving through France to attend a conference. Ironically, at the age of only 62, she died before she could ever have benefited from the specialty she helped to forge. Her peers described her as "remarkable", "formidable", "loyal" and "hospitable". But she was described by others as "rigid", "authoritarian" and "frightening". Of course, these descriptions doubtless reflect the nature of the interaction each witness shared with her.
Friends as well as foes, however, were in agreement that she was "brilliant", "hard-working" and "inspiring". She has since been dubbed the "Mother of British Geriatric Medicine" and while she would doubtless have dismissed such a title, the facts of her life and her achievements do support such a claim.
Indeed, at her memorial service the month after her death, one distinguished colleague said that it was given to only a few to arrive at journey's end with their work complete and as well done as hers.
Allan Gaw is a writer and educator in Scotland
Sources
• Denham MJ, J Med Biogr 2011; 19: 105-10.
• Obituary, BMJ Sept 17, 1960.
• British Geriatrics Society www.bgs.org.uk/marjory-warren [Accessed Aug 6, 2019].
• St John PD, Hogan DB, Gerontologist 2014; 54: 21-9.
This page was correct at the time of publication. Any guidance is intended as general guidance for members only. If you are a member and need specific advice relating to your own circumstances, please contact one of our advisers.
Read more from this issue of Insight
Insight (formerly Summons) is published quarterly and distributed to all MDDUS members throughout the UK. It provides a mix of articles on risk, medico-legal and regulatory matters as well as general features and profiles of interest to our members. Browse all current and back issues below.
In this issue