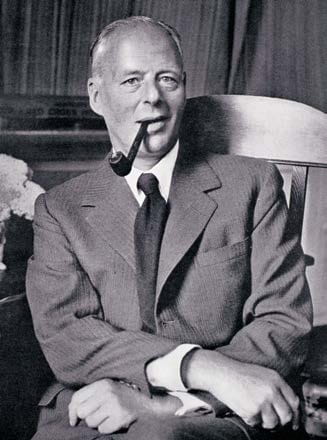 PROFESSOR Wilfred Gaisford once wrote:
"Wherever sick children are nursed there must be someone responsible who is primarily concerned with the care of the child as a whole, for the whole is greater than the part".
Holistic care to him was nothing new and such thinking was typical of this innovative and forward-minded paediatric clinician.
Gaisford was born in Somerset in 1902 and attended Bristol Grammar. He excelled at rugby and continued to play for many years for different teams, including Harlequins and the British Lions, touring South Africa in 1924. His father was in the Royal Navy in WW1 but Wilfred's application to join in WW2 was rejected. Instead he made sailing a much loved sport and chose medicine as a vocation.
Gaisford qualified at St Bartholomew's Hospital. There he became interested in paediatrics and gained experience in East London Children's Hospital and the Children's Hospital in St Louis in the United States, and then as Deputy Medical Superintendent at Alder Hey and honorary physician at the Royal Liverpool Babies Hospital.
Gaisford moved to Warwickshire in 1934, first to Dudley Road Hospital, Birmingham as physician and paediatrician where his research interests were encouraged by paediatric doyen Sir Leonard Parsons. Seven years later he was selected for the new post of consultant paediatrician and physician to Warwickshire County Council. There he also directed resuscitation units as part of the war effort and among his patients were Czechs whose forces were stationed in the area. His friendship and support for these refugees was recognised in 1945 by the Czech government, who awarded him the military Medal of Merit.
In 1947 Gaisford was invited to establish the first chair of Child Health in Manchester. He created a professorial paediatric unit at the Royal Manchester Children's Hospital and a neonatal unit at St Mary's Hospital, Whitworth Park.
It is interesting to look back on the postwar years in medicine and the spectrum of disease that faced Gaisford. Before penicillin was available other agents were sought. One was sulphapyridine made by Baker (M & B). He and Mary Evans, assistant medical officer, had performed a clinical trial of this at Dudley Road Hospital. Antibiotics cured numerous infections but not viral ones. An outbreak of acute laryngo-tracheo-bronchitis had to be managed by tracheostomy, not common since the days of diphtheria infections. Later the adverse reactions to drugs, notoriously thalidomide, presented new problems. He recognised that prevention of tubercular disease could be achieved with BCG and immunised neonates. Some problems were solved quite simply: Pink's disease was caused by poisoning from mercury in teething products.
He encouraged research into problems of immaturity of neonates, such as hyperbilirubinaemia. Gastrointestinal disorders were not well understood for many years. However, he recognised that some disorders were avoided when babies were breast fed, so always encouraged this against a growing trend of bottle feeding.
Gaisford recognised a growing need for surgeons with paediatric knowledge, so posts for specialist paediatric surgeons and neurosurgeons were established. There was also a need for specialist oncologists. Gaisford started a Children's Tumour Registry which became a knowledge base for improved treatment. He was an inspiring teacher who raised the status of paediatrics. Thanks to him an examination on paediatrics alone was included in the final MB.
The part family played in the recovery of a sick child was recognised by Gaisford and he made sure that visiting hours were not unnecessarily restrictive. His policy was also to have children treated in wards dedicated to their needs, not placed among sick adults, and to foster a holistic approach to paediatric care. Gaisford insisted on warm hands for patient examination and carried a hot water bottle on his own ward rounds for that purpose. Never more than two attempts at venepuncture were permitted.
In 1935 he met and later married Mary Guppy and they had four children. Holidays were by the sea in North Wales. Later at their home in Bowden, Cheshire, they entertained generously. Gaisford suffered increasingly from osteoarthritis and retired in 1967 to live in Cornwall.
Commenting on his profession he said:
"There are enough problems to be solved to ensure a lifetime of enthralling work in the field of paediatrics for all those who, by their love of children, feel drawn to work for their betterment. And love of children calls for patience, gentleness, kindness and humility."
Julia Merrick is a freelance writer and editor
Sources
Progress in Paediatrics 1914–64, the Catherine Chisholm Memorial Lecture, April 13, 1963, published in Jnl. Women's Federation 48 No 1 Jan 1966
Smellie JM. Munk's Roll: Volume VIII : Wilfrid Fletcher Gaisford.
Photograph: copyright of the University of Manchester
This page was correct at the time of publication. Any guidance is intended as general guidance for members only. If you are a member and need specific advice relating to your own circumstances, please contact one of our advisers.
Read more from this issue of Insight
Insight (formerly Summons) is published quarterly and distributed to all MDDUS members throughout the UK. It provides a mix of articles on risk, medico-legal and regulatory matters as well as general features and profiles of interest to our members. Browse all current and back issues below.
In this issue