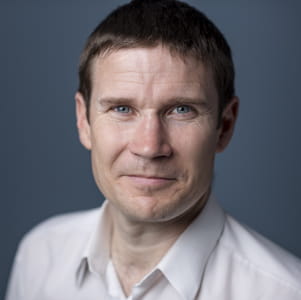 IN Gavin Francis's latest book, Shapeshifters, you'll come across a woman with a horn in the middle of her forehead, go on meandering, sometimes classical, journeys around subjects like sleep, prosthetics and werewolves, take a (vicarious) LSD trip and discover that in days gone by shepherds used their teeth to geld lambs. Speaking of which, did you know the Vatican didn't ban castration of boys for its choirs until the late 19th century?
You'll also discover an awful lot about the wondrous and vertiginous goings-on in the body as, unbidden and undirected, its systems and processes go about their daily business of keeping us fit and alive. And you'll meet a vast and various cast of characters, based on Gavin's experiences as a doctor, as he reflects on the fascinating and enduring nature of the medical encounter between physician and patient.
The book, says Gavin, who successfully combines an award-winning career as a writer with his work as a GP, is a hymn to change, be that the ongoing change wrought by Father Time, changes in our mental state, changes we make deliberately or crises we hope to overcome. More specifically, it's about the interaction between that change and medical professionals like himself.
"Why do we go to the doctor?" he says. "Because we want the doctor to facilitate, to invoke some new change. The book is a series of 24 examinations of these kinds of changes. Sometimes where there's some horrible change going on that you're trying to hold back, like dementia or cancer. Sometimes a change that's inevitable, like menopause or puberty, that you're trying to guide in some way."
As part of this examination, he enlists to his cause the work of painters, poets, writers and philosophers, a plethora of facts and figures, and myriad interactions with patients over his medical career to date. There are snatches of history and lessons in biology too. His is a learned, digressive style that weaves its way pleasingly around meditations on conception and birth, anorexia, bodybuilding, memory, laughter and death. All life is here.
MEDICAL ARTS
So what lies behind this approach? "I'm trying to show that medicine is an area of the humanities as valid as any of the more traditional humanities," explains the 43-year-old. "What are the humanities, or what are the broad arts? They are different ways of understanding the human experience through paintings, through music, through literature and I'm trying to show that medicine can be used in a similar way to deepen our understanding of human experience, the human predicament."
It's a marriage of the artistic and the medical that reflects precisely Gavin's twin approach to his career. One that sees him working three days as a week as a GP on the southside of Edinburgh and the rest of the time as a writer – working on his books as well as articles for the likes of the London Review of Books, the Guardian and the New York Review of Books.
He finds that the two professions complement each other very well. "Practising medicine can be emotionally taxing and very intellectually challenging. It can also be very pressured in order to try and do the best by every patient. I find doing it full time, day after day, I become really very exhausted. Whereas when I do day about – medicine and then a day writing and thinking – I find the act of writing really pleasurable and restorative. Especially when you're writing about medicine, you use that time and that space to really reflect on your own practice.
"So, for me, they're really very complementary and I move through the week thinking that each one kind of self-corrects the other. The tendencies in me that enjoy and respond to one are self-corrected by the other, so the balance works out perfectly."
It's a work-work balance that is paying dividends in other ways too. This book, his fourth, has already been translated into 10 languages, while his previous book, Adventures in Human Being, a kind of literary journey around the human body, can be read in no fewer than 17. The latter also earned him the Saltire Non-Fiction Book of the Year in 2015, as well as first prize in the Basis of Medicine category of the BMA's Medical Book Awards.
WANDERLUST
His current literary focus is on medicine, but this wasn't always the case. In fact, his initial foray into writing was motivated by his love of being on the move. "After I qualified in medicine – I was about 23 or 24 – I just started travelling straight away." Those early days in medicine were very much his "passport to travel" and he would do six-month stand-alone jobs, work non-stop, spend very little, and then go travelling for six months. "Because you were a professional, you were paid relatively well. And these stand-alone jobs still counted towards my training. It's harder now."
His first book, True North, was about a trip he made through the northern reaches of Europe and the Arctic – from the Shetland Isles to the Faroes, Iceland, Greenland, Svalbard and then Lapland. It was written, ironically, while he was holed up in the Antarctic, where he spent 14 months as a doctor at Halley, Britain's most inaccessible research station. Originally trained in emergency medicine, and with a penchant for travel in sub-zero temperatures, he was ideally suited to the role. He later wrote about these Antarctic experiences in his second book, Empire Antarctica, which won the Scottish Book of the Year in the Scottish Mortgage Investment Trust Awards in 2013.
After Antarctica came an 18-month-long trip to New Zealand by motorbike with his wife, Esa Aldegheri (they co-wrote an essay about this trip, called 'Freedom of Travel', for the Edinburgh International Book Festival last year).
The move away from travel writing with Adventures in Human Being coincided with his return to Edinburgh to settle down as a GP and the subsequent arrival of their three children. But while medicine's gain may have been travel writing's temporary loss, Gavin plans to rectify things in his next book.
"I have another travel book coming out next spring," he says "although I can't say too much about it right now as it's still in evolution. I'm interested in the way that as a writer I can either write about the physical landscape around us, or the anatomical landscape that we carry with us, but the techniques and approaches to both these kinds of writing are essentially the same – they're both about reflecting on experiences in a way that brings together the history of a place, its philosophy and culture, with contemporary encounters I've had either out in the world in the case of travel writing, or in the clinic in the case of medical writing."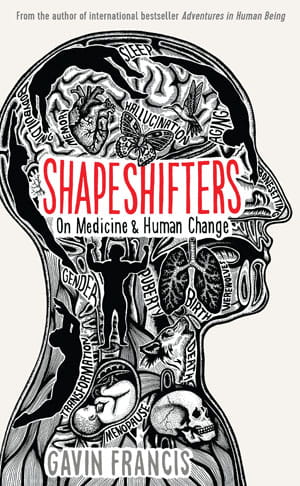 The source of inspiration for this new book are journeys he's made both before and after settling down – having a young family has, of course, 'grounded' him somewhat. Does he miss the travelling? "Yes, a little bit but this is the phase of life I'm in – a kind of householder phase," he says, chuckling.
Still, this latest book on the constancy of change is providing something of an outlet for his itchy feet, because with his continuing literary success, he gets regular invitations to attend book festivals in far-flung places. "My colleagues are very understanding - I was in Jerusalem and Siberia last year, and the year before that in the U.S. and in Bhutan. So I still get to travel from time to time."
Plus ça change.
Adam Campbell is a writer and editor in Edinburgh and regular contributor to MDDUS publications
Shapeshifters is published by Profile Books. For more information on Gavin's books, visit www.gavinfrancis.com
This page was correct at the time of publication. Any guidance is intended as general guidance for members only. If you are a member and need specific advice relating to your own circumstances, please contact one of our advisers.
Read more from this issue of Insight
Insight (formerly Summons) is published quarterly and distributed to all MDDUS members throughout the UK. It provides a mix of articles on risk, medico-legal and regulatory matters as well as general features and profiles of interest to our members. Browse all current and back issues below.
In this issue