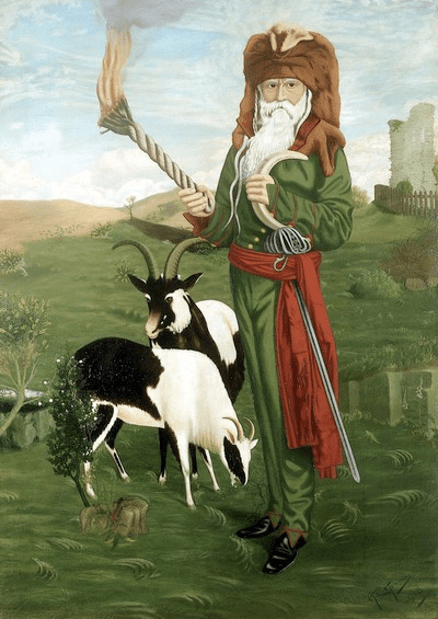 ON his deathbed, the 92-year old William Price was attended by the wife he had married on his 81st birthday when she was 21. He said: "Bring me champagne." These would be the last words of the most flamboyant, unconventional and controversial figure in Welsh medical history.
Price was born in a remote cottage near Caerphilly. His mother was an illiterate maidservant, while his father was an Oxford-educated Church of England priest, who would later suffer from severe mental illness. It was an unconventional pairing for the time that foreshadowed Price's own bizarre life. A native Welsh speaker, he acquired English when he attended school and despite only enjoying three years of formal schooling from age 10, he excelled academically. At 14, against his father's wishes, he left to pursue a medical education. He undertook a six-year apprenticeship with a local surgeon, after which he moved to London and gained his membership of the Royal College of Surgeons before returning to Wales as a general practitioner.
While many claims have been made regarding his medical abilities, what is certain is that he had a thriving practice for much of his life and also held the post of surgeon at a local factory for almost 50 years. There, he is reputed to have performed the first skin-graft operation on an injured worker. His social conscience and concern for local people also prompted him to establish one of the first co-operative shops and what might be regarded as an early version of the National Health Service for his local community. Despite these achievements, it was his growing eccentricity that earned him his place in history.
In the early years, he became politically active, with left-wing leanings that developed into revolutionary activism as a leading member of the Chartist Movement. By 1839, he was supporting his fellow Chartists by obtaining arms for them, which were subsequently used in the abortive Newport Uprising. Although not directly involved, Price could see the danger he was in and fled to France, disguised as a woman.
His Welsh nationalism had already begun to manifest itself as an interest in the ancient druids and their culture, but this was further fuelled while abroad. He interpreted an exhibit in the Louvre as an ancient Welsh prophesy that spoke directly to him, prompting him to return to Wales to free his people. He did return and set himself up as the self-proclaimed Archdruid of Wales and founded a cult based on the practice of free love. At this time, he also adopted what would become his trademark appearance: long white hair and beard, an emerald green suit with scarlet trim and a large fox-fur hat. His increasingly erratic behaviour might also have prompted numerous lawsuits against him, but it was his failed business ventures that forced him to flee again to France, this time to escape his debtors.
In his mid-sixties, he returned home to set up another successful practice and in his early eighties married his young wife in a Druidic ceremony. His first son, born a year later, was named Jesus Christ, but he lived only five months. Price had long felt that burial was a corruption of the earth, so he duly undertook to cremate his own son on a Welsh hilltop. The ceremony was interrupted, and Price found himself in court charged with "a vicious act of blasphemy". He successfully argued that although the act was taboo, there was no law against it, and he was released. The publicity around the case helped the promotion of cremation, and finally the passing of the Cremation Act in 1902.
The next year, his wife gave birth to a second son, whom they also named Jesus Christ, followed by a daughter two years later.
Price's eccentricities were manifold: some mere foibles, others dangerous. He was a nudist, vegetarian and opponent of vivisection and marriage. However, he also spoke out against vaccination, refused to treat any patient who smoked and called his fellow doctors "poison peddlers".
When he died, he was cremated according to his own instructions, and the ceremony was attended by some 20,000 people. There was a carnival atmosphere in Llantrisant that day and its 20 or more pubs ran dry during the festivities. A fitting end to a man described by one biographer as "a maverick and a rebel" and who was also undoubtedly a showman who always enjoyed playing to the gallery. However, it is also possible that he was mentally ill. Whatever the truth, he remains one of the most colourful members of the medical profession to come from Wales.
Sources
Hutton R. Blood and Mistletoe: The History of the Druids in Britain. New Haven 2009
Powell D. Eccentric: The Life of Dr. William Price. Llantrisant 2005
Nicholas IA. Dictionary of Welsh Biography. 1959
Rhondda Cynon Taf Library Service 2018
Image: Wellcome Collection
Allan Gaw is a writer and educator based in Scotland
This page was correct at the time of publication. Any guidance is intended as general guidance for members only. If you are a member and need specific advice relating to your own circumstances, please contact one of our advisers.
Read more from this issue of Insight Secondary
Insight - Secondary is published quarterly and distributed to MDDUS members throughout the UK who work in secondary care. It provides a mix of articles on risk, medico-legal and regulatory matters as well as general features and profiles of interest to our members.
In this issue