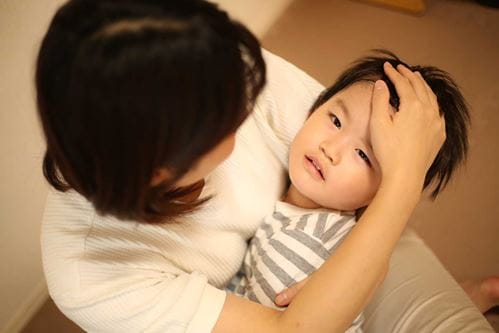 AS GPs prepare for rising levels of winter respiratory illness on top of the Covid surge, it may be timely to review the challenges of assessing febrile children. Many GPs will have performed less of this type of assessment over the last 18 months due to a combination of low disease prevalence and a move to Covid-19 assessment centres.
From both a clinical and a medico-legal perspective, there are certain key steps to the assessment of a febrile child that would be advisable to follow and, perhaps just as importantly, clearly document.
NICE guidance
The definitive UK guidance on febrile children is NICE (NG143) Fever in under 5s: assessment and initial management. The stated aim is to help clinicians assess and manage fever with no "obvious cause".
The well-known traffic light system contained within NG143 is designed to predict more severe illness in children. However, a number of the amber symptoms represent quite marked disease and so its use in early and undifferentiated illness often seen in primary care may be limited.
The prevalence of Covid-19 remains relatively high. There has recently been significant publicity around the issue of rising demand for face-to-face appointments in primary care. However, given the obvious risk of febrile children with Covid-19, it seems likely that, for the foreseeable future, most GP practices will continue with some form of initial telephone triage for this group of patients.
It is therefore more important than ever to ensure that effective telephone triage is used to safely detect any features of concern that would mandate a further face-to-face assessment. Telephone triage The assessment of a febrile child should begin with a brief review of the existing medical record to check for relevant past medical history, regular medication and any social history of note. The latter is of particular importance if the child is noted to be on any form of child protection register.
The key features to assess during telephone triage are:
Level of parental concern: are the parents seeking advice and reassurance or a face-to-face assessment?
Source of infection: if a clear source can be identified this may add a degree of reassurance regarding the appropriateness of a remote assessment.
Temperature: many parents will have their own thermometer but note that NICE is clear that parental perception of a fever should be considered valid. All infants aged under three months with fever to 38 degrees require referral to secondary care for consideration of a septic screen.
Activity level: in infants this may relate to smiling and responding to normal social cues. In older children, assess playing and interaction.
Oral intake: discuss the level of feeding in infants and if they are interested in and looking for feeds. In older children, compare eating and drinking to their baseline.
Recurrent vomiting: this may be indicative of more serious underlying pathology.
Work of breathing: most parents can recognise a significantly raised respiratory rate or increased work of breathing.
Peripheral perfusion: cool or mottled peripheries should be considered an indication for a face-to-face clinical assessment.
Assessment of urine output.
Fever beyond five days: consider a lower threshold for face-to-face review.
Those children with features of concern should be triaged to a timely face-to-face assessment. GPs may wish to consider a lower threshold for face-to-face assessment if the parents have made contact on more than one occasion for the same episode of illness.
If a remote assessment is deemed sufficient, the GP should provide robust safety netting advice and document the specifics of this. Generic statements such as "worsening advice given" should be avoided.
Face-to-face assessment
The aim of a face-to-face appointment is to assess the severity of illness and to attempt to identify a treatable source of fever. In primary care it is not always possible to definitively identify a cause and hence the consultation becomes more about ensuring referral to secondary care is not required.
Any assessment of a febrile child should include examination and documentation of:
temperature
heart rate
respiratory rate
perfusion/hydration status.
In a child with no clear source of infection, a "top-to-toe" approach to the examination should be taken. Dehydration may present with a constellation of signs, including a prolonged capillary refill time (> 3 seconds), reduced skin turgor, dry mucous membranes and cool or mottled extremities. Any child with fever and a petechial rash should be referred for review in secondary care.
The documentation of a thorough examination and safety netting advice is of particular importance if no source of infection can be identified. It will aid colleagues at any future consultation and offer protection to the GP in the case of an unpredicted, emergent diagnosis.
Consultations with young febrile children inevitably involve a third party in the form of a parent or carer. In cases where a range of management options are available, the GP should consider the parents' opinion and include this in the clinical notes. If the GP cannot reassure themselves that the parents are fully able to cope with expectant management and safety netting advice, then the child may require a more active approach to management.
SUMMARY
The majority of febrile illness in children is minor and self-limiting.
The challenge for general practitioners is to identify those cases that are more severe – or may yet progress.
The most sensitive predictor of serious illness in children is a global assessment by an experienced clinician.
Face-to-face global assessment will likely be more sensitive to severe illness and is often not unduly time-consuming.
A systematic approach to assessment (remote or face to face) coupled with thorough documentation will minimise the risk of a missed or delayed diagnosis and protect the GP should there be any unforeseen adverse event.
Dr Guy Krauth is a GP partner in Edinburgh and associate clinical director of Lothian Unscheduled Care Service
This page was correct at the time of publication. Any guidance is intended as general guidance for members only. If you are a member and need specific advice relating to your own circumstances, please contact one of our advisers.
Read more from this issue of Insight Primary
Insight Primary is published quarterly and distributed to MDDUS members throughout the UK who work in primary care. It provides a mix of articles on risk, medico-legal and regulatory matters as well as general features and profiles of interest to our members.
In this issue