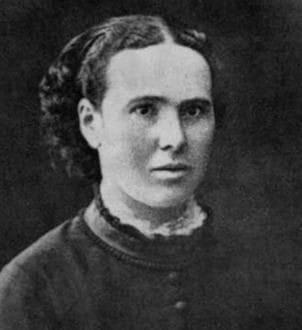 EACH year since 2016, the Learned Society of Wales has awarded the Frances Hoggan Medal. This recognises and celebrates the contribution of outstanding women connected with Wales in the areas of science, medicine, engineering, technology or mathematics. The medal is named for one of the most remarkable women in early medicine, who like her contemporaries Elizabeth Garrett Anderson and Elizabeth Blackwell, helped pave the way for women everywhere in medical education and practice.
Frances Hoggan was born in Brecon and even at the age of 15 she must have been determined to succeed for she left home in Wales to pursue higher education, first in Paris and then Düsseldorf. She returned at the age of 23, fully intent on following a medical career.
Being excluded from university medical courses, the only route open for women to obtain a licence to practise medicine in England and Wales was through the examining authority, the Society of Apothecaries. Elizabeth Garrett Anderson had obtained the Licentiate of the Society in 1865, becoming the first woman to do so. Hardly welcoming to women, the Society had sought legal advice to prevent Anderson taking the exam but were compelled to allow her. Shortly after Hoggan passed the preliminary exams in 1867, the Society closed the loophole and formally excluded women from its professional examinations.
Thus, Hoggan could not follow suit and was forced again to continue her education in Europe. The University of Zurich admitted women, and Hoggan passed the entrance exams and enrolled in the medical faculty. She completed the six-year course in just three and graduated with her MD in March 1870. She was only the second woman to obtain a European MD and the first British woman to do so. This time she beat her contemporary, Garrett Anderson to the honour by three months.
After graduating, she continued her studies in Europe, before returning to England in 1874 where she married fellow doctor, George Hoggan, with whom she would later form the first husband and wife medical practice. However, at the time of her marriage she was still unable to practise because those with foreign degrees were excluded from the medical register – a regulation specifically designed to block women.
With a change in the law, Hoggan finally obtained her licence to practise in the UK from The King's and Queen's College of Physicians of Ireland in February 1877. Three years later, she became the first female member of the new Royal College of Physicians of Ireland, even though the BMA to which she had been elected in 1875, stripped her of her membership in 1878 after a poll of its overwhelmingly male electorate.
Hoggan's skin was undoubtedly thickened by necessity, and she remained undaunted by these setbacks. She specialised in women's and children's medicine and continued her research career, writing many papers in English, French and German. She also campaigned for the medical education of women and later for the educational rights of girls and women in general. Throughout the 1880s she advocated the benefits of university education for women at a time when the president of the BMA had stated that higher education was a danger to women's health. He argued such mental exertion would damage their reproductive systems and impact on their ability to be mothers.
Unsurprisingly, Hoggan vigorously disagreed and argued that university scholarships should be equally available to both sexes, writing: "The time has almost passed away for sneering at girls desiring the advantage of higher education; and I am sure all... could point to more than one girl, no less promising than her clever brother, to whom the possibility of gaining a scholarship... would mean just the difference between a life of monotonous drudgery in an uncongenial home, and a life of honourable and useful independence".
Hoggan's life changed abruptly when her husband became ill and they moved for his health to France. He would die there of a brain tumour leaving Frances a widow at 47. For the next 30 years Hoggan devoted herself to international education and social reform especially in South Africa, India and the US, and became a tireless critic of racism.
Frances and George Hoggan had no children, but Frances shared much of her life with her youngest sister. Elise Morgan was born in Brussels when Frances was 17 and studying in Paris. Whether she was really the daughter of the teenage Frances, as has been suggested, we will never know, but to have openly acknowledged her as an illegitimate child would doubtless have stopped her education and any hope of a medical career in its tracks. Frances Hoggan's career was already a series of apparently insurmountable battles which, through dogged determination, she would win, one by one, and her contribution to the recognition of women in medicine remains her outstanding legacy.
Sources
Western Mail, January 21, 2016
Allan Gaw is a writer and educator based in Scotland
This page was correct at the time of publication. Any guidance is intended as general guidance for members only. If you are a member and need specific advice relating to your own circumstances, please contact one of our advisers.
Read more from this issue of Insight Primary
Insight Primary is published quarterly and distributed to MDDUS members throughout the UK who work in primary care. It provides a mix of articles on risk, medico-legal and regulatory matters as well as general features and profiles of interest to our members.
In this issue