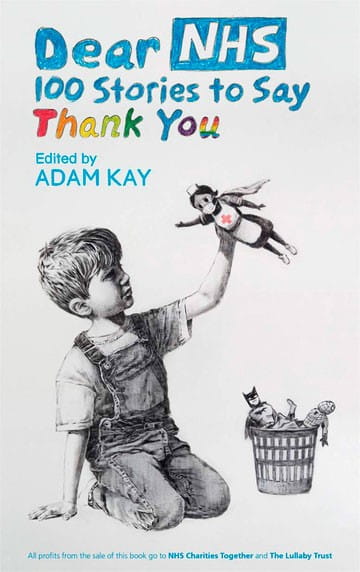 Edited by Adam Kay
Trapeze, hardcover, £9:00 2020
Review by Dr Greg Dollman, Insight editor
FOR 10 wonderful weeks earlier this year, we, as a country, in the grip of COVID-19 lockdown, came together on a Thursday evening to say thank you to the NHS. We clapped, we bashed and clanged, we hooted and honked. We told all those who work in the NHS that they were our heroes. While we applauded together, we did so for our own reasons.
In Dear NHS, 100 Stories to Say Thank You, a hundred (plus) well-known people tell us their reasons. Adam Kay, who edits the collection of tributes, believes the NHS "is our single greatest achievement as a nation". The many stories and poems, varied and personal, all full of emotion, seem to agree. The writers express their thanks for what the NHS has done for them and their nearest and dearest.
While I will leave you to laugh and cry your way through the stories (there are no spoilers here), I will share with you certain themes that run through the book.
People from around the world staff the NHS. We are stronger in and better with diversity.
Healthcare is expensive. Seventy-two years on, the NHS still seeks to provide free care to all at the point of delivery. Many of the contributors acknowledge that if they had had to pay for healthcare, their lives would have been very different (and even cut short).
A surprising number of household names have worked for the NHS in one guise or another.
A not-so surprising number of Christmas dinners have gone cold while would-be diners attended hospital.
NHS staff still seem to believe that laughter is the best medicine, prescribing and dispensing this elixir in vast quantities.
One episode or encounter with the NHS can be pivotal in one's life.
We (mostly) love the NHS and there is anger and disappointment with cuts to services and the treatment of staff. I can only hope that, as we move slowly back toward something resembling normal, we (as a country) do not forget why we clapped for our heroes on those Thursday evenings – the "1.5 million people who go above and beyond the call of duty every single day".
The publishers note that: "All profits from this book will go to NHS Charities Together to fund vital research and projects, and the Lullaby Trust, which supports parents bereaved of babies and young children".
This page was correct at the time of publication. Any guidance is intended as general guidance for members only. If you are a member and need specific advice relating to your own circumstances, please contact one of our advisers.
Read more from this issue of Insight Primary
Insight Primary is published quarterly and distributed to MDDUS members throughout the UK who work in primary care. It provides a mix of articles on risk, medico-legal and regulatory matters as well as general features and profiles of interest to our members.
In this issue