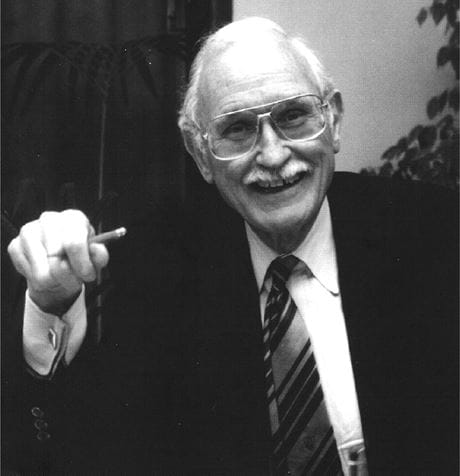 IT was a long and exciting journey. From his beginnings as the son of a Presbyterian minister in rural Northern Ireland to his position as one of the leading world figures in cardiovascular physiology, John T. Shepherd relished every moment. Throughout his productive life, he always took advantage of each opportunity with energy and good humour and is still remembered by his friends and colleagues with nothing but kindness and respect.
A child of the interwar years, he was educated first at Campbell College in Belfast and then studied medicine throughout the Second World War at Queen's University, Belfast. He graduated in 1945 and took junior posts at the Royal Victoria Hospital. Soon afterwards he joined the small physiology department at his alma mater from where he graduated again in 1951 with his MD. There, he worked with three close colleagues and, interestingly, all four would ultimately become deans of medical schools around the world.
Two years later, he was awarded a Fulbright Scholarship which afforded him the opportunity to undertake post-doctoral training at the Mayo Clinic in Rochester, Minnesota. It was a stimulating year that would shape the rest of his life. He then returned to Northern Ireland to take up the post of Reader in the physiology department at Queen's.
However, in 1957 he decided to return to the United States permanently with his wife and two young children. He had found his clinical and academic home at the Mayo Clinic where he would spend the rest of his working life. It was there that he produced much of his ground-breaking physiological research into the neurological control of the circulation.
Less than 10 years after he had emigrated to the States, he had risen to become Professor and Chairman of the Department of Physiology and Biophysics at the Mayo Medical School and Mayo Graduate School of Medicine. From 1969 to 1976 he also served as Director of Research at the Mayo Foundation. And in 1977 he was appointed Director of the Mayo Graduate School of Medicine and School of Health Related Sciences and finally became the Dean of the Mayo Medical School.
He enjoyed considerable scientific success at the Mayo Clinic where his role as a research mentor was honed. Those who worked with him remember how he always encouraged his colleagues and students "to ask the rational question, to apply technology only to answer that question, to listen to the tissues, to be simple, to be clear, and to prefer graphs over lengthy words." But during his time at the Mayo Clinic, he also demonstrated formidable administrative skills. The latter was wryly ascribed by one colleague to his mastery in "orchestrating consensus".
Later in his retirement, when he published his own memoir of his 50 years at the Mayo Clinic, he said of its development during that time: "I am also gratified by my opportunities to play a part in that growth as a researcher, educator and partner in what is, arguably, the world's greatest medical group practice."
But there was other recognition to come, beyond the confines of the Mayo Clinic. He worked with NASA during the years of the Apollo program and chaired the US National Academy of Sciences Committee on Space Medicine. His expertise was used to help astronauts survive the rigours of space travel and, in particular, to devise countermeasures to combat the adverse effects of microgravity on the cardiovascular system.
During those years he worked actively with colleagues in the then Soviet Union, fostering invaluable scientific collaborations between the USA and USSR at the height of the Cold War. One unexpected by-product of his interest in space medicine was his hobby of collecting space-themed postage stamps, and it was said that he had amassed one of the world's largest and finest collections.
In 1975 he was further honoured by being appointed President of the American Heart Association. He also received international recognition from many other institutions, such as the Royal Colleges of Physicians in London and in Ireland, as well as being awarded honorary degrees from the Universities of Bologna and Ghent and from Queen's University Belfast.
His final years were unfortunately blighted by Alzheimer's Disease. When he died at his own Mayo Clinic aged 92, it was clear from the tributes that filled every cardiology and physiology journal around the world just how much of an impact his life in medicine had made. He also left behind two further generations of physicians, for both his son and daughter as well as his grandson and namesake all followed in his professional footsteps.
Allan Gaw is a writer based in Scotland
Sources
In Memoriam. Circulation. 2012;125:393–4.
Vanhoutte PM, Lüscher TF. Eur Heart J. 2012;33:279–80.
Joyner, MJ. J Physiol. 2011; 589: 5927–8.
PHOTO: ahajournals.org
This page was correct at the time of publication. Any guidance is intended as general guidance for members only. If you are a member and need specific advice relating to your own circumstances, please contact one of our advisers.
Read more from this issue of Insight Primary
Insight Primary is published quarterly and distributed to MDDUS members throughout the UK who work in primary care. It provides a mix of articles on risk, medico-legal and regulatory matters as well as general features and profiles of interest to our members.
In this issue