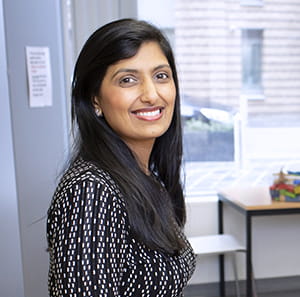 BACK in January 2020, Insight first spoke to Dr Khyati Bakhai about the challenges of providing healthcare in Tower Hamlets, London – an area with some of the UK's highest rates of child poverty and adult chronic morbidity, and among the lowest for male life expectancy.
Certainly it was not an easy job even then, but Bromley by Bow Health (BBBH) – where Khyati is a GP partner – has a reputation for innovation. BBBH offers healthcare across three sites with over 120 staff and has a cross-over leadership structure with the Bromley by Bow Centre – part church, part charity, part community hub with a history of radical thinking and experimentation in social and health care.
Khyati first spoke to us just as fears of human transmission of a "previously unknown virus" in China began to appear in UK headlines. She described then how BBBH had developed a programme called DIY Health to address the high number of parents of children under the age of five who frequently attended the practice for minor ailments that could be appropriately and safely managed at home. The peer-to-peer learning programme led to a 36 per cent reduction in attendance for minor ailments and had been honoured in the 2019 BMJ Awards as Primary Care Team of the Year.
The article appeared in Insight Primary just after the first UK lockdown was announced on 23 March, 2020. We recently contacted Khyati again to ask how the practice has fared during the pandemic and her hopes going forward.
What have been some of the main challenges faced by BBBH over the last two years?
A huge challenge has been dealing with a lot of change, constant change to our systems, to our working patterns and managing changes around rules – anything from masks to infection control, to redesigning our spaces to make sure we are following the infection control policies. Constantly having to be on top of changes in guidelines has been hard for all of us.
There were also challenges to our staff, including partners, doctors, nurses, the reception team, all personally affected by Covid. That came with a huge emotional burden, understandable anxiety about personal health, about the health of their families. Practising and carrying out 'normal' activities and trying to do the best for patients whilst carrying all that personal load has been incredibly challenging.
A third challenge has been giving patients the support and access that they need within the constraints of the resources we are given, particularly as we come out of the pandemic and see this huge backlog of care needed for patients with long-term conditions. So we are now seeing, at the end of two years, huge rates of burnout because of the change fatigue, the personal emotional burden and the workload for staff.
What challenges do you think were particularly unique to BBBH?
We are in one of the most deprived boroughs in London and with that came a higher vulnerability to changes related to the pandemic. We saw more people whose mental health was affected, and financial wellbeing; more people who were isolated without help. So we mobilised our service to respond to that.
We also had some of the highest Covid levels and lowest vaccination uptake levels in the country. There was a lot of vaccination hesitancy. We responded with public engagement through various community and patient groups to do webinars, Q&A sessions, and we worked with local religious groups and leaders to help the community make informed decisions.
More people in Tower Hamlets have long-term conditions at an earlier age compared to other parts of London. Approximately eight per cent of our population at this site has diabetes. We knew from the start of the pandemic that those with diabetes and other long-term conditions would be much more badly affected from getting Covid.
How did you respond?
Almost overnight we remodelled our social prescribing team and population health team within the Bromley by Bow Health partnership and turned it into a 'crisis social prescribing team'. They were out making wellbeing calls to support hundreds of patients who were vulnerable, who we knew to be socially and medically vulnerable, to help them with things like getting their medication and making sure that if the carers had stopped coming they were able to obtain their food shopping. The team also supported carers looking after patients with learning disabilities because their schools or day care had stopped and helped them manage that stress.
And actually we found that doing this took some of the burden away from the clinical team, to manage the clinical side of things.
We also evolved the way we work. We are now more flexible, with a combination of remote and on-site working. We have a more varied team of healthcare professionals, and so are able to offer different types of appointments to patients. Online consultation has helped ascertain what the patient needs before an appointment is given, so patients see the right person for their need. That way we utilise resources better and create more capacity to help those more vulnerable.
Has the pandemic led to any other positive changes in the way you practise primary care medicine?
We've really seen the value of and developed our work related to wider determinants of health. The pandemic has highlighted the benefits of working with social prescribers and care navigators – and we've further integrated them within our clinical practice. So someone needing a learning disabilities review now won't just see the doctor. It will involve the combination of a doctor and a social prescriber, so that their wider needs and the family's wider needs can be addressed better. We saw huge benefit with that during the pandemic.
The other thing we did was set up hub working in which everyone would be logged into Microsoft Teams. So whether or not they were working on site, we were still connected. We also set up micro-teams in which clinicians and non-clinicians would be logged-on as one team. This allowed for joint learning that meant an improvement in the patient journey.
Has the pandemic changed the service you deliver to your community?
Personally speaking, I've changed the way I serve the community a lot. I have two young children and I work full time, so I wasn't able to fit in going to a vaccination centre to deliver the vaccine. What I did instead was use my time to deliver health education. I volunteered for an organisation called the Jain Health Initiative, which brought together 32 different community organisations from Asian origins in the country to deliver health webinars during the pandemic.
The initial one we organised attracted about 25,000 devices globally. People were confused about information related to Covid, related to vaccines. They wanted clear advice from people within their community that they could understand and appreciate.
Building on from that, we've fostered real trust with communities remotely across the country, who now come to us and ask us for additional webinars for information. Over the course of the last year and a half we've delivered webinars on taboo subjects within the community, such as infertility, menopause, bladder health, mental health, and webinars on things that are really prevalent in the community, like diabetes and heart disease.
Can you describe one priority you would have for primary care going forward?
I think we need to empower patients around self-care, to recognise when help is needed, so that people are not coming in to the practice too early or too late. We also need to help patients understand where to go for help, and that the pathways are clear to get there.
We need to support commissioners in recognising that wider determinants of health are just as important as health needs, if not more. People are coming to us with stress and depression related to their workplace or problems with finances at home.
People's long-term conditions are being poorly managed due to other stressors and priorities in life. Only measuring health metrics, such as blood pressure or HbA1c, doesn't allow us to effectively and holistically manage patients, and so our commissioning and targets need to evolve to recognise this.
Interview by Jim Killgore, publications editor at MDDUS
Photograph of Dr Khyati Bakhai: Dominick Tyler
This page was correct at the time of publication. Any guidance is intended as general guidance for members only. If you are a member and need specific advice relating to your own circumstances, please contact one of our advisers.
Read more from this issue of Insight Primary
Insight Primary is published quarterly and distributed to MDDUS members throughout the UK who work in primary care. It provides a mix of articles on risk, medico-legal and regulatory matters as well as general features and profiles of interest to our members.
In this issue