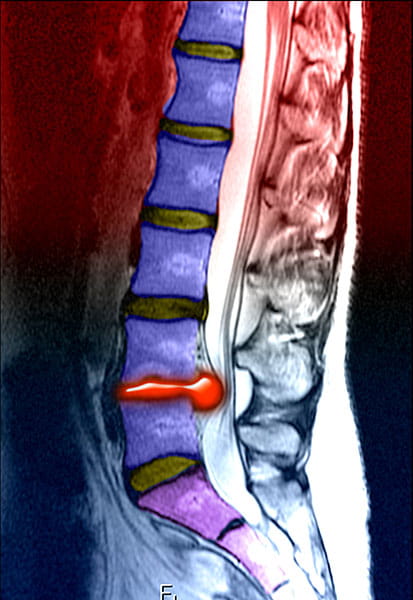 CAUDA Equina Syndrome (CES) is a relatively uncommon condition. However, it does have an annual incidence of around seven per 100,000 patients of working age and therefore a typical GP might expect to see one case of confirmed CES every four to five years.
A missed or delayed diagnosis of CES can have catastrophic outcomes for the patient and very real medicolegal consequences for the GP involved. It is therefore essential that GPs are able recognise the cardinal features of CES and ensure that referral is undertaken in a timely manner.
Critical window
It is important for primary care clinicians to recognise that early (ECES) or incomplete (ICES) cases may present without the full array of classic CES symptoms. In patients with ECES/ICES, there is a time-critical window of opportunity in which to intervene in order to preserve bladder/bowel and sexual function. Once the patient progresses to complete CES, the odds of a full recovery after surgery are reduced.
NICE guideline
In the UK, the most widely recognised guideline is NICE>CKS>Sciatica, which includes a comprehensive list of red flag symptoms for CES. These are as follows:
bilateral sciatica
severe or progressive bilateral neurological deficit of the legs, such as major motor weakness with knee extension, ankle eversion, or foot dorsiflexion
difficulty initiating micturition or impaired sensation of urinary flow, which if untreated may lead to irreversible urinary retention with overflow urinary incontinence
loss of sensation of rectal fullness, which if untreated may lead to irreversible faecal incontinence
perianal, perineal, or genital sensory loss (saddle anaesthesia or paraesthesia)
laxity of the anal sphincter: consider an assessment of anal tone but note that this does not need to be performed in primary care
erectile dysfunction.
Assessing bladder and bowel sensation
It should be noted that bladder and bowel sensation should be fully assessed, rather than simply asking about incontinence. GPs should ask:
Can you feel when your bladder is full?
Are you able to start passing urine?
Can you feel yourself passing urine?
Impaired sensation of bladder fullness may be an early sign of ECES/ICES prior to progression to frank incontinence. From a medicolegal perspective, it is important to carefully document that these questions have been asked and the responses given.
False reassurance
One of the key learning points in assessing CES is that a normal physical examination cannot effectively exclude ECES/ICES/CES. GPs are often falsely reassured that a normal neurological assessment and intact anal tone can effectively exclude CES – this is not the case.
The British Association of Spine Surgeons (BASS) is clear that: "A patient presenting with back pain and/or sciatic pain with any disturbance of their bladder or bowel function and/or saddle or genital sensory disturbance or bilateral leg pain should be suspected of having a threatened or actual CES".
Furthermore, there is no symptom or sign (including rectal examination) that allows a clear diagnosis of CES unless and until the lesion is severe and irreversible, and absence of symptoms or signs will not exclude CES. The BASS effectively consider emergency MRI as part of the triage process for suspected CES.
Therefore, any patient presenting with a clear and consistent history of red flag symptoms or signs must be considered for emergency referral for imaging.
GPs should not allow a normal examination to deter them from seeking advice from an on-call specialist or referring to the local spinal or neurosurgery unit. Imaging is the only certain means to exclude CES.
Key points
The NICE CKS red flag symptoms for CES are well recognised but must be interpreted correctly.
Pay particular attention to bladder and bowel sensation (not just incontinence).
Be wary of the false reassurance of a normal physical examination, which does not exclude CES.
Imaging is the only certain means to exclude CES.
References
Dr Guy Krauth, GP partner in Edinburgh and associate clinical director of Lothian Unscheduled Care Service
Image: Enhanced sagittal T2 weighted MRI image of the lumbar spine demonstrates the typical appearance of a large herniation of the L4/5 intervertebral disc. (Image credit: Science Photo Library)
This page was correct at the time of publication. Any guidance is intended as general guidance for members only. If you are a member and need specific advice relating to your own circumstances, please contact one of our advisers.
Read more from this issue of Insight Primary
Insight Primary is published quarterly and distributed to MDDUS members throughout the UK who work in primary care. It provides a mix of articles on risk, medico-legal and regulatory matters as well as general features and profiles of interest to our members.
In this issue