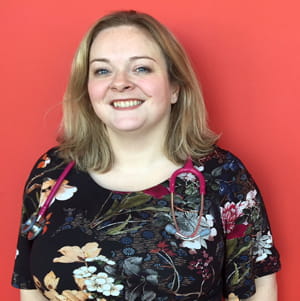 MATERNITY leave for any doctor is a chance to take a step back from clinical life, but for one GP it marked the birth of a successful media career.
Six months after the arrival her first child in 2010, Dr Fiona Kinnon was approached at her Glasgow medical practice by a radio producer and asked if she'd like to contribute to medical items on BBC Radio Scotland broadcasts.
Fiona jumped at the chance and soon became one of the main GPs on BBC Radio Scotland's morning shows, earning a regular monthly slot in December 2015. As her profile – and popularity – increased, she made appearances on news programmes and even a ground-breaking documentary.
It's a varied schedule that provides a welcome counterpoint to the challenges of her day-to-day general practice.
Fiona says: "I love being a GP but you deal with a lot of heavy emotional issues. This was an opportunity to get involved in something outside clinical practice to keep you refreshed and invigorated.
"It has kept my knowledge of new research up-to-date and had many other side benefits. It has never, ever been about fame or fortune or ending up on television. But being Dr Fiona is great fun."
Being 'Dr Fiona'
While awaiting the arrival of her second child (now three), she agreed to return to work on the radio phone-in shows. Committed to the end, she even completed a live radio broadcast while having contractions.
She says: "The Good Morning Scotland team phoned me the night before my due date and asked if I would go in and discuss the growing epidemic of loneliness in the elderly. I agreed and fortunately 'junior' didn't put in an appearance for a few more days, but I was having twinges on air.
"I continued to do occasional items over the phone when Euan was born and during one broadcast on the national review of asthma deaths, you could quite clearly hear him waking up and whimpering in the background!"
For Fiona's typical regular radio slot, she emails the producers a few days before broadcast to decide on topical health stories to discuss. The range is diverse, from whether we should ban skinny models, to dietary prevention of gout, to a new app to help asthma sufferers.
A brief is sent out to Fiona the afternoon before broadcast, and she will spend that evening researching the topics. But it is not uncommon for a health news story to break overnight, requiring some last-minute research.
As 'Dr Fiona', the GP has been a trusted voice across the airwaves, encouraging those who may not have sought medical attention to do so, including one woman who hadn't been to see her GP in more than 30 years.
Quick thinking
As well as discussing topical stories, listeners phone, email or text in with health-related queries – ranging from simple problems to serious mental health issues. And with no advance notice of the queries, the busy GP must think on her feet.
"There is no advance warning, but that's one of the joys of the job," she says. "In an average day I can go from breaking news of a terminal diagnosis, to a patient telling me they're pregnant; to dealing with disabling anxiety and depression, so I am used to changing gear mentally quite quickly.
"It's a bit of an adrenaline rush being live on the radio. Of course there are times that things flummox me, but you have to act with honesty and integrity – which are of course some of the deep-rooted principles of good medical practice. I would always admit if I didn't know what to advise."
Fiona, 40, began running her own practice with 1,600 patients at the age of 31, so she knows all about the challenges and risks facing GPs today. But during a live radio broadcast, with no access to medical records and scant information (often by text message), these risks multiply.
"It's so important as a GP – and especially when broadcasting live across Scotland – to ensure that you signpost patients to other relevant health professionals," she says. "I'm always careful to highlight 'red flag' symptoms for which urgent help should be sought, and provide safety-netting advice, i.e. telling people what to do if symptoms don't resolve as expected."
Dr Fiona's radio slot caught the eye of another well-known BBC star: Newsnight anchorwoman, Kirsty Wark. The veteran journalist asked Fiona to provide a medical perspective for her recent BBC documentary, The Menopause and Me. It was an experience a rather starstruck Fiona describes as "beyond her wildest expectations". Other brushes with fame include meeting former Great British Bake Off presenter Mel Giedroyc, who was at BBC Radio Scotland HQ for an interview, and securing CBeebies goodie bags for her two sons.
Making regular radio and television appearances has not just had a positive impact on Dr Fiona and the BBC audiences, but on her patients too, especially given her involvement in the menopause documentary. "It's been a great way to help educate the public," she says, "and I now have a huge number of menopausal women coming to me for advice and saying 'I know I am not alone' and 'I know that you understand'."
Seeking variety
A varied career has been a goal for Fiona since she qualified from the University of Glasgow in 2000. As a junior doctor she worked on a P&O cruise ship for a year. The role took her across the Atlantic, to the Caribbean, through the Panama Canal and beyond, treating 1,000-plus crew members and many more passengers along the way.
In addition to her GP practice, Fiona also works as a GP appraiser, is a cluster quality lead for seven practices in North West Glasgow, she works occasional out-of-hours sessions, and has various media commitments. With supportive husband Conor by her side, Fiona balances this with being a mum to Leo, seven, and three-yearold Euan. However, she has recently taken steps to reduce her hectic schedule.
"My work/life balance was at risk," she says. "Part of my role as a GP appraiser is to help GPs recognise when they are doing too much and reaching a point of stress: I recognised that it was a danger in myself, and I stepped back from it."
Although the busy mother-of-two is preparing to take a short break from her media work, she hopes to return to the airwaves when her youngest son starts school. She says: "I'm happy where I am. I have done more as a GP than I could have ever dreamed of."
And for any trainee GPs interested in following in her media footsteps, she adds: "Go for it! News stations are always looking for contributors, so just email them to ask about any openings. If you don't ask, you don't get."
Kristin Ballantyne is a freelance writer in Glasgow
PHOTO: Amie Igoe/BBC Scotland
This page was correct at the time of publication. Any guidance is intended as general guidance for members only. If you are a member and need specific advice relating to your own circumstances, please contact one of our advisers.
Read more from this issue of Insight Primary
GPST is published twice a year and distributed to MDDUS members in GP training throughout the UK. It provides a mix of articles on risk, medico-legal and regulatory matters as well as general features and profiles of interest to trainee GPs. Browse all current and back issues below.
In this issue