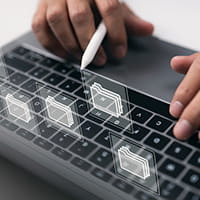 PATIENT complaints come in many forms. They can be made verbally or in writing, and range from a simple expression of concern regarding a single issue to complex matters involving a series of events and multiple organisations. How organisations go about resolving a complaint will understandably vary depending on the circumstances.
MDDUS has seen an increase in requests for advice on challenging encounters with patients and complaints. One often overlooked aspect of complaints handling is how to document such matters and subsequent procedures.
NHS complaints procedures state that relevant correspondence should not be held within the patient's clinical records. This may seem counterintuitive, as clinical records should accurately reflect events that have led up to a complaint. Would not keeping such information in the records allow for ease of access and also ensure the information remains secure and confidential?
Separately and securely
There are three main reasons why complaints records should be stored separately and securely from clinical records in either paper or electronic format.
Only individuals involved in the investigation process should have access to these records, as patients have a right for their complaint to be handled confidentially.
Separating the complaint from the medical record also acts to ensure that a complaint will not impact the way a patient may be treated in the future. General Medical Council (GMC) guidance in Good medical practice states: "You must not allow a patient's complaint to adversely affect the care or treatment you provide or arrange". By dealing with complaints as a separate issue from the treatment a patient receives, will ensure this guidance is adhered to. The General Dental Council (GDC) also emphasises this rationale within their Standards for the dental team (5.1.7): "You should keep a written record of all complaints together with your responses. This record should be separate from your patient records so that patients are not discouraged from making a complaint."
Compliance with data protection arrangements. NHS complaints procedures for each of the UK nations detail how long complaints correspondence should be retained. Since clinical records must be held for the lifetime of the patient, or until they deregister, it would be challenging to proactively identify complaints correspondence within patient records in order to remove them after the retention period.
Unacceptable patient behaviour
There are times when patient dissatisfaction is expressed in an unacceptable manner, involving verbal or physical aggression. In such circumstances it may be acceptable and necessary to record this within a patient's health records. Creating a short entry in the medical records accurately describing the behaviour or incident (or adding an alert) can be helpful to warn other healthcare staff or clinicians of the risk of such behaviour being repeated. A warning letter will often be issued in such cases with a copy retained within the health records, and your organisation may also expect you to log the matter within local incident reporting systems.
Organisations should be clear on how to document such matters. A blanket policy should not be applied, and instead consideration should be given to each incident separately to decide whether making an entry in the patient's health records is appropriate. Should you feel this is warranted but are unsure what level of detail or how to document this appropriately, seek advice from a senior colleague, manager or MDDUS.
Police should be involved as soon as possible with patients who act violently towards staff or other patients.
Ending a professional relationship
In some cases you may decide that an irreparable breach of trust has occurred, leaving little choice but to end the professional relationship with a patient. The GMC offers specific guidance on how to decide whether it is appropriate to go down this route.
In rare circumstances, the trust between you and a patient may break down, for example, if the patient has:
been violent, threatening or abusive to you or a colleague
stolen from you or the premises
persistently acted inconsiderately or unreasonably
made a sexual advance to you.
The GDC also provides guidance on the matter (Focus on Standards, 1.7.8), stating: "In rare circumstances, the trust between you and a patient may break down, and you may find it necessary to end the professional relationship. You should not stop providing a service to a patient solely because of a complaint the patient has made about you or your team. Before you end a professional relationship with a patient, you must be satisfied that your decision is fair and you must be able to justify your decision." See also a recent article on the topic in Insight Dental magazine.
Should you decide there is no other choice but to remove a patient from the list it is essential to comply with contractual obligations and local policy to alert the patient of that decision. There may be reason to justify recording this in the patient record, depending on the circumstances leading to that decision. Always seek advice if you are unsure.
Actions
Ensure there is clarity around how to record patient complaints and store related correspondence.
Be clear on how/when to document unacceptable behaviour from a patient.
Seek advice from a senior colleague/manager or MDDUS if you are unsure of organisational policy or any aspect of complaints handling/recording.
Kay Louise Grant, risk adviser, MDDUS
This page was correct at the time of publication. Any guidance is intended as general guidance for members only. If you are a member and need specific advice relating to your own circumstances, please contact one of our advisers.